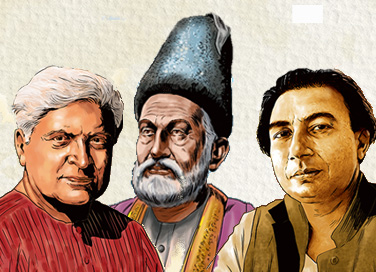 Ghazal Writers of India
- July 12, 2023
---
By Srinidhi Murthy 
Ghazal is an ancient form of poetry, the origins of which can be traced back to 7th century Arabic poetry. In India, many poets have enchanted audiences with their soul-soothing ghazals. Here are some such ghazal writers known for producing memorable lyrics for which they will be remembered forever.
Mirza Ghalib (1797-1869)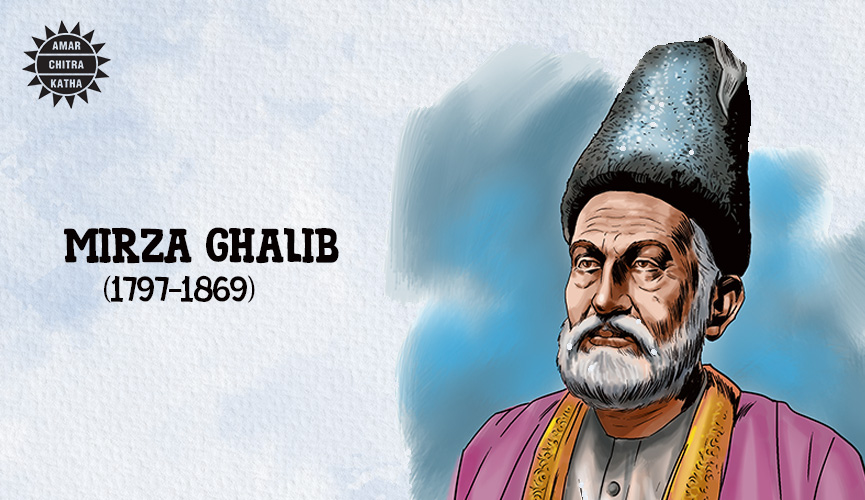 Born on 27 December 1797 in Agra, Mirza Asadullah Baig Khan was known by his pen name, Ghalib. Mirza Ghalib is remembered for his Shayaris (couplets) that he wrote in Urdu, though he wrote in both, Urdu and Persian. He was born during the decline of the Mughal Empire. During his lifetime, he also witnessed the rise of the British East India Company and the First War of Indian Independence (in 1857). He later described these historical events in his work. Ghalib was commemorated by Google on its Indian home page with a special doodle on his 220th birth anniversary in 2017. One of Ghalib's most famous couplets is –
Ishq ne Ghalib nikamma kar diya, varna hum bhi aadmi the kaam ke.
Dil-e-naadaan tujhe huaa kya hai? Aakhir iss dard ki dawa kya hai? 
Dushyant Kumar (1931-1975)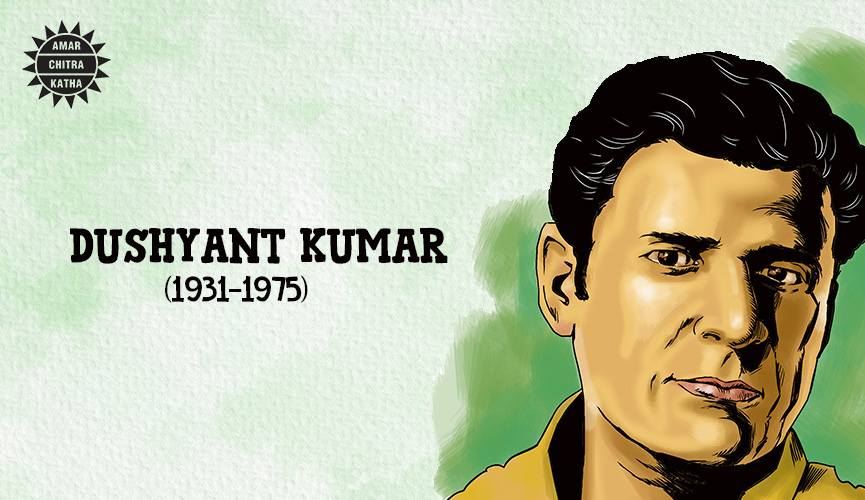 Born on 1 September 1931, Dushyant Kumar is considered one of the foremost Hindi poets of the 20th century. Some of his notable works include – Saaye Mein Dhoop, Maan Ke Kon, and Ek Kanth Vishpayi. Lines from his ghazals have been used in popular Hindi movies, shows and songs. On 27th September 2009, the Indian Department of Post issued a commemorative stamp with his image in his honour. A famous line from Saaye mein Dhoop is – 
Mere seene mein nahi to tere seene me sahi, ho kahin bhi aag, lekin aag jalni chahiye.
Sahir Ludhianvi (1921-1980)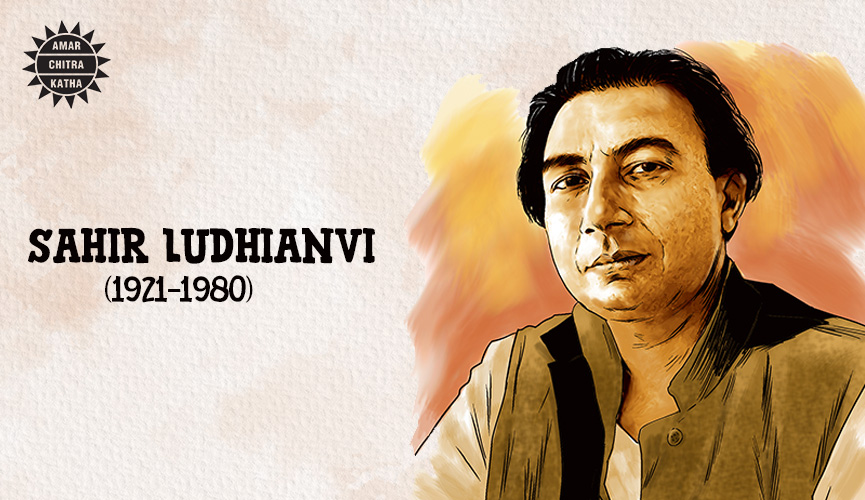 Born on 8 March 1921, Abdul Hayee was known by his pen name, Sahir Ludhianvi. He was born into a Muslim landlord family at Karimpura, Ludhiana, Punjab. In Ludhiana, he was educated at Khalsa High School and then studied at the Government College. Even in his college days, he was popular for his ghazals and poetry in Urdu. In 1943, Ludhianvi settled in Lahore, where he published his first book, Talkhiyaan  in Urdu. In 1949, he moved to India where he first spent his two months in Delhi and then moved to Mumbai. His works as a lyricist in the Hindi film Industry won him two Filmfare awards for Taj Mahal (1963) and Kabhie Kabhie (1976). Some popular lines from his well-known ghazals include "Kabhi khud pe kabhi halat pe rona aaya" and "Chehre pe khushi chha jati hai." On his 92nd birth-anniversary, a commemorative stamp was issued in his honour in 2013, by the then-President Pranab Mukherjee. 
Nida Fazli (1938-2016)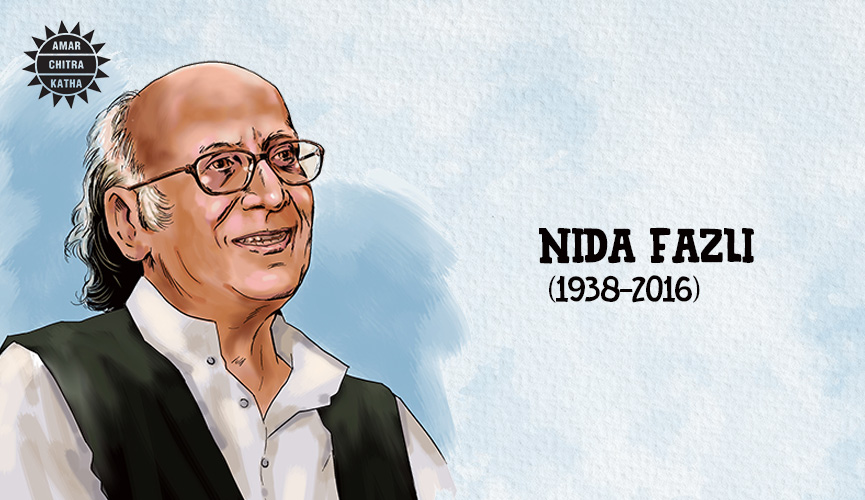 Muqtida Hasan Nida Fazli, known as Nida Fazli, was an Indian poet, dialogue-writer and lyricist. Known for his ghazals such as Hoshwalon ko khabar kya and Kiska chehra ab main dekhu, Nida Fazli was born in 1938 into a Kashmiri family in Delhi. He grew up in Gwalior, where he studied English literature. Fazli decided to stay back in India after his family decided to move to Pakistan in 1965. He started writing in Dharmayug – a Hindi weekly and Blitz – a popular weekly magazine, during the early days of his career. His poetic style attracted the attention of many writers of Urdu and Hindi literature. Nida Fazli became a well-known poet among the ghazal readers and singers for his use of colloquial language in ghazals. He also collaborated with the popular ghazal singer, Jagjit Singh, for an album called Insight, in 1994. He was honoured with the National Harmony Award for writing on the subject of communal harmony.
Javed Akhtar (Born 1945)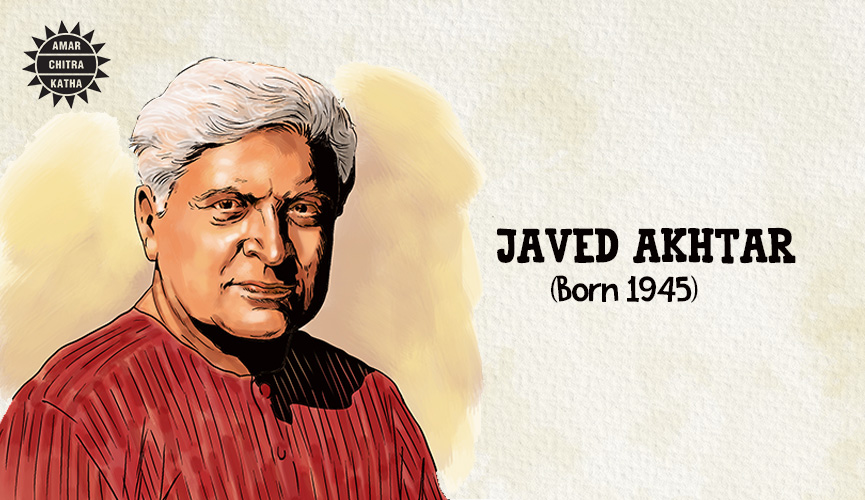 Javed Akhtar is an Indian poet and lyricist known for his work in Hindi cinema. Born on 17 January 1945, Akhtar is the son of Urdu poet and Bollywood lyricist Jan Nisar Akhtar and singer-writer Safia Akhtar. Javed Akhtar was schooled in Lucknow and graduated from Saifiya College in Bhopal. His original name was Jaddo, taken from a line in his father's poem. Some notable lines from his ghazals are  "Jidhar jate sab jana udhar accha nahi lagta" and "Bahana dhundte rahte hai koi rone ka." Javed Akhtar received two of the highest civilian honours of India – Padma Shri in 1999 and Padma Bhushan in 2007. Apart from being a social activist and member of the Rajya Sabha, he is also a recipient of the Sahitya Akademi Award. Akhtar has also won five National Film Awards and eight Filmfare Awards for his lyrics.
Download the ACK Comics app and read about more such awe-inspiring literary figures!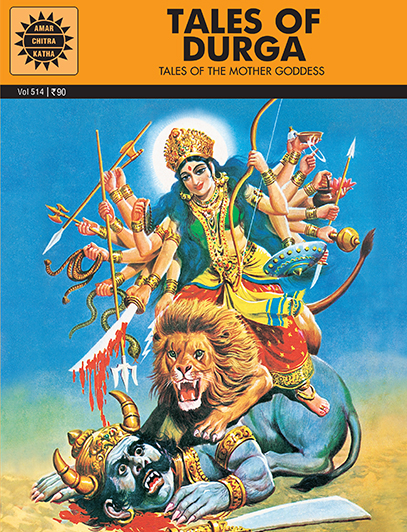 Comic of The Month
Tales of Durga
Goddess Durga is as widely worshipped as Vishnu and Shiva. She is the fierce form of Devi who, as Shakti, is considered the personification of universal energy. According to the Devi Bhagavata the Universe is but Her manifestation - and even Brahma, Vishnu and Shiva worship Her. Durga is worshipped in sixty-four forms as Ambika, Kali, Chamundi, Devi, Uma, etc. The worship of Durga is supposed to be more than 4,000 years old in India. The names of Uma and Parvati occur in the Taittiriya Aranyaka and the Kena Upanishad. Some Indologists are of the opinion that the figure seated on a lion in the coins of Azes I, the Shaka ruler (c. 5 B.C. to A.D. 30), represents Ambika or Durga. Durga is worshipped in one form or another in almost every Indian village. This Amar Chitra Katha is based on the Durga-Saptashati of the Markandeya Purana.
20 Minute Read