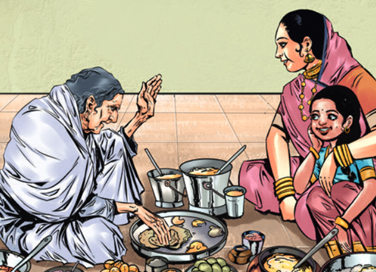 Premchand Stories We Love
- May 26, 2020
---
By Mrinalini Manda
Munshi Premchand was one of the greatest writers of the 20th century, who wrote several plays, novels, and short stories in Hindi and Urdu. He used his stories as a medium to address issues in the society such as patriarchy, caste barriers, injustice to women, and untouchability.
"Beauty doesn't need ornaments. Softness can't bear the weight of the ornaments." – Munshi Premchand 
The beauty of Premchand's stories lay in its simplicity. He would take everyday characters and build a world around it, shining a light on the vagaries and hypocrisies of various social practices. Most of his characters were never truly evil, instead, they were a product of their circumstances, sitting firmly in the grey area. Here are five of his short stories that we love.
Buddhi Kaki
As the title suggests, this story is about an old lady who is forced to depend on her selfish nephew to survive. Kaki had trusted her nephew and handed over all her property to him. However, after acquiring the property, her nephew, Pandit Buddhiram, starts to ill-treat her. Though the nephew and his family enjoy Kaki's property, they don't even bother to give her full meals. As old age catches up with Kaki, her food cravings grew. One day, when a function was hosted in the house, Kaki can't control her hunger and decides to go to the kitchen in search of food. On seeing this, Buddhiram gets really angry and insults Kaki in front of the guests. Fortunately for Kaki, there is one sympathetic soul in the household who feels sorry for her plight. 
From deteriorating health issues to ill-treatment by family members, this story will make you empathise with the numerous struggles of old-age. The story is so simple and real that everybody can easily connect with it.
Eidgah  
Eidgah is a sweet story about a four-year-old boy, Hamid, an orphan who lives with his grandmother. Despite being poor and not having sandals on his feet, Hamid is always happy. On the day of Eid, while the rest of his friends are buying clay toys, drinking sherbet, and eating delicious sweets, Hamid controls his temptations and saves his money till he finally comes across a hardware shop. Here, Hamid buys a tong for his grandmother, so that her fingers won't get burned when cooking. 
In this story, Munshi Premchand successfully brings out the best qualities a person can hope to have, through the eyes of a child. Compassion, maturity, and pure goodness are demonstrated through Hamid's actions. Another take away from his story is one should be content with what they have. Hamid's didn't have much but he was happy with all that he had.
Thakur Ke Kuan 
The story revolves around Jhokhu and his wife, Gangi, who were from a low-caste family. When Jhokhu falls ill, Gangi fetches him water but soon realises it smells. Their only option is to get fresh water from a well, but the owners of the nearest wells won't let her draw water because she is an 'untouchable'. With no other way out, Gangi decides to sneak some water from the Thakur's well. She is fully aware that if she gets caught, then Thakur's men would probably beat her to death, but she still decides to risk her life, because she doesn't want her husband to drink spoilt water. 
This story highlights the perils of the caste system, where people were deprived of basic necessities and looked down upon based on their caste. This story also features how women were treated in a patriarchal society, seen as sub-servant to the males in the family and outside. 
Poos Ki Raat 
Halku, a poor farmer and his wife, Munni, owe money to their landlord. Halku was saving up for a blanket so that he no longer had to shiver while guarding the fields at night. However, when the landowner comes to demand his money, all that Halku saved up had to be given away. Halku is then forced to spend the cold winter night in the field. Not able to bear the cold at all, Halku decides to light a fire to keep himself warm. After great difficulty, Halku falls asleep. Unfortunately for Halku, he wakes up to find his fields destroyed by the very fire he lit to save himself. 
This story depicts the tough life of a farmer. Even after an immense amount of hard work farmers are unable to pay off their debts. Their lives are taken for granted by many. Despite producing food for everybody, they are not able to provide basic necessities for themselves.
Do Bhel 
This story is about two oxen, Heera and Moti, who are best friends. Both are hardworking and very loyal to their master Jhuri. However, Jhuri sends them away to his brother-in-law's farm. There, both the oxen are ill-treated. Thus, they try to run away. After several attempts of leaving the farm, they finally find their way back to Jhuri. Although Jhuri is happy to see them, his wife does not like it. She no longer cares for them and starts feeding them dry hay instead of the rich grains and green grass they would get earlier. Eventually, Jhuri is forced to drop both oxen back at his brother-in-law's place, who decides to sell them. Will the oxen escape their fate? 
Both the oxen in this story give us a sense of loyalty that is there amongst animals. Heera and Moti were loyal amongst themselves as well as to Jhuri. This story also highlights how humans neglect the feelings of animals and abuse them. 
---
Amar Chitra Katha's adaptation of Premchand stories 'Two Oxen' is available on the ACK Comics app, as well as Amazon, Flipkart and other major e-tailers.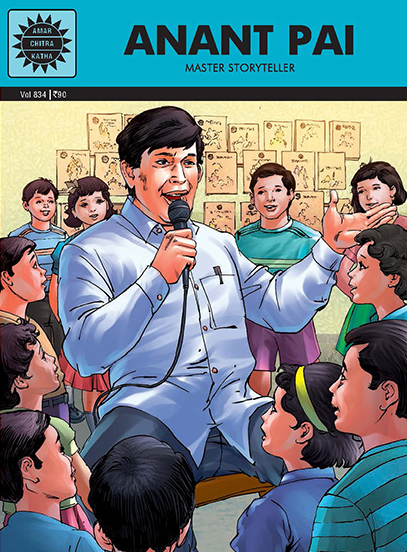 Comic of The Month
Anant Pai
Anant Pai strode the Indian comics industry like a colossus. Using the comics format he told stories from mythology, history and literature to generations of children. Uncle Pai, as he was known, wanted Indian children to be familiar with their heritage. A chemical engineer by profession, Anant Pai gave up his job to follow his dream, a dream that led to the creation of Amar Chitra Katha and Tinkle. Read the story of the man who left behind a legacy of learning and laughter.
20 Minute Read