The Ramayana Treasury
₹4,599.00
The Ramayana Treasury is the perfect package for the mythology lover in you. Amar Chitra Katha's Ramayana is a six-volume, beautifully illustrated set of comic books that narrate the tale of Rama in all its glory. Composed by Rishi Valmiki about 5,000 years ago, the Ramayana tells the story of Rama, Prince of Ayodhya. It is an epic of magnificent proportions and a timeless tale of heroism and courage, of love and loyalty and of the triumph of good over evil.The book is divided into six kands: Bala Kand, Ayodhya Kand, Aranya Kand, Kishkindha Kand, Sundara Kand and Yuddha Kand. Each part is a detailed retelling of the great Indian epic, full of vibrant visuals and spectacular stories.
Apart from the Ramayana, the collection includes three more special edition comics: Rama's Ring, a collection of stories from different versions of the epics Ramayana and Mahabharata; Divine Beings, a book about the various magical creatures in our mythology, as well as Mahadeva, a collection of stories from the Shiva Purana.
This collection is truly a treasure trove of stories and will take you back into the world of our epics and legends.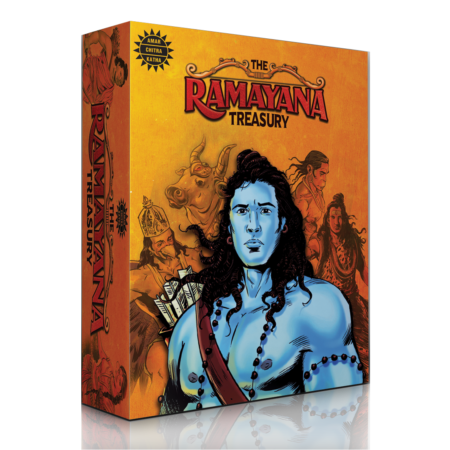 This item:
The Ramayana Treasury