Battleground Lanka – The Card Game
Battleground Lanka is a team-based, strategy card game inspired by Indian mythology. This fast paced game takes you on a journey filled with mystical weapons and fantastical creatures. Teams face off against each other, and players take the role of warriors with their own superpowers, all in the quest for victory. Whether you're playing with friends, family, or kids, Battleground Lanka is the perfect game for anyone looking for an exciting strategy game that's easy to learn. Enjoy with 2-9 players and ages 7+. Get ready to relive this timeless tale!
TEAM-BASED STRATEGY – Pick your warrior, dive into battles, attack, defend and plot against your opponents in the quest for ultimate victory. Fast paced, thrilling and addictive at every step!
MYTHOLOGICAL THEME – World's first card game inspired by Indian mythology. Immersive designs, mystical weapons and creatures transport you into a timeless tale and add to the exciting gameplay.
EASY TO LEARN – Takes under 5 minutes to learn. With a quick 15-minute playtime, you'll want to play this game again and again!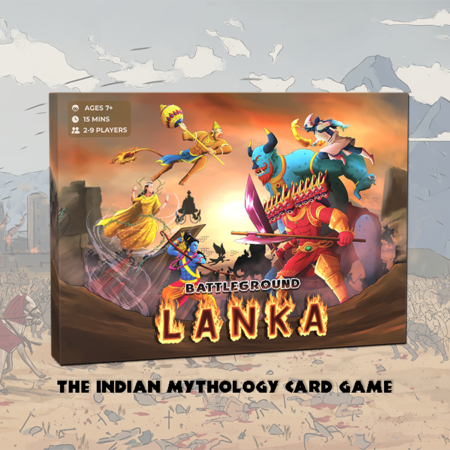 This item:
Battleground Lanka - The Card Game