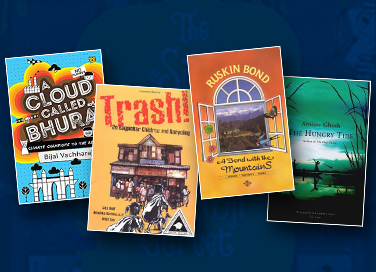 5 Must-Reads for Eco-Warriors
- December 15, 2020
---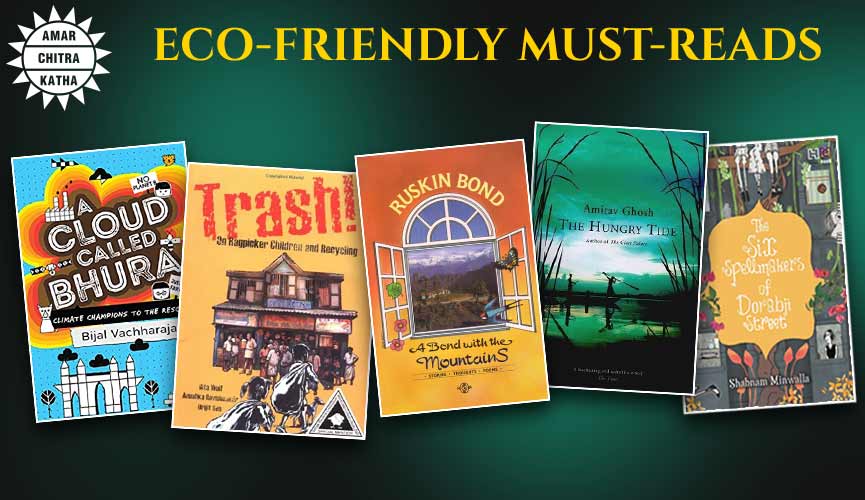 We keep hearing more and more alarming news about climate change and its impact on our environment. There are some authors out there who have made it a point to use their works as a medium for change. Here is a list of five must-read titles for budding eco-warriors! 
Trash: On Ragpicker Children and Recycling
Based on the real-life experiences of street children in Chennai, Trash is a unique combination of fiction and facts. The story revolves around Velu, a runaway village child, who ends up as a ragpicker in a big city. While he makes ends meet, he must also face the harsh realities of life on the streets. 'Trash' breaks down complex issues such as child labour and rag-picking into much simpler terms and gets its readers to question their everyday habits and understand that which is invisible, collateral damage to their waste. The story is accompanied by facts and arguments, interlinking complex issues that collectively hamper society's growth.
The book is written by Gita Wolf, Anushka Ravishankar, and Orijit Sen. It evolved from a series of workshops they conducted with ragpicker children. 
To receive more such stories in your Inbox & WhatsApp, Please share your Email and Mobile number.
The Hungry Tide
Written by Amitav Ghosh, the story of 'The Hungry Tide' is based in the Bay of Bengal that is home to the Sundarbans, a collection of tiny islands linked by rivers. For settlers there, life is extremely precarious. Attacks by deadly tigers and other animals are fairly common. Unrest and eviction from home are constant threats. Tidal floods tend to rise and surge over the land without any prior warning. This water only brings with it utmost disaster and devastation.
The novel is narrated from two different perspectives; First from Piya's perspective who is an American scientist researching river dolphins, and second from Kanai's perspective who is a New Delhi translator on a trip to see his aunt. The Marichjhapi massacre of 1978-79 forms a backdrop for some parts of the novel, which explores topics like environmentalism and humanism, especially when they come into a conflict of interest with each other.
No Room for a Leopard
Narrated by the master storyteller himself, Ruskin Bond; 'No Room for a Leopard' first appeared in 'A Bond with the Mountains' in 1998. The story is about a group of hunters who set out to kill a very trusting leopard. Leopard skins are a rare artefact that sells for an exorbitant amount of money and hence is illegally traded due to the ban on its export. Due to such unscrupulous acts, the leopard, like many other members of the cat family, is nearing extinction in India. While the story is engaging, it also helps to understand the norms of the society in which we live, with many life lessons skillfully woven into the plot.
The Six Spellmakers of Dorabji Street
'The Six Spellmakers of Dorabji Street' by Shabnam Minwalla is set in a lazy gully in Mumbai. The story revolves around a young girl, Nivi, who moves to the gully with her family and soon befriends other children. Their favourite pastime is sitting in a large bimbli tree and watching the neighbors' comings and goings. However, conflict arises when an individual from the neighbourhood declares that the children under the tree are troublesome and starts a campaign to chop it down. Now it's up to Nivi and her friends to save their beloved tree. The book is a perfect mixture of entertainment and moral messaging. Magic can happen anywhere is perhaps the biggest takeaway of this story. Svabhu Kolhi's black and white illustrations magnify the magical aspects of the story.
A Cloud Called Bhura
Written by Bijal Vaccharajani, 'A Cloud Called Bhura' explores climate change and the havoc it can create, as well as themes like friendship, trust, and community. The story is about four youngsters who are on a journey to decode a deadly cloud called Bhura that has apparently taken over Mumbai's skyline. Bhura Cloudus, as the media calls it, contains noxious gases, causes scalding acid rain, makes birds flee the city, and suffocates every living thing in its path. It's now up to the tweens to solve the problem of this gloomy cumulus nimbus! The book is filled with beautiful illustrations and the situations and characters are very relatable
To receive more such stories in your Inbox & WhatsApp, Please share your Email and Mobile number.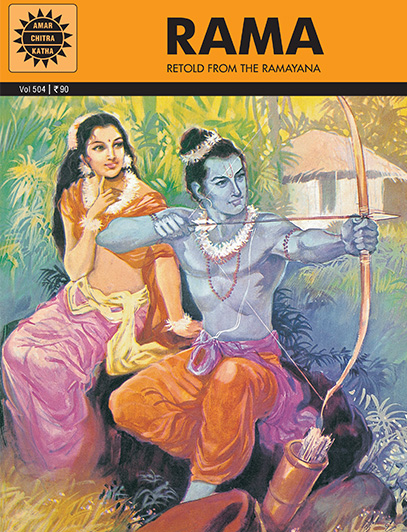 Comic of The Month
Rama
Rama was happy living in the forest with his wife and brother. Palace intrigue may have forced his exile, but the next fourteen years promised to be quite pleasant. Suddenly, this idyllic life was thrown into turmoil. His beloved wife Sita was kidnapped! With unmatched skill as a warrior, Rama destroyed the ten-headed Ravana and along the way, he won a host of very grateful friends.
20 Minute Read