Writer Write-Up: Bijal Vachharajani
- August 7, 2020
---
Bijal Vachharajani is an esteemed author, journalist, and editor, who has dedicated most of her life to raising awareness about climate change and environmental issues through the written word. Some of her best-sellers include So You Want to Know About the Environment, What's Neema Eating Today? and The Seed Savers. She completed her masters in Environment Security and Peace at the UN-mandated University for Peace in Costa Rica. Bijal has a day job where she serves as Editor Scissorhands with prominent children's publishers, Pratham Books.
"Children's books take us to a safe and wonderful place. We all return to kid's literature for comfort and joy. I cannot believe that people pay me to read kids' books. It's a dream job." 
When quizzed about the editing process, she said that she is blessed to have a wonderful team that gels very well together. No manuscript is passed without the consent of all the team members. The final question they all have to answer after reading a manuscript is, 'Did we enjoy the book and get lost in it?' Only if the answer is a unanimous 'yes' do they proceed! When asked about the design process behind picture books for younger readers and the balance between art and words, she said that there is no fixed formula.

"A lot of discussion goes into it. We look at the age group and the kind of emotion each page can evoke in the kids. Knowledge of design rules definitely helps but it is a constant juggle." 
Her latest title, A Cloud Called Bhura, deals with the crucial subject of climate change, and has been very well received by readers. So how was Bhura born? "Bhura came to me when I was studying at the University of Costa Rica. We learnt that there were brown clouds being formed in the southern part of the world. Reports suggested that this would impact monsoon patterns, human health, and more. However, government bodies are yet to take this seriously. I started wondering, 'What if Bhura was a tangible body hovering above Mumbai? How would everybody react to it?' Thus, Bhura was born!"
Watch the video to learn more about Bijal and her journey so far, and listen to her read from the book as well!
#ACKandFriends is a weekly live show by our Amar Chitra Katha editorial team, where we connect with India's top children's authors and give audiences a sneak peek into the creative process behind writing books for kids. The show airs every Friday at 5:00 pm on our Facebook and Youtube channels.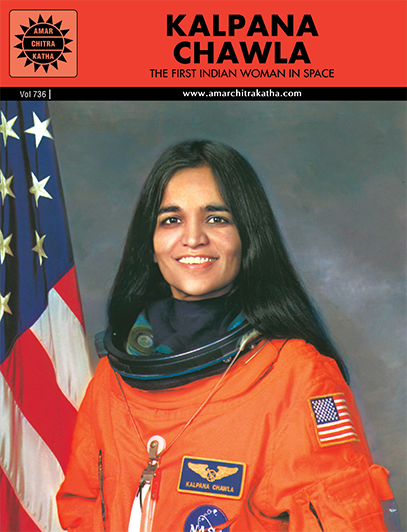 Comic of The Month
Kalpana Chawla
Unconventional clothes and bobbed hair were not the only indications of Kalpana's zest for life - this spirited young girl from Karnal wanted to fly! Her intelligence was multi-faceted, her talents varied and her interests inspiring. The path she charted from her traditional home in Haryana to NASA's elite band of astronauts is the stuff of legends.
20 Minute Read