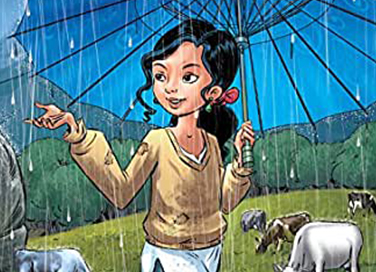 Ruskin Bond Books We Love
- May 1, 2020
---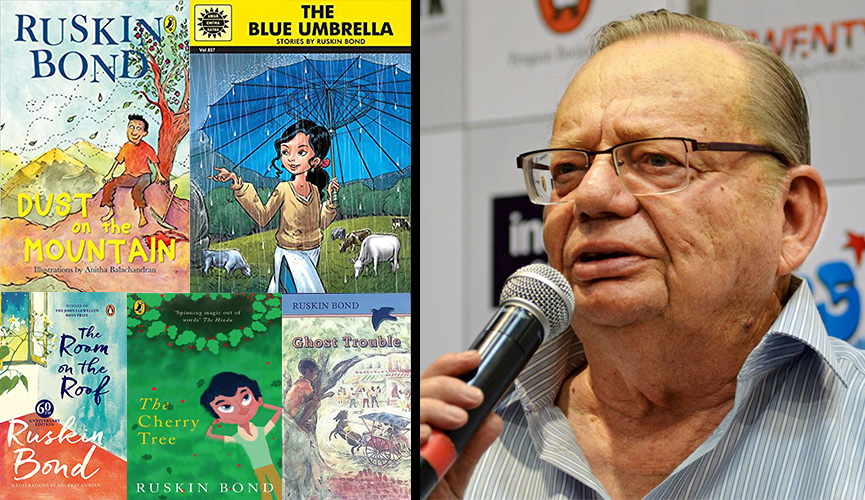 An author who has written more than 120 books over six decades of his career and has several laureates to his name, including Padma Shri and Padma Bhushan, needs no introduction. The iconic Ruskin Bond is undoubtedly a muse to millions. The beauty of his books is that they teleport you to a simple world where big life lessons await. Here's some of our favourite Ruskin Bond books of all time. 
At the age of seventeen in 1951, Ruskin Bond published his first novel ever called 'The Room on the Roof'. This semi-autobiographical story takes you on a journey to the countryside through the eyes of an orphaned boy, Rusty. Rusty is an Anglo-Indian boy who lives with his guardians in Dehra, Uttarakhand. His guardian, Mr John Harrison, desires to raise Rusty like an Englishman because he assumes the Indian lifestyle to be beneath them. Frustrated by John's control and abuse, Rusty runs away from the house, eventually crossing paths with a woman called Meena. In exchange for tutoring Meena's son, Rusty has his meals taken care of and a tiny room on the roof. This story set the tone for multiple Rusty stories that Mr. Bond wrote over the years. 
Unlike most ghost stories, this one is neither bone-chilling nor horrifying. This ghost by Ruskin Bond is mischievous and relatable. The basic plot of the story revolves around Pret, a ghost who lives on the peepal tree in the compound beside the road. Pret enjoys playing pranks on passers-by. One day, the Public Works Department demands Grandfather to cut down the peepal tree. Unfortunately, Pret loses his home and seeks refuge in the house. Interestingly, he develops a bond with the little boy of the house who is able to sense him. The story manages to expand the horizons of readers while keeping them entertained throughout. It also drives home the importance of the alarming consequences of human actions on nature.
Little boy, Rakesh, plants a cherry seed in his garden. He nurtures the seedling every day. As the seedling grows into a plant and finally into a huge tree, it survives all adversities, which Rakesh notices. Finally, on his ninth birthday, Rakesh receives a precious gift. The cherry tree blossoms for the first time. This story beautifully encapsulates the importance of resilience and perseverance. 
This story, like most of Ruskin stories, is set in the hills of India. Bisnu lives with his family in the lap of nature. He works hard on the farm with this parents. A certain year, lack of rains forces him to move to a city and take up a job. He takes up various odd jobs which he fulfils with dignity and honesty. While switching jobs, he once comes across a limestone quarry. He is heartbroken to see the mining industry destroy the lovely mountains. He is left with two choices – leave back home and toil hard or settle in the city.
Ruskin Bond wrote The Blue Umbrella in 1980. Since then, it has been adapted into a Bollywood movie, illustration books, and even an Amar Chitra Katha comic book. The story is set in a small village of Garhwal. Little girl Binya get allured by a blue umbrella possessed by some tourists. She trades her leopard claw pendant for the blue umbrella and flaunts it. Ram Bharosa, the village shopkeeper, sells cold drinks and sweets in exchange for used items. He sets his eyes on Binya's blue umbrella. Does he convince her with a barter? Read the book to find out.
Amar Chitra Katha's The Blue Umbrella is available on the Amar Chitra Katha app as well as Amazon, Flipkart, and other major e-tailers.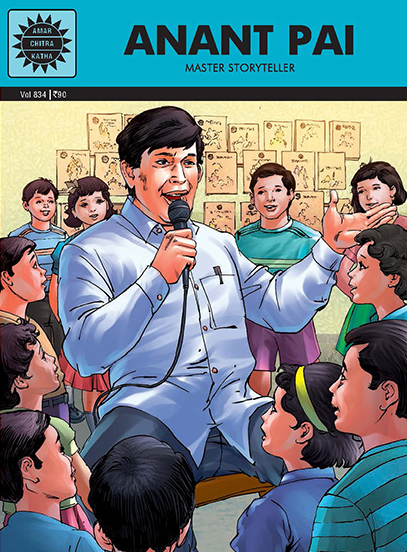 Comic of The Month
Anant Pai
Anant Pai strode the Indian comics industry like a colossus. Using the comics format he told stories from mythology, history and literature to generations of children. Uncle Pai, as he was known, wanted Indian children to be familiar with their heritage. A chemical engineer by profession, Anant Pai gave up his job to follow his dream, a dream that led to the creation of Amar Chitra Katha and Tinkle. Read the story of the man who left behind a legacy of learning and laughter.
20 Minute Read