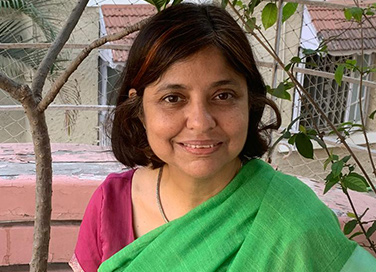 Writer Write-Up: Shabnam Minwalla
- June 26, 2020
---
Shabnam Minwalla is a distinguished children's author, her body of work includes When Jiya Met Urmila, The Shy Supergirl, Lucky Girl, and The Nimmi series. At the tender age of ten, she realized her passion for writing and began a career in journalism in her early twenties. It was only after becoming a mother did she realize her true calling for writing books, eventually writing her first book, The Six Spellmakers of Dorabji Street. However, the transition from newspapers to books wasn't that easy. Reminiscing about those days, she says,
"When I first started writing, my stories sounded like long news reports. It took me sometimes to realize that journalism has to do with conveying facts, thus, you stick to certain rules. Fiction, on the other hand, demands you to break the rules." 
As she got into the flow of writing for kids, Shabnam's past experiences turned out to be quite useful. All the places she had been, people she had met, and ideas she had found new life in her stories. Her books are packed with drama, comedy, and horror. In fact, most of her books are horror-themed, something that's quite unique in the Indian children's literature scene. She giggles, "It is fun to be scared in a safe way. When you know that it is just in the pages of the book, it is fun." So what's her inspiration? In her words, it's everyday objects. She then adds real experiences and incidents around these and tops it off with a healthy dash of humour. That's the secret recipe to her super amazing bestsellers. 
Growing up reading Enid Blyton, she always thought that fantasy and adventure can only take place in quaint English towns. That changed when she started writing her own books. A prominent part of her books are the streets and bylanes of Indian cities. Her popular book What Maya Saw brings alive the streets of South Mumbai and the architectural splendour of one of Mumbai's most prestigious institutions, St. Xavier's College. Spending most of her life in the town, she wanted to make kids more aware of the beautiful side of the bustling city of Mumbai. 
Shabnam loves interacting with kids in person, at literature festivals, workshops, book fairs and exhibitions. Writing is a lonely profession, she believes, which is why a writer should interact with the outside world as much as possible. Interactions pave their way to stories. "With the lockdown, I'm more at home nowadays though. Lots of family time! I usually write when the kids go to school, but now, I'm writing through the night!"
#ACKandFriends is a weekly live show by our Amar Chitra Katha editorial team, where we connect with India's top children's authors and give audiences a sneak peek into the creative process behind writing books for kids. The show airs every Friday at 5:00 pm on our Facebook and Youtube channels.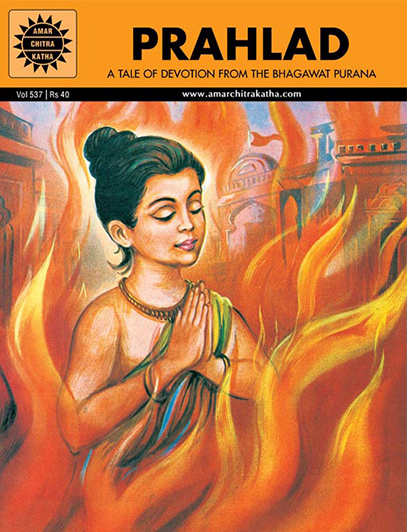 Comic of The Month
Prahlad
Prahlad drove his monstrous father to a murderous rage. He insisted on praising Lord Vishnu who was considered a sworn enemy by his father Hiranyakashipu. When he tried to punish his disobedient son, Hiranyakashipu's potent poisons turned to nectar while his lethal weapons fell harmlessly away. In this tale of bloodthirsty revenge, Prahlad's only defence is his devotion which dramatically puts an end to all evil.
20 Minute Read