Legends of the Ramayana
₹4,499.00
With Legends of the Ramayana, experience one of India's great epics in a set of titles curated for you. It contains Valmiki's Ramayana, the story of Lord Rama, told in the original six ands or parts: Bala Kand, Ayodhya Kand, Aranya Kand, Kishkindha Kand, Sundara Kand and Yuddha Kand. The journey of Rama, from dutiful son to righteous warrior, is told through vibrant illustrations and evocative storytelling. This tale of family, friendship and love has resonated with people across the world.

The Ramayana is known for its compelling heroes and complex villains. This collection also contains ten titles that spotlight characters, known and unknown: from the valiant Hanuman who moves mountains, to the mighty but prideful Ravana; from the king-turned-sage Vishwamitra, to the mystical Mahiravana of the netherworld, and more.

Legends of the Ramayana is an exhaustive collection of stories from this enduring classic.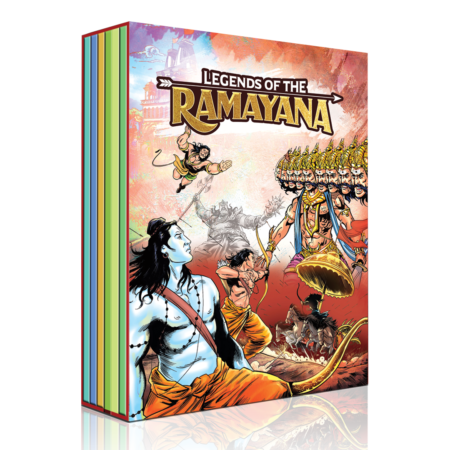 This item:
Legends of the Ramayana