Amar Chitra Katha App Subscription – 3 Months
With a glorious history of over five decades, Amar Chitra Katha is not just India's beloved comics brand, it is a treasure that every 90's kid grew on and has now passed on to the next generation. Now read India's favourite stories on the go!
Choose from over 450+ titles of Amar Chitra Katha in English and regional languages on a screen near you, be it your phone, your tablet, your computer, or even your TV!
Our catalogue features a wide range of genres including history, fables and folktales, epics and mythology, and classic and contemporary literature.
ACK Comics is one of the best reading apps out there for children and youth, helping them connect with India's heritage and history in a heartbeat. Complex plotlines are broken down with easily comprehensible prose and brought alive through beautiful illustrations.
In-depth research is carried out by our editorial team to make sure accurate information is conveyed to readers. With digital bookmarks and auto-save features, building your ultimate Amar Chitra Katha library has never been easier.
So if you are on a hunt for an educational app that you will absolutely enjoy, look no further. Download the ACK Comics app and start your subscription to get unfettered access to our entire catalogue.
You can also choose to pay as you go and cherry-pick your favourites from our à la carte menu. With the ACK Comics app, it's all about quality screen time.
For a seamless user experience, our team is always at your service. We aim to resolve user queries within 24 working hours from the time a ticket is raised (Up to 72 hrs on weekends).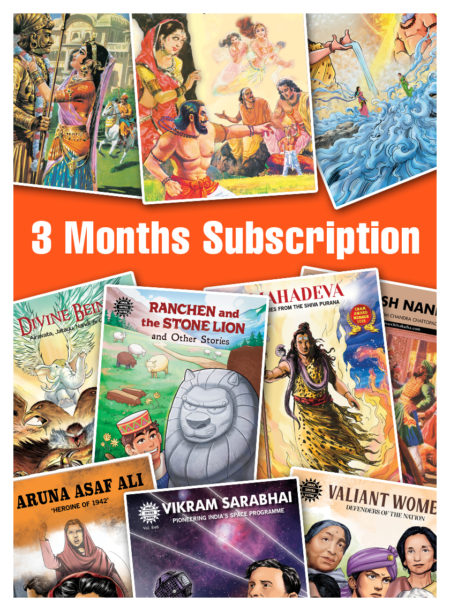 This item:
Amar Chitra Katha App Subscription - 3 Months