ACK Junior App Subscription
₹399.00 – ₹799.00
While our comics are a fun way to learn about our country's heritage and history, we, at 
Amar
Chitra
Katha
, understand that they can get a tad too difficult for our littlest readers. Well, look no further, we have ACK Junior for that!
Amar Chitra Katha Junior Books is a treasure trove of Indian stories written with little ones in mind. The books released under the ACK Junior category are picture books written in simple language and contain learning tools and exercises. With the trust and confidence of Amar Chitra Katha, ACK Junior books are the natural choice of storybooks by Indian parents for their children. These children's books are truly Indian in their essence and help the young minds form a route to our roots.
For easy access, we have the Amar Chitra Katha Junior App, a digital library of all the ACK Junior books. The books are categorized into three levels. Level 1, the beginner series, is for children who are just starting to read and learn. These books are often read aloud by parents to their toddlers. They are meant to encourage the child's listening skills and are simple enough for them to pick up on their own and to enjoy the illustrations even while developing an early interest in reading. Books that are in the Level 2 category cater to kids who are gaining confidence to read, while the Level 3 books are meant to be enjoyed by children who have begun to read on their own. The books open the world of stories and imagination to children at a very young age, aiding their overall development.
The complexity of stories and the vocabulary increases gradually with each level. The learning ladder section at the end of every book helps kids learn new words and understand their meaning. To sate the curious young minds further, some books also have an After the Story section full of fun facts about the various characters and things that they have read about in the story. The captivating art and the compelling stories are curated and written and illustrated by the creative team of Amar Chitra Katha. The editorial runs multiple checks at every stage of the book's creation to ensure that your child has the best reading experience. With ACK Junior storybooks, welcome your kids into the magical world of stories that inculcates in them a sense of Indian values and makes learning fun!
Download the ACK Junior app and start an annual subscription to get unfettered access to our entire catalogue. You can also choose to pay as you go and cherry-pick your kids' favourites from our à la carte menu. With the ACK Junior app, it's all about quality screen time. For a seamless user experience, our team is always at your service. We aim to resolve user queries within 24 working hours from the time a ticket is raised (Upto 72 hrs on weekends).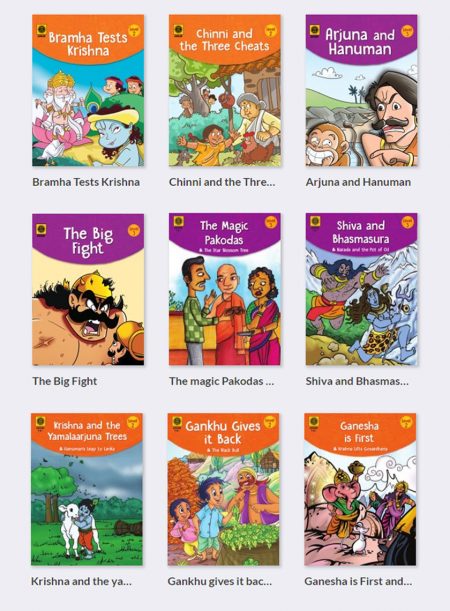 This item:
ACK Junior App Subscription