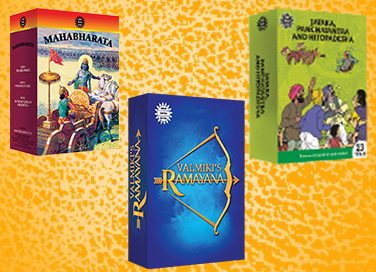 Amar Chitra Katha's Best Selling Books of All Time
- September 23, 2021
---
By Dheer Sanghi and Kayva Gokhale 
It's hard to pick a favourite Amar Chitra Katha title. There are over 450 titles across numerous genres, each more exciting than the other! Instead, we let you, our dear readers, pick the favourites. Here is a list of some of the best selling books and most popular titles of all time from our collection: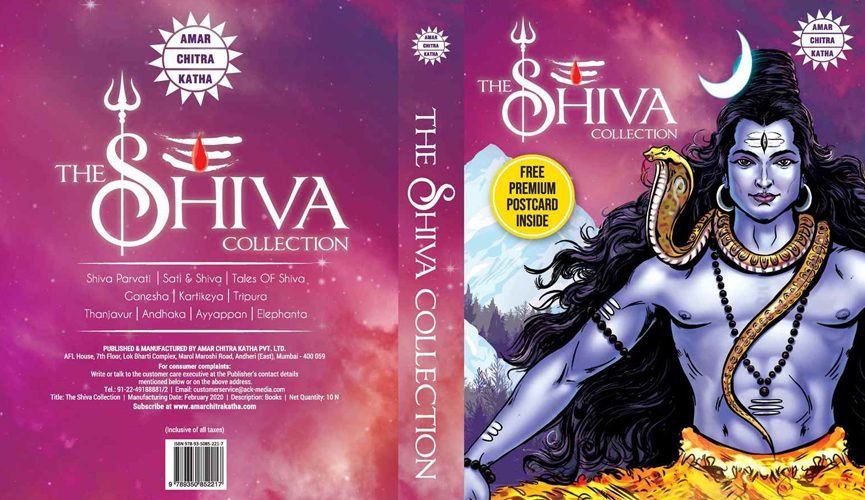 An all-time highest-selling book among the Amar Chitra Katha packs, The Special Shiva Collection provides a comprehensive group of books that tell the most iconic stories of Shiva. This book set contains ten titles, all of which narrate the tales of different phases in Shiva's life. From Shiva's love for Sati, to Parvati's devotion for Shiva, from the exploits of his two mighty sons, Ganesha and Kartikeya, to the story of Ayyapan, his son with Mohini, the collection offers the readers their favourite tales of Shiva's family. Through its tales, this collection takes the reader on a magical journey across places like the Thanjavur temple, the mythical cities of Tripura and the centuries-old caves of Elephanta. Furthermore, these books also include some of the most popular Shiva stories from the epics, the Mahabharata as well as the Ramayana, all of which celebrate the wisdom and power of Shiva, the Destroyer. This collection offers a peek into Shiva's endless love for his devotees, his eternal fight against the demons that threaten peace and his determination to assist those in need, and teaches the value of being strong and kind.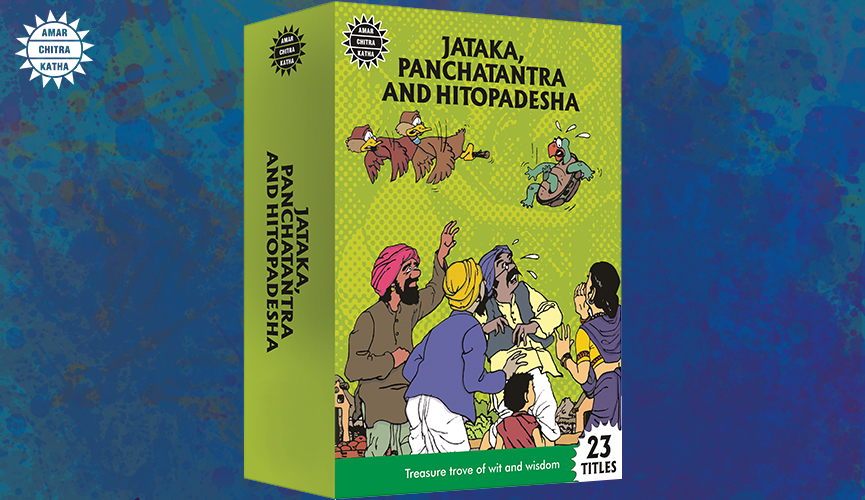 The first set of comics under Amar Chitra Katha's highest selling books of all time is the 'Jataka, Panchatantra and Hitopadesha Collection.' Containing over 20 titles, this collection tells old fables through various people and animals with the aim of inculcating good virtues. The stories are witty, yet each leaves readers with some morals applicable to everyday life. These stories are nostalgic for many and the characters come to life through the illustrations. Tales of bravery, courage, counsel and caution can all be found in this collection. Panchatantra stories serve as a manual to a prospective king, revolving around simple day-to-day events but imparting a strong message at the end. Kids love these folktales as they are fun to read, timeless, universal, and easy to understand; vital to every child's learning even today. Jataka stories are popular folktales of the previous lives of Buddha. Every story sets an example of the impact of deeds and misdeeds, helping kids learn the importance of being virtuous, understanding friendship and relations, choosing the right path, being truthful, and more. Hitopadesha is a collection of Sanskrit fables, which are several centuries old. These fables have been passed on from generation to generation, and are filled with old wisdom that has stood the test of time and will always be relevant.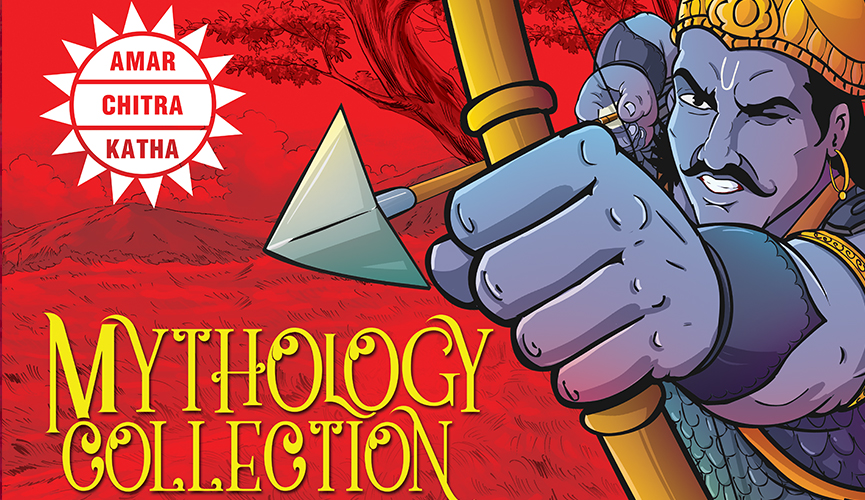 Another one of Amar Chitra Katha's most sold books of all time is 'The Complete Mythology Collection.' This collection is a favourite and a must-read. Consisting of 73 legendary mythological stories of India, about numerous popular heroes of Indian mythology and the tales of their wisdom, valour and triumph, the collection highlights a plethora of traits and virtues that will inspire the readers. From Veda Vyasa's great epic, the Mahabharata, to his disciple Jaimin's legendary work, Chandrahasa, this collection will introduce you to some of the most well-known Indian mythological stories. What sets this collection apart is that it encompasses stories of various mythological characters taken from different eras. From the puissant Bahubali to the virtuous Gandhari, the loyal Ganesha to the fierce Durga, and the twin divinities Ashwini Kumars to Prahlad, the earnest devotee of Vishnu, this collection has stories that will transport you to a world of myth and wonder. It also highlights some of the most iconic incidents from the life of Krishna including the killing of Jarasandha, Narakasura, and Shishupala. Apart from the tales of various characters from the epics, this collection contains the Gita, the philosophical dialogue from the Mahabharata, where Krishna counsels Arjuna about life as well as his duty as a warrior so that he can fight the war with full moral conviction. The discourse sets the principle of life, making it a great read for young readers.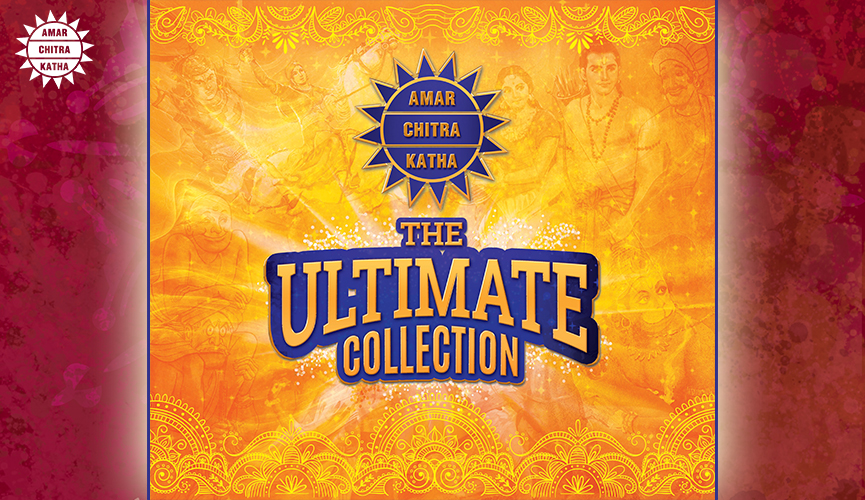 The behemoth set of books which include 10 extra specials, aptly named 'The Ultimate Collection,' contains some of ACK's finest works. Expect more than 200 quintessential Indian stories for kids in one magical box set! Amar Chitra Katha's Ultimate Collection is a treasure chest of virtually every bestselling title from India's favourite storytellers. The collection includes the iconic Mahabharata, classic stories of Akbar and Birbal, iconic tales of Indian gods and kings from Shiva and Krishna to Chandragupta Maurya and Ashoka, and much, much more. Broken down into three categories: Epics and Mythology, History, and Literature, any appetite for comics will surely be satisfied. Celebrating the vast Hindu pantheon of divinities and celestial beings, our mythological stories explore the origins of these intriguing characters and their motivations and aspirations. Spanning the seven worlds from Swarglok to Yama's abode down below, these stories take place across the cosmos, building fully realised worlds filled with wonder and magic that will amaze readers of all ages and backgrounds. It has classic books that preserve the golden history and heritage of India, simplifying events to make them more lucid for every reader's understanding. These are the best stories for kids to be introduced to moral values and ethics while teaching them the importance of patriotism and sacrifice. This series forms a microcosm of India's past, tracing the country's evolution right from the Harappan era all the way to our freedom struggle in the 21st century. The collection also houses amazing retellings of some of Indian literature's best contemporary and classic stories, making it one of our highest selling book collections of all time and one of the all-time best selling books in India.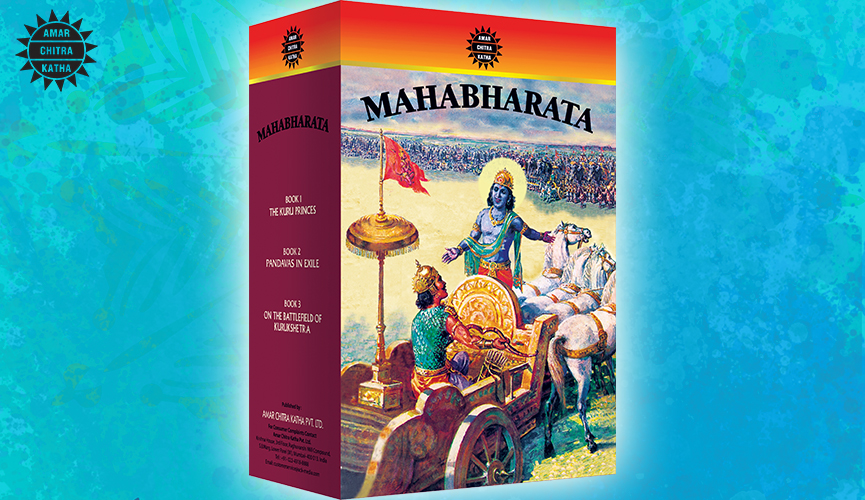 The Mahabharata and the Ramayana are the two great epics of ancient India. The Mahabharata is a multifaceted story, with numerous characters and infinite learning. In brief, it is the story of the battle of Kurukshetra, fought between two cousin clans, the Pandavas and the Kauravas, for the throne of Hastinapura. Full of twists and turns, it is packed to the brim with action, betrayal, deceit, brotherhood, faith, loyalty, trust, disgust, anger and more. The Amar Chitra Katha Mahabharata set highlights every minor and major event of the epic, spread across 42 books split into three volumes. Perhaps the most popular Indian story ever told, the Mahabharata is essential in understanding Indian culture and philosophy. With Amar Chitra Katha's stamp of approval, assuring readers of in-depth research by our eminent editorial team, and stunning artwork brought to life by our expert artists, this collection is a must-have for every Indian household looking to explore their roots. The comic-style narration makes the epic easier and more accessible to readers, as well as one of the most sold books of all time.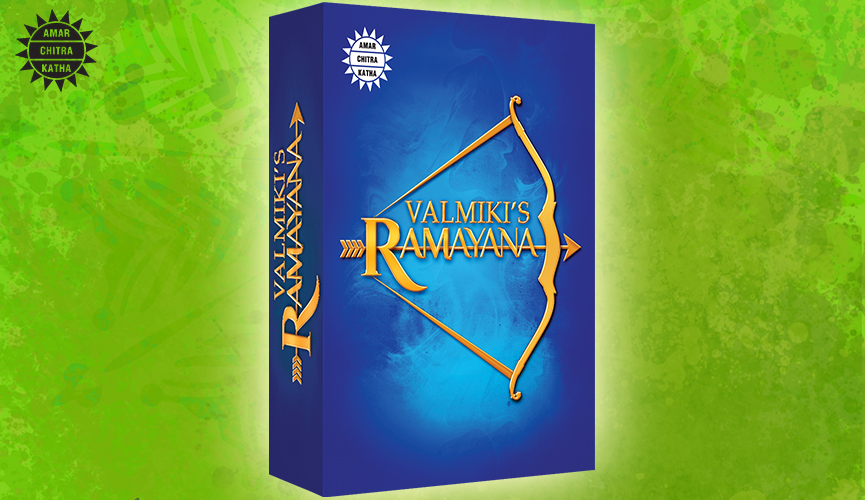 Next on the list of our all time highest selling books, we have the other major Indian epic, Valmiki's Ramayana. The story is considered the perfect mythological story for imparting and learning good values. Ramayana is the story of Rama, the prince of Ayodhya and the seventh incarnation of Vishnu. Known as Maryada Purushottam or the perfect man, Rama embodied all that made for a righteous king. The story of Rama's childhood, his exile, Sita's abduction, Hanuman's devotion, and the war against Ravana, form a heroic tale that teaches numerous values and can be found in this 6 volume set, split up into easy-to-digest bites. Readers see so many shades of human emotions and flaws, as well as compassion and empathy throughout the volumes. Starting off with the characters' childhoods and seeing them grow throughout the comics makes the stories even more personal and touching. This set is bound to immerse children in the colours of Indian mythology and guide them to a higher standard of living, it's no surprise why the set is so popular and one of the highest-selling of all time. But why leave all the fun for kids? Everyone can relearn the life lessons found within these books and apply them to their life!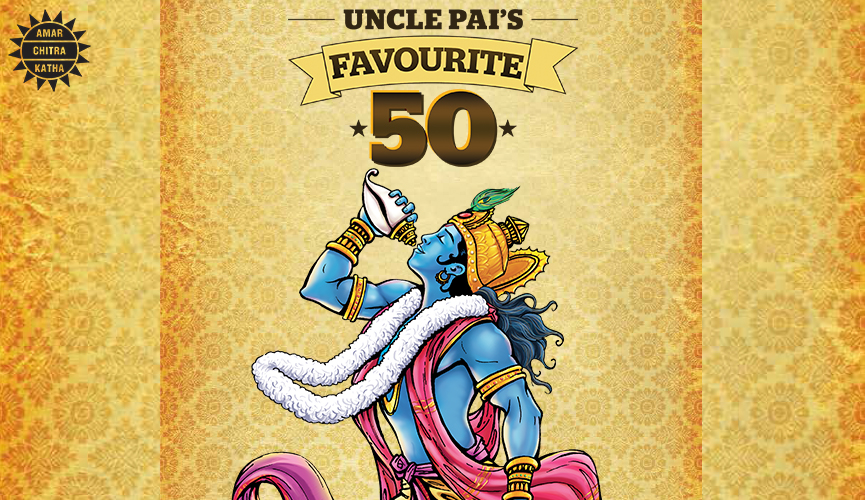 Anant Pai, the founder of Amar Chitra Katha, aimed to educate children about our country's rich history, heritage, literature, mythology and culture. In honour of Uncle Pai's vision, Amar Chitra Katha brings you Uncle Pai's Favorite 50 collection. Handpicked by our founder, this collection comprises stories from a wide range of genres. It includes heroic tales of courage, fascinating mythological legends, Indian classics retold and much more. This ultimate collection takes you from stories of great figures like Buddha, Chanakya, Akbar, and Bhagat Singh, to fun animal tales from the Jataka and Panchatantra. It immerses readers into our rich culture with tales of Ram, Krishna, Hanuman and Shakuntala, while also providing them with the comfort of light-hearted tales of Birbal and Baddu and Chhotu. Some of these stories were written by Uncle Pai himself, which, alongside the superb art and iconic style characteristic of Amar Chitra Katha, makes this collection all the more special. Uncle Pai's Favorite 50 encompasses the best of Amar Chitra Katha. A curation of stories that have now become a staple in Indian households, the collection has something for all types of readers, from all age groups. This diverse range of genres is sure to appeal to all. All this and more make this collection one of the all-time best-selling books in India.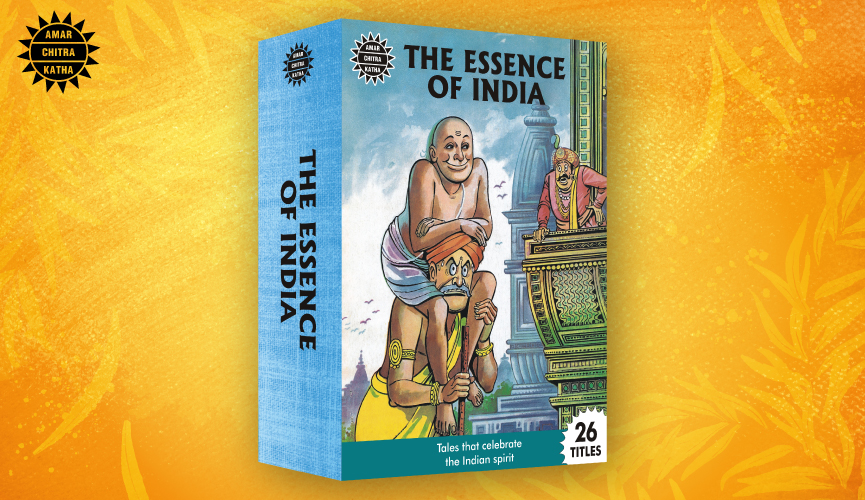 A treat for Amar Chitra Katha fans, The Essence of India Collection is a compilation of evergreen stories of India. It is a journey through our country's fascinating mythology, riveting history and rich literature. This set contains titles that narrate the lives of great men and women from different eras, such as Ashoka, Bhagat Singh, Shivaji, Rana Pratap, Jagdish Chandra Bose and Rani of Jhansi. The tales of valour, sacrifice, and determination of these historical heroes are sure to inspire generations to come. This collection also takes the reader on a tour of evergreen stories of India such as our great epics the Ramayana and the Mahabharata as well as the treasure trove of mythological legends from the Puranas, with titles such as Tales of Vishnu, Shiva Parvati, Shakuntala, The Gita, etc. Along with these magical stories, the collection also provides light-hearted reads with titles like Jataka Tales, Raman of Tenali, and Birbal the Wise. A truly complete collection, this set is sure to appeal to readers of all age groups and foster a long-lasting interest in India's rich culture and heritage. There is little wonder that this collection is one of the all-time best selling books in India.
Head to the Amar Chitra Katha Shop and order your favourite ACK collection now!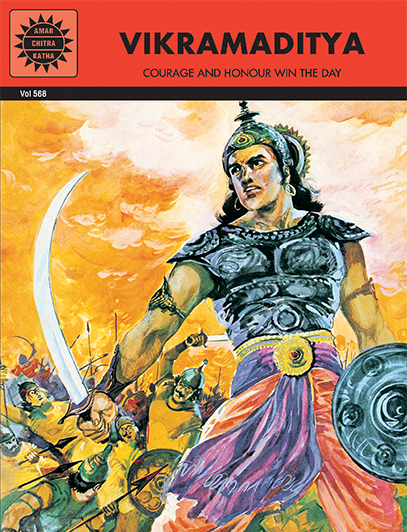 Comic of The Month
Vikramaditya
A jealous brother robbed him of his kingdom, his own courage won it back. Chandragupta Vikramaditya has a special place in history because he proved that the love of power is not all that is needed to create an empire. Also required is the love of a wise woman and good, old-fashioned honor.
20 Minute Read