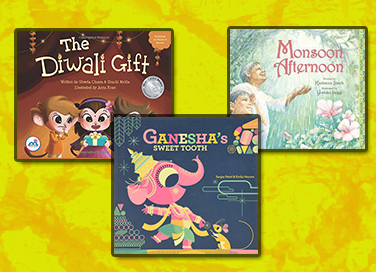 5 Children's Books On Indian Culture
- June 11, 2021
---
By Pratit Raiturcar and Krithika Nair 
Many Indians believe that the world of children's literature is dominated by ideas and stories from the Western part of the globe. While that may have been true for a long time, the children's literature scene in India has evolved greatly in the last few decades. Many of these books represent Indian culture through retellings of famous myths, legends and folktales, while some others talk about experiences that are relatable to Indians everywhere. Here are some of our favourite children's books that do a beautiful job at representing Indian culture: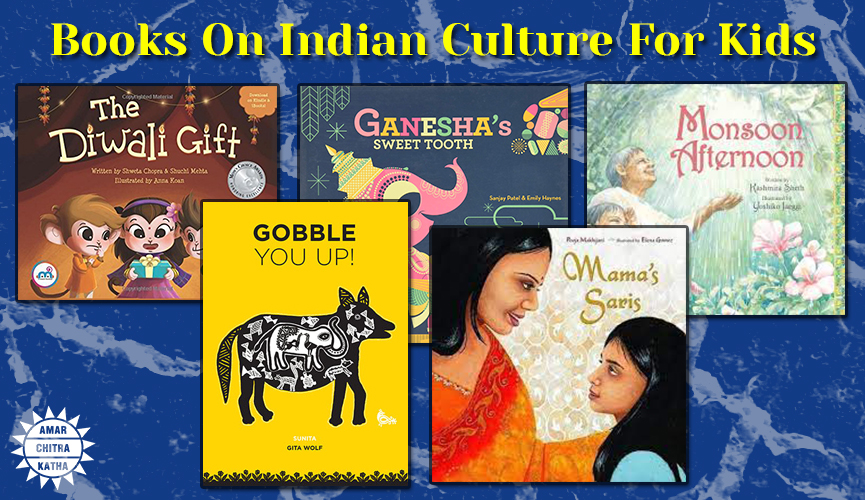 The Diwali Gift by Shweta Chopra, Shuchi Mehta and Anna Koan
The Diwali Gift is an adorably illustrated children's book introducing readers to the grand Indian festival of Diwali. Three little monkeys named Suno, Dekho and Jaano get curious about a mysterious gift from Suno's grandmother. The excited monkeys take guesses on what they think the box contains. The book presents many cultural practices surrounding Diwali through the gift, initiating interest regarding the festival and its celebration. The lively illustrations complement the riddles and rhymes written by the authors very well.
Ganesha's Sweet Tooth by Emily Haynes and Sanjay Patel
This colourful retelling of the story of the elephant god Ganesha and how he started to write the Mahabharata will definitely introduce the littlest readers to one of India's greatest stories. Kids will enjoy reading about the magical world of gods and celestial creatures. The beautiful illustrations and fun style of writing make this picture book an absolute winner. The story deviates slightly from the original legend to make it more interesting and funny for the younger audience while retaining the cultural significance of the myth.
Monsoon Afternoon by Kashmira Sheth and Yoshiko Jaeggi
Kashmira Sheth weaves a beautiful story about a grandpa and his grandson's day spent outside during a monsoon. When a little boy notices that it is about to rain, he goes to each family member and asks them to join him to play in the rain. Everyone seems to be occupied until his grandfather finds him looking sad by the door. The boy and his grandfather have fun doing some mundane yet memorable activities such as floating paper boats in a tub until the rain stops. They take a long walk and notice that the ants are gone, the banyan tree's leaves are shining, and the wild peacocks around the area are dancing, just as they did when the grandpa was just a child, showing how some things remain constant across generations, and how people connect through them.
Mama's Saris by Pooja Makhijani and Elena Gomez
Imagine dressing up with glamour and having yourself be seen with happiness and wonder while watching the sari caressing the floor perfectly. The child clearly wanted the thrill of having such dazzling looks and what it feels like to be as gorgeous as her mother. When the child looks at her mother's suitcase filled with cotton and embroidered saris, she decides that she too should wear a sari just like her mama in order to look as beautiful as she does. Mama's Saris is a peek into the mind of every young girl who wishes to play dress up. This is a beautiful story between a mom and a child and how their bond deepens through their mutual fondness for saris.
Gobble You Up by Gita Wolf and Sunita
Gobble You Up! is a simple, traditional tale about a jackal who makes a fool out of his friend, a crane, by telling him that he is too lazy to hunt for food and proceeding to gobble the crane! The jackal ends up being a hunter and starts to kill and eat every animal that crosses his path; which in turn bursts his stomach open and all the animals he ate are set free. The beautiful style of art, known as Meena art, is a traditional style practised in Rajasthan. The message of the story, that greed always ends in bad consequences, is communicated quite effectively to its young readers.
We, at Amar Chitra Katha, cherish our heritage and always try to represent our culture in its most authentic form. Be it mythology, folktales or history – we have it covered! Check out our vast digital library on the ACK Comics App.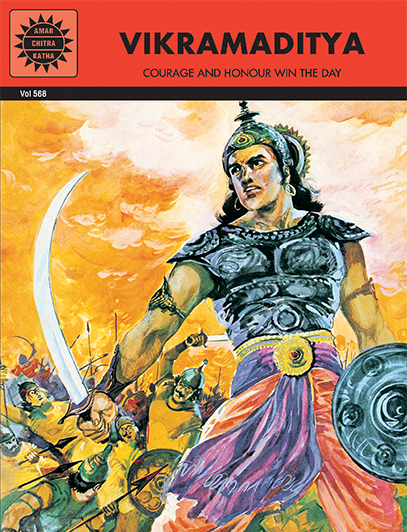 Comic of The Month
Vikramaditya
A jealous brother robbed him of his kingdom, his own courage won it back. Chandragupta Vikramaditya has a special place in history because he proved that the love of power is not all that is needed to create an empire. Also required is the love of a wise woman and good, old-fashioned honor.
20 Minute Read