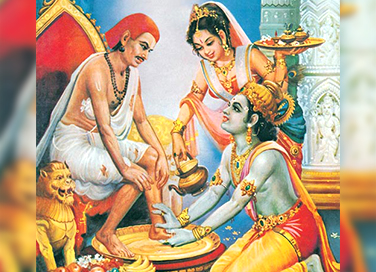 Krishna and Sudama
- December 1, 2020
---
By Srinidhi Murthy
Krishna's love for his friends was beyond the comprehension of his friends too. One such ethereal bond was the one shared between Krishna and Sudama. 
Childhood friends
Krishna and Sudama were childhood friends. Both of them gained knowledge from the same guru and were inseparable during their childhood. After their schooling came to an end, they promised to cherish their bond forever. Years later, Krishna became the king of Dwaraka and married the goddess of prosperity, Rukmini, whereas Sudama became a pandit and married a girl arranged by his parents.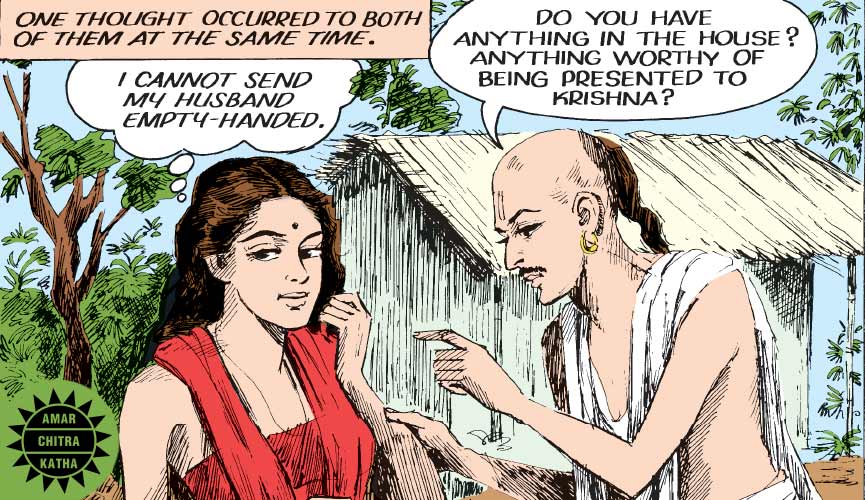 As a pandit, Sudama didn't earn much. Overtime, it became extremely difficult for him to manage his wife and kids' needs with a meagre wage. Sudama's wife suggested that he should meet Krishna who might help him financially for the sake of their children. Sudama felt embarrassed to reach out to his childhood friend only to get a favour from him. So, while he agreed to meet his bosom buddy, he also made it clear to his wife he would not bring up their issues nor would he ask for a handout. Sudama's wife supports his decision seeing the sincerity of her husband. On the day of his journey, his wife packed some flattened rice or poha for Krishna as she knew it was his favourite food. 
Journey to Dwaraka
After days of walking, Sudama reached Dwaraka where he was awed by its prosperity. The people were very visibly happy with no house in Dwaraka showing any signs of poverty. Sudama reaches the palace and, to his surprise, no one questions him when he enters. Seeing his childhood friend, Krishna's face brightened, rushing towards Sudama and hugging him with joy. Krishna and his wife Rukmini then place him in a royal seat and wash his feet as a warm gesture. They also serve Sudama with delicious dishes and make comfortable arrangements for his stay in their palace.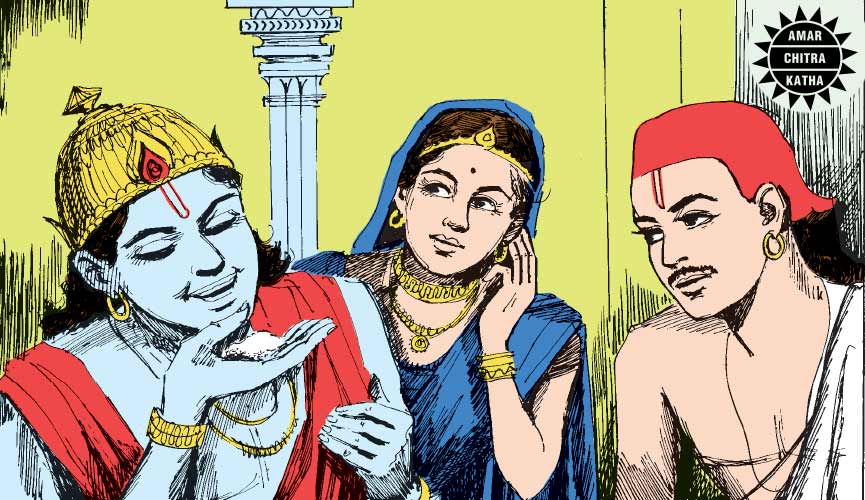 Krishna and Sudama recall their early childhood days and spend the next few hours asking about each other's lives. However, Sudama doesn't burden Krishna with stories of his penury, even feeling a little embarrassed about giving Krishna the flattened rice that his wife had packed, especially after the grand welcome Krishna accorded him. However, Krishna had taken notice of Sudama's small cloth rucksack, and playfully snatches it away from him. On opening it, Krishna is delighted to see his favourite snack hidden inside and takes a handful of it into his mouth. As he is about to take a second handful, Rukmini stops him and reminds him that Sudama had already got what he wanted and he didn't need more than that. After all, the goddess of prosperity had to maintain balance. Sudama gets confused by her statement, but is also happy that Krishna liked his humble gift.
True Friendship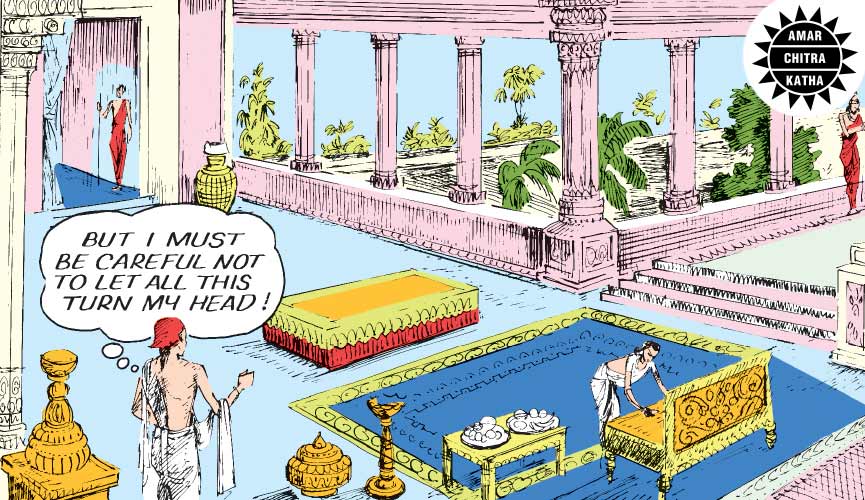 The next morning, Sudama takes his leave from Krishna and heads home. He is content with meeting Krishna and wanted nothing more than this reunion from him. However, when he reaches his house, he finds a grand mansion there instead of his humble hut. His children came running towards him wearing expensive clothes and jewels and his wife was decked out like a queen. She explained to her confused husband that their life got transformed the moment he reached Dwarka. She later asked him what exactly did he ask Krishna for that changed their fortune so drastically. Sudama smiled and replied,
"I didn't ask anything from Krishna, but like a true friend, he understood and fulfilled all my needs. He knows it all." 
Read the complete story of Krishna and Sudama's friendship in our title Sudama. Now available on the ACK Comics app, Kindle, Amazon, Flipkart, and other major e-tailers.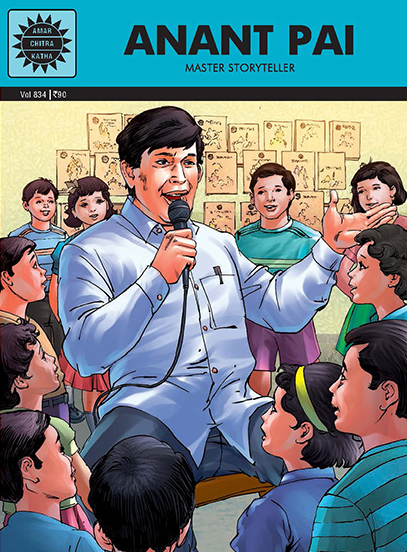 Comic of The Month
Anant Pai
Anant Pai strode the Indian comics industry like a colossus. Using the comics format he told stories from mythology, history and literature to generations of children. Uncle Pai, as he was known, wanted Indian children to be familiar with their heritage. A chemical engineer by profession, Anant Pai gave up his job to follow his dream, a dream that led to the creation of Amar Chitra Katha and Tinkle. Read the story of the man who left behind a legacy of learning and laughter.
20 Minute Read