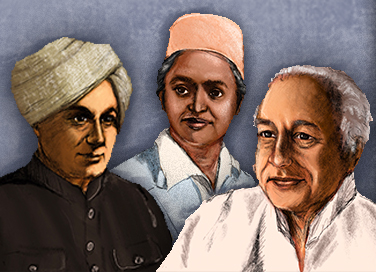 The Pioneers of Marathi Natyasangeet
- July 15, 2022
---
By Saee Joshi
Natyasangeet or Sangeet Natak are Marathi language musical dramas, which combine prose, poetry and music to convey a story. This form of musical theatre has its origins in 19th century Maharashtra and soon became a popular form of entertainment for the common man. Most of the plays in the initial days would be based on mythological stories from the Mahabharata and Ramayana. However, with time, these plays also evolved to include historical and social messages. While there have been numerous musical maestros who contributed to the growth and development of this cultural phenomenon, there are three men who stand out as pioneers.
Bal Gandharva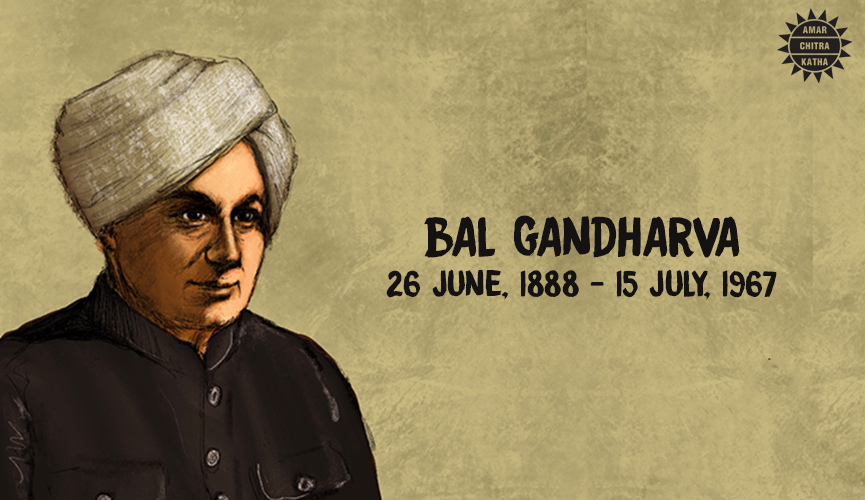 Bal Gandharva, born Narayan Shripad Rajhans, was the Natsamrat or King of Theatre of Marathi musical theatre for nearly half a century. Born to a common Maharashtrian family in June 1888, he was graced with a melodious voice. Young Narayanrao began singing bhajans (devotional songs) from a tender age. It was in one such singing performance in Pune that a member of the awed audience, Lokmanya Tilak, the great social reformer and freedom fighter bestowed upon young Narayan the name 'Bal Gandharva' or a 'Young Celestial Musician.'
Bal Gandharva joined the Kirloskar Natak Mandali at the age of seventeen. His first performance was a female role in the Marathi version of the Sanskrit play 'Shakuntala'. He acted in several plays – from classic to contemporary themes, almost exclusively playing female roles. His second marriage, after the untimely death of his first wife, was to a Muslim singer named Gauhar Bai, extremely progressive for that day and age. He acted in several anti-colonial plays as well during the course of his career.
He was proclaimed the 'Natsamrat' in 1944, and elected president of the Marathi Natya Shatabdi Sammelan, a conference commemorating the centenary of the Marathi Theatre. In 1955, he was given the Central Sangeet Natak Akademi award and the Padma Bhushan in 1964.
Though, time could not be at a standstill. As Bal Gandharva become older and women were no longer shunned from the stage, he had to move onto more mainstream entertainment: the film industry. He dabbled in the movies, but eventually returned to the stage after a few flops. Though he founded a flourishing company, the Gandharva Natak Mandali, he remained in debt due to the extravagance of the theatrical world. He suffered through a lot of grief, losing three of his children, and a paralytic shock in 1952. Bal Gandharva had been paralysed ever since, struggling and virtually penniless. He died on 15th July, 1967.
The Bal Gandharva Rang Mandir was built in his honour in Pune in 1968, and it still flourishes to this day, furthering Bal Gandharva's legacy.
Deenanath Mangeshkar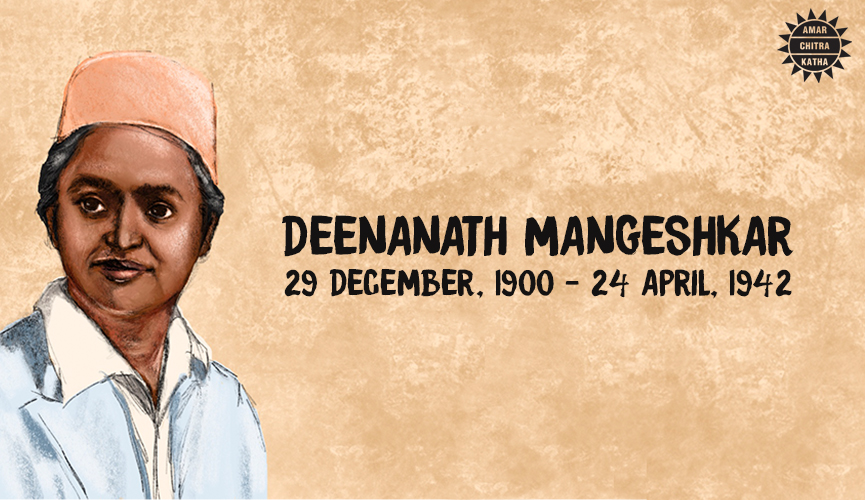 Deenanath Mangeshkar's mercurial style and resonant voice made him one of the biggest voices on the Marathi musical scene. His distinctive musical legacy has never been replicated. Deenanath was born in what is now modern-day Goa, in a small village called Mangeshi, to a Karhade Brahmin priest and a Devadasi, Yesubai. In his teen years, he christened himself again as 'Mangeshkar', as a homage to the place he was born in, and to the deity of the Mangueshi temple, also called Mangesh.
From the age of five, young Deenanath began taking singing lessons from Shri Baba Mashelkar and later joined the Gwalior school. He was inspired by the variety and aggressive style of Gayanacharya Pandit Ramkrishnabua Vaze. He travelled to Bikaner for his formal training, under Pandit Sukhdev Prasad. He joined the Kirloskar Sangeet Mandali and the Kirloskar Natak Mandali at the age of 11, leaving it shortly after and founding his own Balwant Mandali.
Deenanath's musical voraciousness and winning features resulted in him becoming immensely popular on the Marathi stage. The element of surprise in his arrangement of note-patterns fascinated theatre-goers.
Deenanath's versatility expressed itself in his voice and plays. Dramas produced by Deenanath Mangeshkar were always resonant with nationalism and patriotic in nature. He worked with writers like K.P. Khadilkar, Veer Vamanrao Joshi and Veer Savarkar. Some of his most patriotic works include Manapaman, Ranadundubhi and Sanyasta Khadga.
Deenanath fathered Lata, Meena, Asha, Usha and Hridaynath Mangeshkar, who became the first family of Marathi and Hindi film music.
In the years of financial hardship and creative discontent in the 1930s, Deenanath began drinking heavily. He breathed his last in Pune, 1942, only 42 years old. The Mangeshkar family has established a hospital and research centre in Pune, the Deenanath Mangeshkar Hospital, in his memory.
Vasantrao Deshpande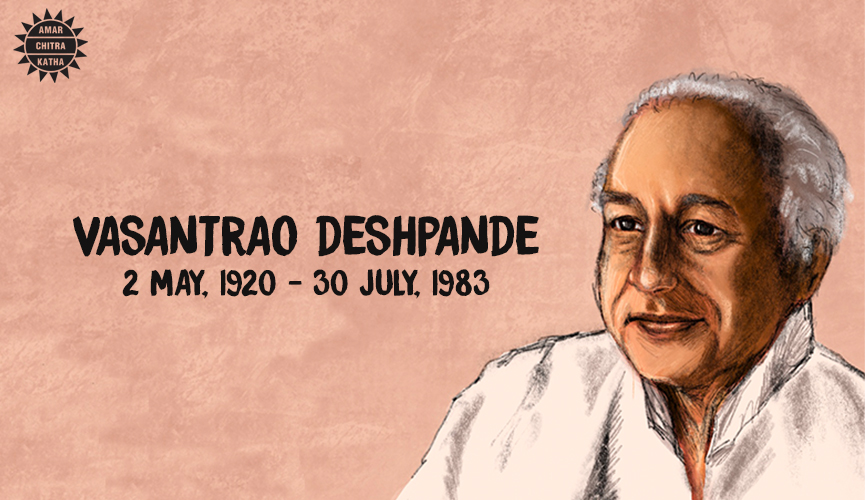 Vasantrao Deshpande is a household name in most of Maharashtra now, but this musical maestro could have very easily vanished into the haze that then surrounded the theatrical world. Born in 1920 to a Deshastha Brahmin family in Murtizapur, in the Vidharba region of Maharashtra, Vasantrao was exposed to the Marathi devotional songs that his mother sang from the early years of his childhood.
Though he had an exceptionally sweet voice, it was entirely by chance that he was discovered by Shankarrao Sapre, a local music teacher after his mother relocated them to Nagpur. He began learning music, and within four years had landed the role of Krishna in the 1933 film 'Kaliya-Mardan.' In Kolhapur, where the film was shot, Vasantrao discovered artists big and small, all of which served as an inspiration to him. Deenanath Mangeshkar, the star of the theatrical world at the time, even took the young Vasantrao under his tutelage.
Vasantrao imbibed all of their styles into his own, and he is to date the sole inheritor of Deenanath's Mangeshkar's mercurial musical flair. Vasantrao never stuck by a particular gharana, or music lineage, though he was initially trained by the Gwalior Gharana. He absorbed the good qualities of every gharana that he came across. He stayed in Lahore with his uncle for a short period of time, and it was here that his colourful style truly evolved.
He passed the matriculation exam and landed a job as a civil servant in Pune in 1941, which though highly unsatisfactory to the artist, provided him with financial security. Though he did not pursue music as a career for several more years, he built up a social circle in Pune comprising fellow music lovers and pursued his learning under different gurus.
The favour of Hyderabad's Begum Akhtar was one of the most influential turning points for Vasantrao, and it was due to her support and insistence that Vasantrao finally started pursuing music full time in 1966. Though the initial years were difficult, he met with great success and respect. His most memorable role was that of the 'Khansaheb' in the play Katyar Kaljat Ghusli, which catapulted him into stardom. This role is still retained by his grandson and contemporary classical singer Rahul Deshpande.
Vasantrao had coronary issues in the 1980s, and though he lived long enough to receive the prestigious Sangeet Natak Akademi award, he died on 30th July, 1983, at 63 years old. The Vasantotsav, an annual musical festival organised in his honour in Pune, is spread over three days in January.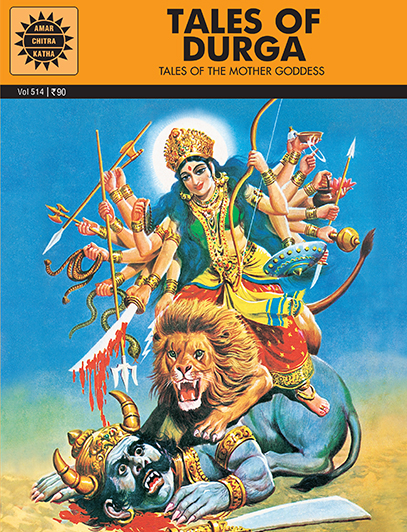 Comic of The Month
Tales of Durga
Goddess Durga is as widely worshipped as Vishnu and Shiva. She is the fierce form of Devi who, as Shakti, is considered the personification of universal energy. According to the Devi Bhagavata the Universe is but Her manifestation - and even Brahma, Vishnu and Shiva worship Her. Durga is worshipped in sixty-four forms as Ambika, Kali, Chamundi, Devi, Uma, etc. The worship of Durga is supposed to be more than 4,000 years old in India. The names of Uma and Parvati occur in the Taittiriya Aranyaka and the Kena Upanishad. Some Indologists are of the opinion that the figure seated on a lion in the coins of Azes I, the Shaka ruler (c. 5 B.C. to A.D. 30), represents Ambika or Durga. Durga is worshipped in one form or another in almost every Indian village. This Amar Chitra Katha is based on the Durga-Saptashati of the Markandeya Purana.
20 Minute Read