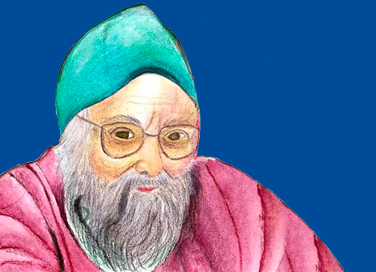 Profile: Khushwant Singh
- May 8, 2021
---
By Mehar Dhillon
Apart from a widely read and celebrated author in India, Khushwant Singh was also a famous public figure, lawyer, journalist and politician. He was a nominated member of parliament from 1980 to 1986, an editor for The Illustrated Weekly, National Herald and Hindustan Times and had a weekly column named 'Malice Towards One and All' which was printed in several publications.  He is known best for his literary work. He was a winner of the Padma Vibhushan and Sahitya Akademi Fellowship and a recipient of the Padma Bhushan, until he returned it in protest against Operation Blue Star. He was loved by his companions like Sadia Delhvi for the pleasure of his company and lively nature, and was respected by his colleagues because of his humble and generous personality.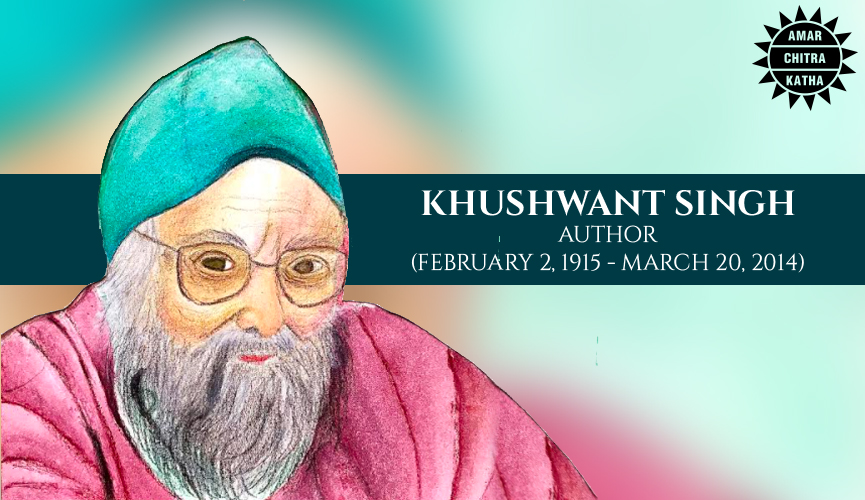 However, he was also regarded as a controversial figure due to his acerbic sense of humour and political views. His defence of the emergency that was imposed by then Prime Minister, Indira Gandhi and his public declaration of admiration for Sanjay Gandhi was not well received.
Singh came from a desert village named Hadali, which now lies in Pakistan. He was born to a highly affluent family; his father was Sobha Singh, who was one of the Indian civil contractors that built Delhi from the ground up. He controlled almost half of the land in Delhi and was nicknamed 'Adhi Dilli Ka Malik'. Khushwant Singh was unable to discern his true calling in life for the longest time and thus pursued many different career paths as a lawyer, a politician and a diplomat.
Khushwant Singh's most well-known piece of work is 'Train To Pakistan', published in 1956, which is based on the Partition of India. It constitutes post-war and colonial literature and is a work of historical fiction. The story begins in a village called Mano Majra, where there is no hostility between the Muslim and Sikh sects and the people are completely unaware of India's independence from the British. The story is a whirlwind of conflicting emotions and beliefs and the subsequent harrowing consequences of the dissonance brought forth by the partition. The tiny glimpse it gives into the mortifying events that took place in 1947 pushes the reader to tear away from their negative prejudices, if they have any. It is imperative that we keep history close to our hearts because that is the only way we avoid making the same blunders again, and this novel does an excellent job at waking us up from our ignorant stupor. 
Khushwant Singh's book 'Sunset Club' gives insight into the loneliness felt by the elderly, while 'Women and Men in My Life' beautifully recaptures Singh's experiences and relations with the people he had fallen out with. 'A Portrait of a Lady' is another remarkable book of his, which is a collection of short stories. Singh's work has inspired many aspiring novelists.
Khushwant Singh's clarity of thought and the beautiful simplicity of his words make his novels excellent reads. His controversial ideas and beliefs have earned him scorn, however, his opinions cannot tarnish his literary achievements. The legacy that Khushwant Singh has left behind, is a rich one.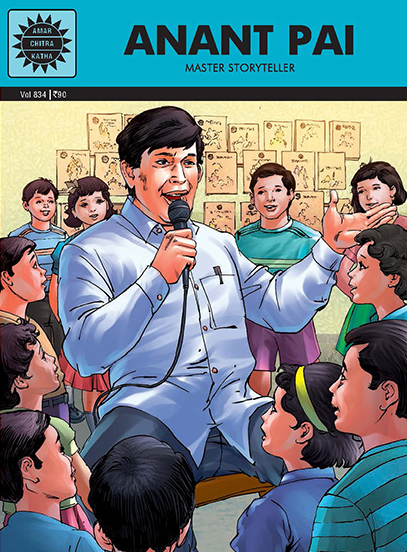 Comic of The Month
Anant Pai
Anant Pai strode the Indian comics industry like a colossus. Using the comics format he told stories from mythology, history and literature to generations of children. Uncle Pai, as he was known, wanted Indian children to be familiar with their heritage. A chemical engineer by profession, Anant Pai gave up his job to follow his dream, a dream that led to the creation of Amar Chitra Katha and Tinkle. Read the story of the man who left behind a legacy of learning and laughter.
20 Minute Read