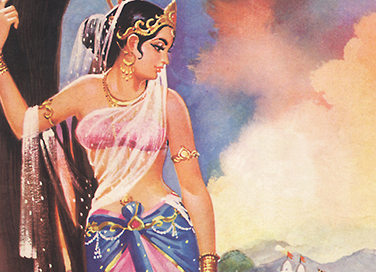 Kadambari: Banabhatta's Sanskrit Classic
- February 28, 2022
---
By Srinidhi Murthy
The word 'novel' originated in the 18th century from the Italian word "novella" to refer to stories. However, that doesn't mean novels originated in the eighteenth century. Novels existed even in ancient times, although they were not categorised or labelled as such. In the Indian context, Banabhatta and Bhushanabhatta's romantic novel in Sanskrit, Kadambari, is an example of that. Kadambari was started by Banabhatta and then was completed by Banabhatta's son Bhushanabhatta after his father's death. This ancient story has been dated back to the 7th century C.E. and is considered one of the first novels in world literature. So much so, that today the word 'kadambari' is used as a generic term for a romance or a novel in Kannada and Marathi.
Experts theorise that the plot of this novel could have been adapted from King Sumanas' story in Gunadhya's Brhadkatha, a collection of stories in the extinct Paisachi language. This story is also present in Somadeva's Kathasaritsagara. Kathasaritsagara is considered to be the Sanskrit precis of Brhadkatha. Kadambari is a novel that attains beauty through its complexity. With multiple characters, sub-plots and flashbacks, it is an intricate tale that comes neatly together at the end.
A handsome hermit Pundarika and his friend Kapinjala meet the Gandharva princess Kadambari and her friend, Mahashveta while praying in a temple on the banks of Lake Achchoda. Mahashveta and Pundarika are smitten by each other instantly, but they go their separate ways since Pundarika is a hermit, who has left all worldly pleasures behind.
Though he does not pursue her, Pundarika pines for Mahashveta. Seeing his friend's misery, Kapinjala informs Mahashveta of his friend's love for her. She sets out to meet him, with the moon shining brightly to illuminate her path. While sitting under the bright moonlight that night, Pundarika looks up to see the smiling face of the Moon. Assuming that the Moon is mocking him, Pundrika curses the Moon to be born on earth and suffer the misery of unrealised love. The moon retaliates by cursing the Pundarika back, leading to his death. It is at this moment that Mahashveta reaches the spot and sees her beloved lying dead. Filled with grief,......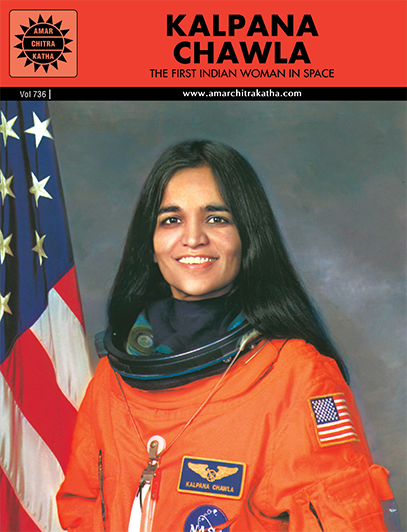 Comic of The Month
Kalpana Chawla
Unconventional clothes and bobbed hair were not the only indications of Kalpana's zest for life - this spirited young girl from Karnal wanted to fly! Her intelligence was multi-faceted, her talents varied and her interests inspiring. The path she charted from her traditional home in Haryana to NASA's elite band of astronauts is the stuff of legends.
20 Minute Read