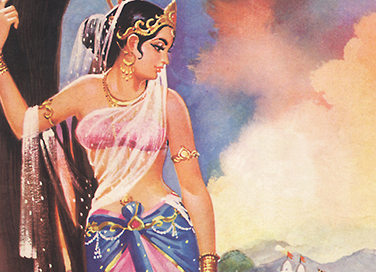 Kadambari: Banabhatta's Sanskrit Classic
- February 28, 2022
---
By Srinidhi Murthy
The word 'novel' originated in the 18th century from the Italian word "novella" to refer to stories. However, that doesn't mean novels originated in the eighteenth century. Novels existed even in ancient times, although they were not categorised or labelled as such. In the Indian context, Banabhatta and Bhushanabhatta's romantic novel in Sanskrit, Kadambari, is an example of that. Kadambari was started by Banabhatta and then was completed by Banabhatta's son Bhushanabhatta after his father's death. This ancient story has been dated back to the 7th century C.E. and is considered one of the first novels in world literature. So much so, that today the word 'kadambari' is used as a generic term for a romance or a novel in Kannada and Marathi.
Experts theorise that the plot of this novel could have been adapted from King Sumanas' story in Gunadhya's Brhadkatha, a collection of stories in the extinct Paisachi language. This story is also present in Somadeva's Kathasaritsagara. Kathasaritsagara is considered to be the Sanskrit precis of Brhadkatha. Kadambari is a novel that attains beauty through its complexity. With multiple characters, sub-plots and flashbacks, it is an intricate tale that comes neatly together at the end.
To receive more such stories in your Inbox & WhatsApp, Please share your Email and Mobile number.
A handsome hermit Pundarika and his friend Kapinjala meet the Gandharva princess Kadambari and her friend, Mahashveta while praying in a temple on the banks of Lake Achchoda. Mahashveta and Pundarika are smitten by each other instantly, but they go their separate ways since Pundarika is a hermit, who has left all worldly pleasures behind.
Though he does not pursue her, Pundarika pines for Mahashveta. Seeing his friend's misery, Kapinjala informs Mahashveta of his friend's love for her. She sets out to meet him, with the moon shining brightly to illuminate her path. While sitting under the bright moonlight that night, Pundarika looks up to see the smiling face of the Moon. Assuming that the Moon is mocking him, Pundrika curses the Moon to be born on earth and suffer the misery of unrealised love. The moon retaliates by cursing the Pundarika back, leading to his death. It is at this moment that Mahashveta reaches the spot and sees her beloved lying dead. Filled with grief, she decides to end her life, but the Moon, now regretting his hasty actions, stops her and assures her reunion with Pundarika.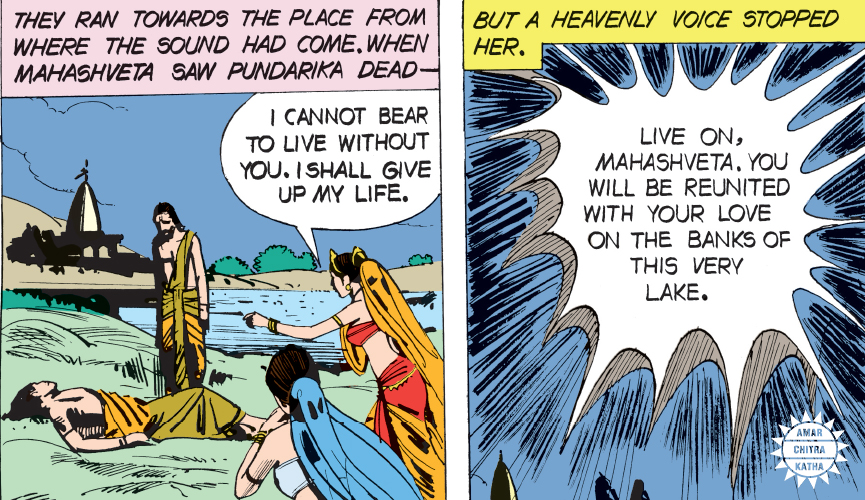 She decides to wait for Pundarika at the banks of Achchoda as an ascetic. Her dear friend Kadambari, the Gandharva princess, vows to remain unmarried until her friend is reunited with her lover.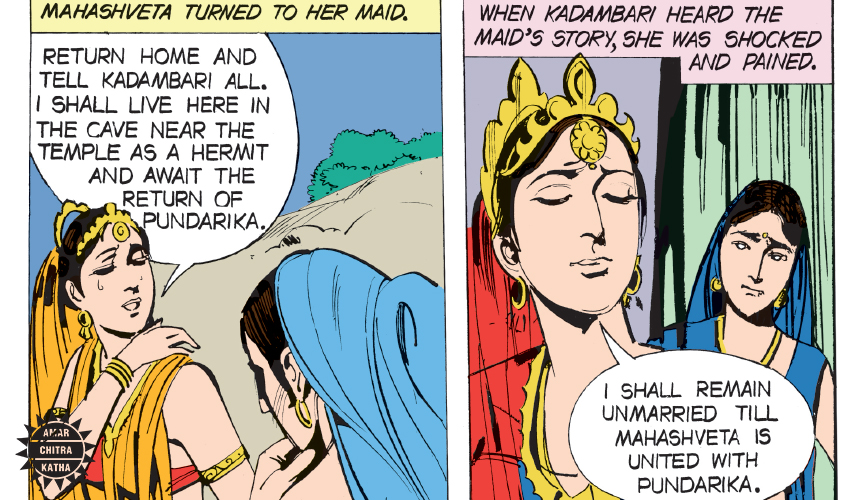 Soon, the Moon, stricken by Pundarika's curse, is born as Chandrapida, the son of king Tarapida. At the same time, Pundarika is born to Tarapida's chief minister and is named Vaishampayana. The two boys grow up together, becoming fast friends. When Chandrapida is crowned as the king, he is married off to the beautiful Patralekha. She is in fact Rohini, the Moon's wife, who also takes birth as a human to accompany her husband. Chandrapida is also gifted a horse, who is actually Kapinjala reborn due to a sage's curse.
Chandrapida sets out to conquer the surrounding empires, along with Vaishampayana and Patralekha. One day, while exploring, Chandrapida and his horse reach the place where Mahashveta is waiting for Pundarika. She narrates her story to Chandrapida and tells him about Kadambari's vow. She takes him to Kadambari's kingdom, Hemakuta, in the hopes of changing her friend's mind. There, both Kadambari and Chandrapida fall in love with each other.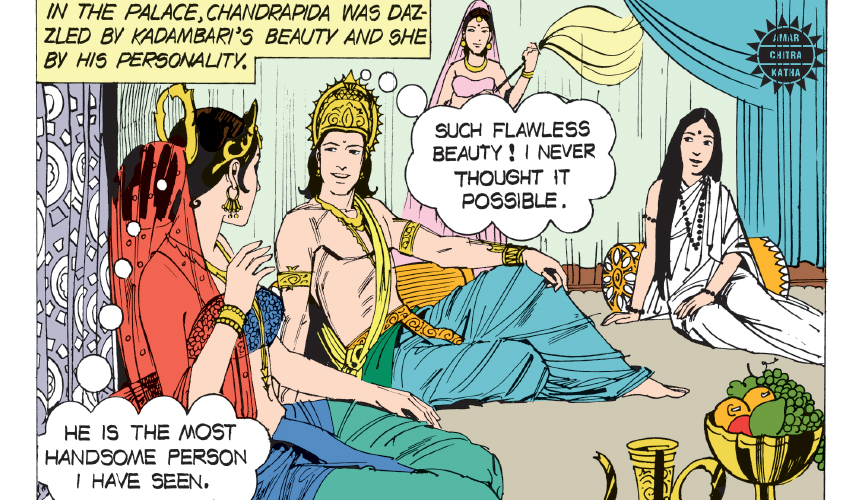 However, Kadambari decides to stay true to her vow and soon Chandrapida leaves. Both of them pine for each other, and soon Mahashveta sends for Chandrapida, unable to bear her friend's pain. Chandrapida takes Patralekha with him and visits Hemkuta again. Upon receiving word from his father, Chandrapida returns to his kingdom, leaving Patralekha behind with Kadambari.
Meanwhile, Vaishampayana meets Mahashveta near Achchoda and proclaims his love for her. As a hermit, she is angered by his declaration and curses him to be reborn as a parrot, not realising he is the reincarnated Pundarika. Upon learning of his friend's death, a grief-stricken Chandrapida too, falls dead at the banks of Lake Achchoda.
Kadambari and Patralekha reach the spot and are heartbroken. Kadambari prepares to die for her lover, but a heavenly voice intervenes and proclaims that Chandrapida's body shall be preserved and Kadambari would soon be united with her lover. Patralekha, saddened by her husband's loss, jumps into the lake on Chandrapida's horse. When the horse enters the water, the curse is broken and Kapinjala gets his original form back. Kapinjala then informs Mahashveta that the man she cursed was actually Pundarika, who vows to wait for his return.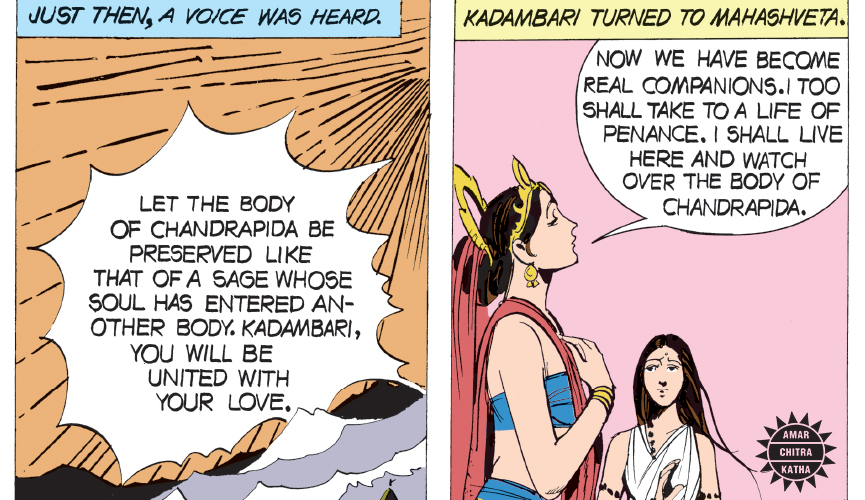 Kadambari continues to look after Chandrapida's body at the lake and soon he opens his eyes, brought back to life by her love. Meanwhile, Vaishampayana completes his life as a parrot and regains his original form, that of Pundarika. Mahashveta is overjoyed and soon both the couples are married off with great pomp. Chandrapida hands over the kingdom to Pundarika and spends his time with his beloved Kadambari, sometimes on earth and sometimes in his celestial abode.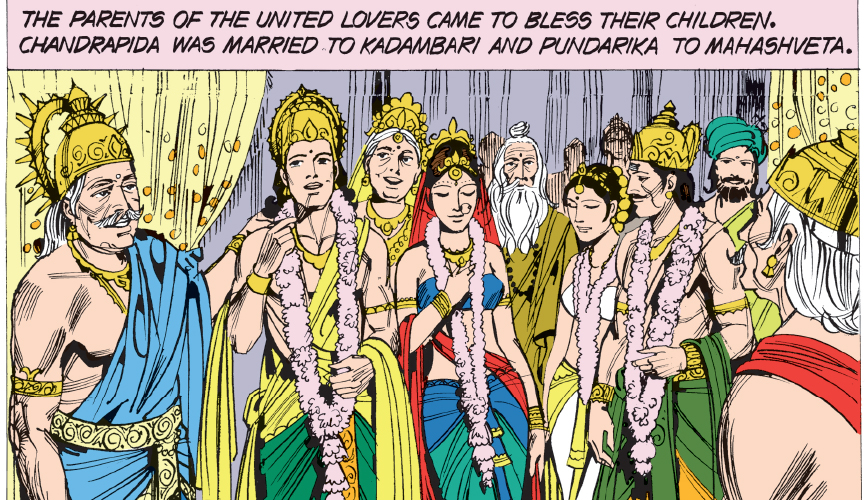 Read the classic tales from Indian literature in our title Great Indian Classics. Now available on the ACK Comics App, Kindle, Amazon, and with other major e-tailers.
To receive more such stories in your Inbox & WhatsApp, Please share your Email and Mobile number.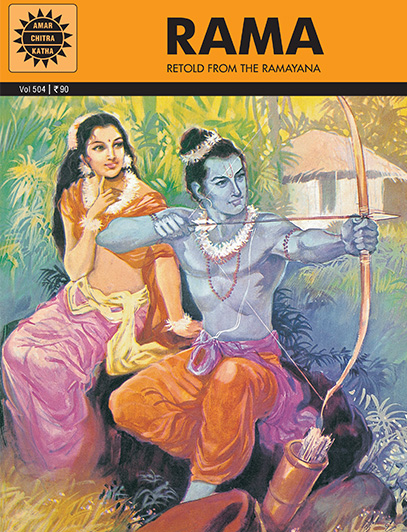 Comic of The Month
Rama
Rama was happy living in the forest with his wife and brother. Palace intrigue may have forced his exile, but the next fourteen years promised to be quite pleasant. Suddenly, this idyllic life was thrown into turmoil. His beloved wife Sita was kidnapped! With unmatched skill as a warrior, Rama destroyed the ten-headed Ravana and along the way, he won a host of very grateful friends.
20 Minute Read