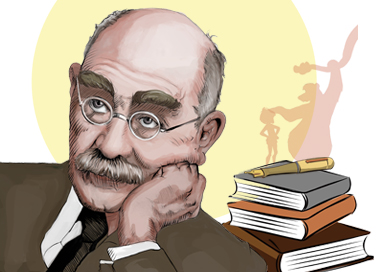 5 Must Reads By Rudyard Kipling
- November 23, 2020
---
Joseph Rudyard Kipling was a poet, a journalist and a novelist. Born in India, the country's influence can be seen in several of his works. Kipling gained fame due to his iconic work, The Jungle Book. However, his body of work goes far beyond the tales of Mowgli, and comprise some of the most notable pieces of modern literature, such as Kim, If-, Rikki-Tikki-Tavi, The Elephant's Child, and many more.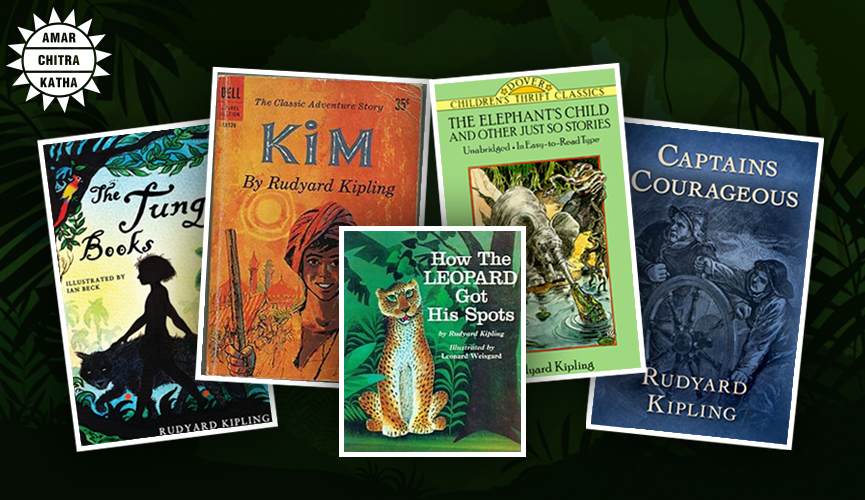 The Jungle Book
The Jungle Book is a collection of seven short stories written by Kipling at the end of the 19th century. Much of the book focuses on Mowgli, a boy who grows up in one of the India's many jungles where he is raised by a wolf called Raksha.
Mowgli becomes a member of the Seeonee Wolf Pack, much to the chagrin of Sher Khan, a cruel tiger who hates man. He plots against the boy,  eventually forcing Mowgli to go back to civilization when he grows up.
Mowgli briefly returns to the domain of man, but leaves after he learns that Sher Khan has been plotting against Akela. He defeats the tiger after a fierce battle, but realizes that the jungle will never truly be his home.
Captain Courageous
The story talks about Harvey Cheyne Jr, the spoilt 15 year old son of a millionaire railroad tycoon, who tumbles overboard from an ocean liner bound for Europe and is rescued by a group of a fisherman off the coast of  Newfoundland. He tries to buy his way out by promising that his father would pay for his trip back, but is forced to work with the crew after he accuses the captain of stealing his money.
Thus begins the boy's journey of transformation; under the supervision of a sturdy crew of fishermen, and with the assistance of Dan, the captain's son, Harvey understands the true value of hard work. He learns to respect each and everyone and changes his outlook towards life. After his return, he goes to Stanford to complete his education and readies himself to take over his father's business.
Kim
Kim is a 13-year-old orphan, the son of an Irish soldier and his homemaker wife who died in penury. Kim earns his living by begging and running small errands for Mahbub Ali, a horse trader and a local spy for the British on the streets of Lahore.
Due to his upbringing in India, he is so immersed in the local culture that few notice that he is a white kid. He carries with him a packet of documents from his father entrusted to him by an Indian woman who cared for him. Along the way,  Kim befriends an aged Tibetan Lama, a monk who has embarked on a journey to free himself from the Wheel of Things by finding the legendary 'River of the Arrow.' An unconventional friendship develops between them, which continues even when Kim is sent away to a boarding school in Lucknow. Soon, Kim is recruited to be a spy by Mahbub Ali, while training to be a surveyor during his vacations. However, after schooling, he also sets out on his friend's quest to find the fabled river.
How the Leopard got his Spots
Leopard used to live on the High Veldt, sand-coloured just like his surroundings. This made him very difficult to spot, which was really bad news for his prey, Giraffe and Zebra. The Ethiopian who lived there was also of a similar colour, and would hunt alongside the leopards.
One day, the weaker animals left the High Veldt to live in a forest and grew blotches, stripes, and other forms of camouflage and adapted to their surroundings. The Ethiopian and Leopard were hungry as their prey went away. Their search leads them to a wise babboon who directs them to the forest, but there, they are unable to spot Giraffe and Zebra, although they can smell them. The rest of the story sees them employing different ways to to track down their targets, eventually accepting that they would have to adapt to their new surroundings to survive.
The Elephant's Child
This cute little story reimagine how the elephant got its trunk. The elephant originally had a short nose, flexible but useless for grasping things. One little elephant was insatiably inquisitive and curious, asking endless questions. One such question was what the Crocodile eats for dinner.
After running around the jungle and asking everyone he met the same question and not receiving any satisfactory answers, he finally comes face to face with a crocodile himself. When the little elephant repeats his question, he unfortunately finds himself to be the answer to the question! Don't worry though, the little elephant does escape, albeit with a much longer olfactory organ than before. Featuring delightful characters, this book showcases Kipling's amazing sense of whimsy.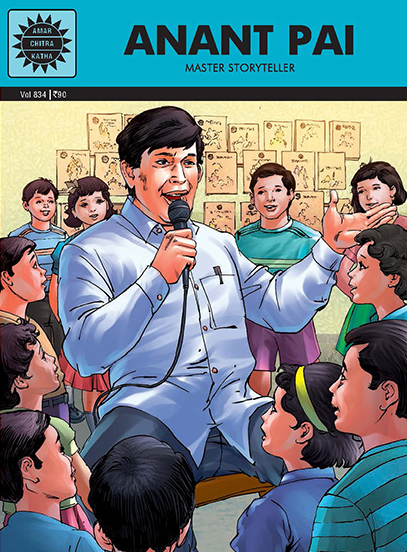 Comic of The Month
Anant Pai
Anant Pai strode the Indian comics industry like a colossus. Using the comics format he told stories from mythology, history and literature to generations of children. Uncle Pai, as he was known, wanted Indian children to be familiar with their heritage. A chemical engineer by profession, Anant Pai gave up his job to follow his dream, a dream that led to the creation of Amar Chitra Katha and Tinkle. Read the story of the man who left behind a legacy of learning and laughter.
20 Minute Read