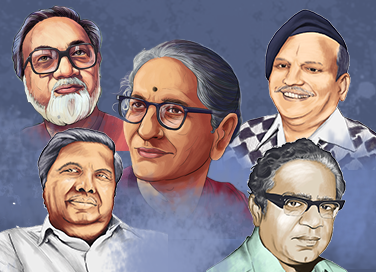 5 Important Authors From Marathi Literature
- July 30, 2021
---
By Krithika Nair
Maharashtra has a rich culture of literature and arts. It has been the birthplace of many legendary names, from the Bhakti poets like Dnyaneshwar and Chokhamela to playwrights like Kusumagraj and filmmakers like Dadasaheb Phalke. While Marathi Sahitya is full of great authors and phenomenal works, here is a list of some important authors whose works are still regarded as some of the best in the field of literature.
Vijay Tendulkar
Vijay Tendulkar is one of the most prominent names in modern Indian playwriting. His plays revolve around contemporary social issues and were often inspired by real incidents from the time. He employed many experimental as well as native techniques in his plays. A recurring theme in a lot of his works is violence, be it political or personal. He is best known for the plays Ghashiram Kotwal and Shantata! Court Chalu Aahe, which was also made into a film in Marathi. Apart from being a playwright, Tendulkar also wrote screenplays, novels and short stories. He was honoured with the Padma Bhushan in the year 1984.
To receive more such stories in your Inbox & WhatsApp, Please share your Email and Mobile number.
Purushottam Laxman Deshpande
Popularly known as Pu La Deshpande or even just Pu La, Deshpande is one of the most iconic authors of Marathi literature. He wrote in different styles and across genres, but he was most loved for his humourous works. Apart from his literary achievements, he was also an actor, singer, musician and composer. He was awarded the Padma Shri in 1966 and the Padma Bhushan in 1990. To honour his invaluable contributions to Marathi Literature, the Government of Maharashtra instituted the P. L. Deshpande Maharashtra Kala Academy in 2002.
Anant Pai, the founder-editor of Amar Chitra Katha, was a student of Deshpande from when he worked as an English teacher early in his life, at Orient High School, Mahim.
Irawati Karve
Irawati Karve was an anthropologist, educationist and writer whose work is largely academic and based on the study of Maharashtrian culture. She was the daughter-in-law of social reformer Dhondo Keshav Karve. Her most well-known book is Yuganta: The End of an Epoch. The book is an in-depth analysis of the Mahabharata by interpreting it as a historical rather than a mythological text, and using the information to draw conclusions about the social, cultural and political life in India during that time. The book won the Sahitya Akademi Award in 1968. Her other works include Aamchi Sanskruti, Bhovara, Paripurti, Gangajal and many more.
Dagdu Maruti Pawar
Dagdu Maruti Pawar, better known as Daya Pawar, was a trailblazer in the Marathi literature scene of his time. Credited as the author of what is considered the first autobiography in Dalit Literature, his novel Baluta brought him praise as well as awards. The story of his sufferings as an untouchable is narrated by the young Dagdu Pawar to his older self, the more educated Daya Pawar. The book inspired a wave of autobiographical writing in Marathi, giving voice to many who had similar experiences to share. Pawar was also a brilliant poet. His poems reflected how troubled he was by the personal, political and social circumstances that surrounded him. He was awarded the Padma Shri in the year 1990.
Shivaji Sawant
The greatness of Shivaji Sawant's work is perhaps best reflected by the fact that he came to be known as Mrutyunjaykaar, after his most popular novel Mrutyunjay. The novel is based on the life of Karna, one of the most controversial and intriguing characters from the Mahabharata. Mrutyunjay is regarded as one of the best works in Marathi literature, and was translated to multiple languages. His other popular works include Chhava, which dealt with the life of Chhatrapati Sambhaji Maharaj, and Yugandhar, based on the life of Krishna. Sawant was the first Marathi author to receive the Moortidevi Award, presented by the Bharatiya Jnanpith, in 1994.
To receive more such stories in your Inbox & WhatsApp, Please share your Email and Mobile number.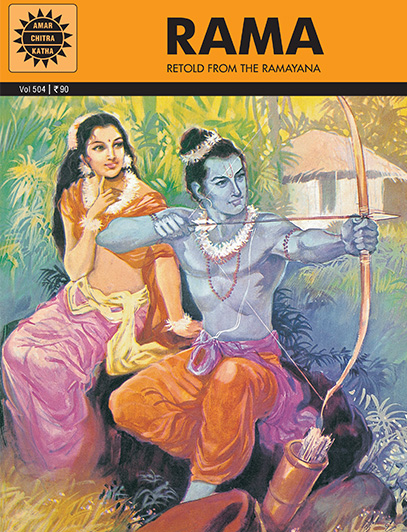 Comic of The Month
Rama
Rama was happy living in the forest with his wife and brother. Palace intrigue may have forced his exile, but the next fourteen years promised to be quite pleasant. Suddenly, this idyllic life was thrown into turmoil. His beloved wife Sita was kidnapped! With unmatched skill as a warrior, Rama destroyed the ten-headed Ravana and along the way, he won a host of very grateful friends.
20 Minute Read