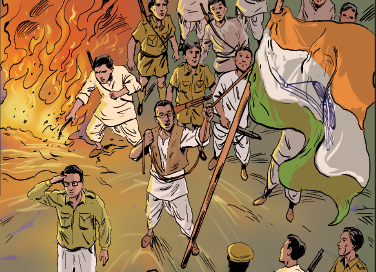 10 Rare ACKs About Our Freedom Struggle
- August 14, 2020
---
As we all celebrate another Independence Day this August 15th, let's take a look back at some of the relatively unsung heroes of our freedom struggle. Here are ten such Amar Chitra Kathas that trace our nation's fight for freedom from a different perspective.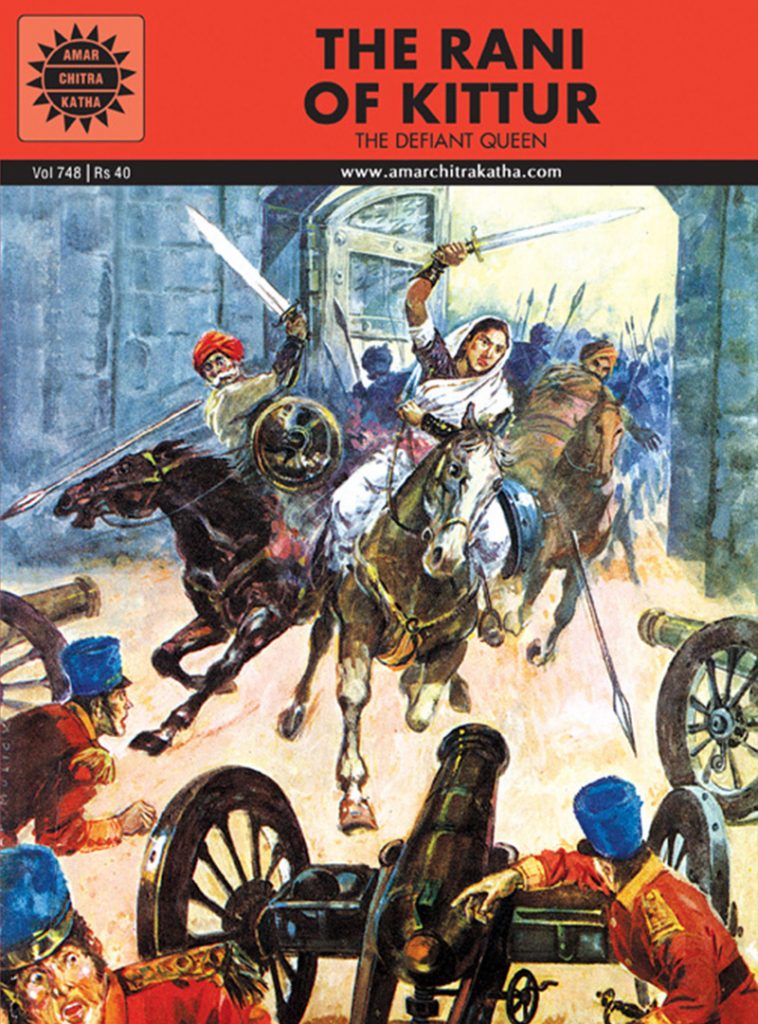 Celebrated for her indomitable courage, Chenamma, the queen of Kittur, was a warrior who valiantly fought against the British East India Company. In the first round of battle against the British, the Rani of Kittur put up such a tough fight that the British faced a tremendous defeat, with many of their soldiers being captured as hostages. In order to get their hostages freed, they agreed to all the terms put forth by Chenamma. However, the British saw their defeat as abject humiliation, especially the fact that their opponent was a woman, that too from a small village. They did all they could to subjugate the Kittur queen, including bribing two of her soldiers, eventually launching a surprise attack to regain their lost power. 
To receive more such stories in your Inbox & WhatsApp, Please share your Email and Mobile number.
Written by Rajalakshmi Raghavan and illustrated by H.S. Chavan and Dilip Kadam, this Amar Chitra Katha title beautifully weaves through the story of Chenamma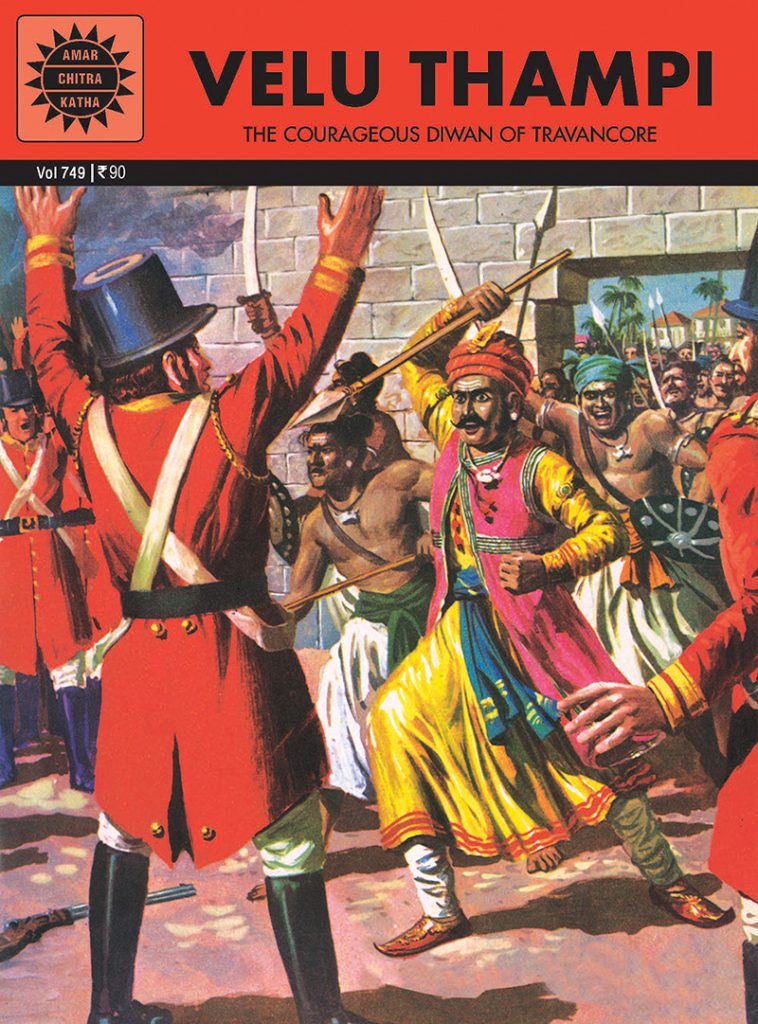 During the reign of Maharaja Balarama Varma, his appointed Diwan was a money-grubbing sort who placed unfair taxes on the people and harassed them. However, his power was such that even the young king could do nothing but watch on helplessly. It was against this setting that the fierce rebel, Velu Thampi, took charge of the situation, overthrowing the corrupt Diwan. Pleased with his action, the king appointed Velu as the new Diwan of Travancore (now a part of Kerala). While the people of the kingdom were duly pleased by this decision, major trouble was yet to come from the British East India Company, who came to rue the day they made Velu an enemy.   
Read the tale of his bravery through the words of Radha M. Nair in the Amar Chitra Katha title 'Velu Thampi'. The action-packed illustrations by artist M. Mohandas are bound to leave you amazed.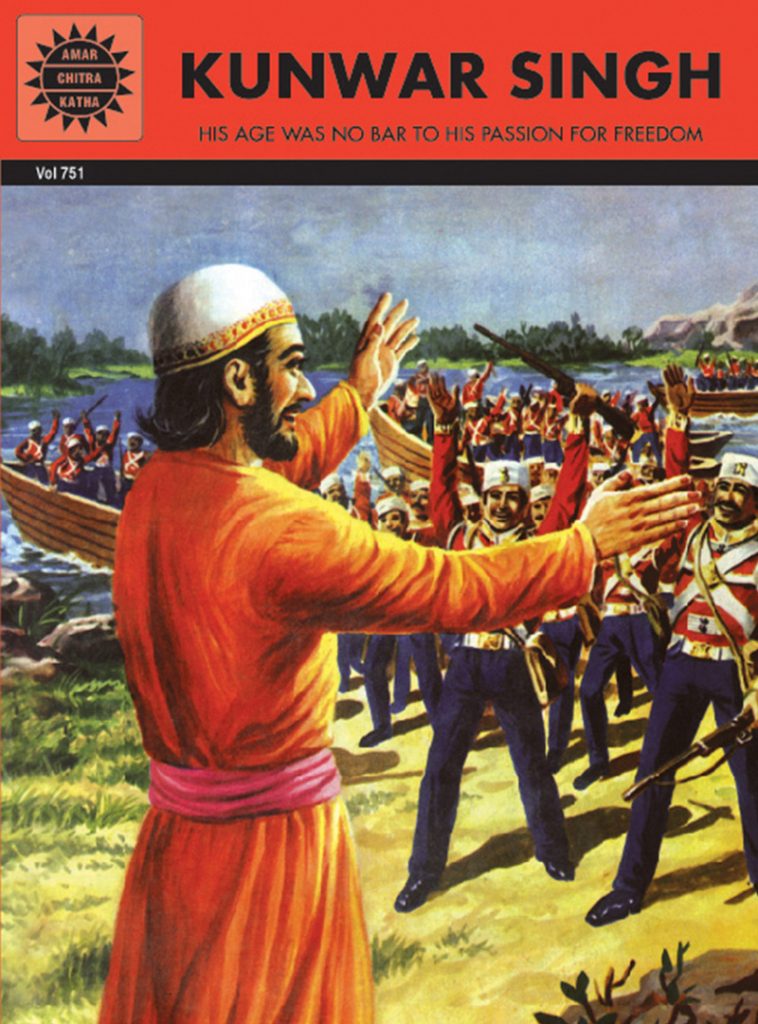 At the ripe age of 75, with the resolve to liberate his country, Kunwar Singh led an army against the British troops in the First War of Indian Independence. This rebel travelled everywhere including Sasaram, Rewa, Ramgarh, and Atraulia inspiring a nationwide awakening, but the British could never get hold of him. The septuagenarian changed his war tactics after every other battle. The legends around Kunwar Singh were the stuff movies are made of. Once, when his troops were caught by a surprise attack from the British, a shot hit his left wrist. Realising that the bullet was only spreading infection in his body, he chopped his hand off and threw it in the river! 
Illustrated by veteran artist Souren Roy and written by Rajendra Sanjay and Subba Rao, this Amar Chitra Katha title is a must-read for Independence Day. 
Chinnaswami Subramania Bharathi was an activist who fought with the mightiest weapon, the pen. His writings were an inspiration to millions and a fierce message to the British rulers. People from all sections of Tamil Nadu sang his songs during mass gatherings. His vision was one India and his mission was to unite the people to share this vision. Subramania rightly earned the title of Bharathi for his well-revered patriotic compositions. 
Co-authored by Kalvi Gopalakrishnan and Luis Fernandes, this Amar Chitra Katha book retells the courageous life of the iconic writer. The fantastic artwork by Dilip Kadam truly brings the characters to life.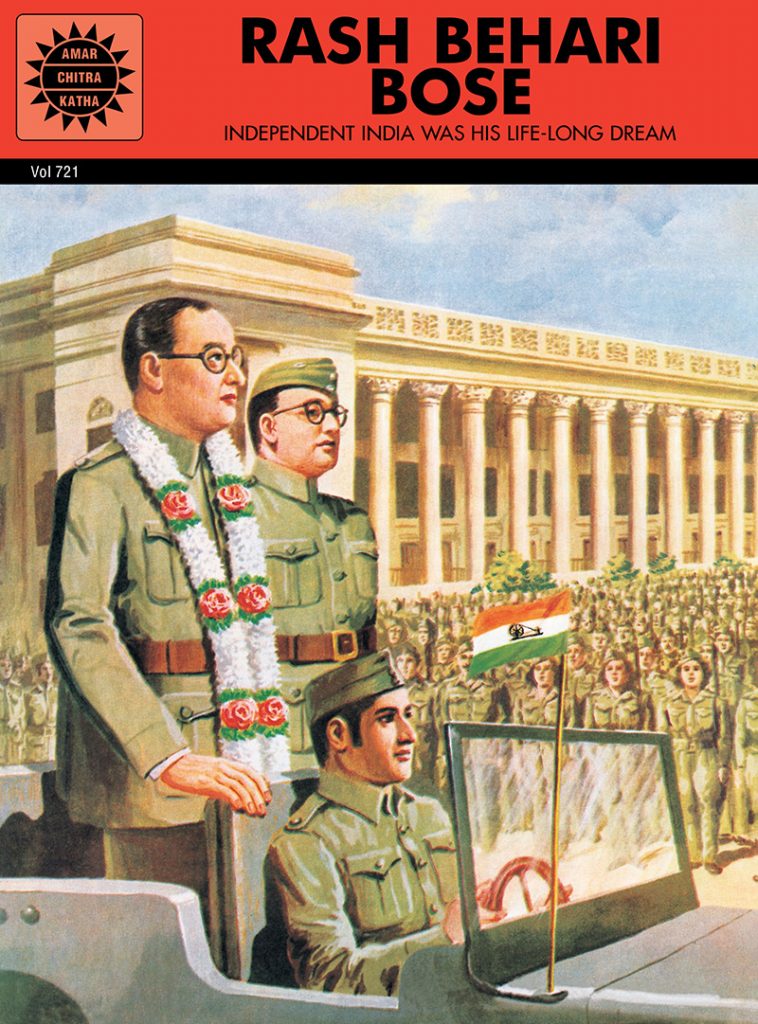 A revolutionary leader against the British Raj, Rash Behari Bose gave 40 years of his life to the Indian freedom struggle. Wanted by the British police, his life was one of escapades and adventure. He was a key organizer of the Ghadar Mutiny and the Indian National Army, which grew into a formidable force of 40,000 soldiers. 
Written by eminent writers Professor Satyavrata Ghosh and Luis Fernandes, this Amar Chitra Katha title has been illustrated by the legendary artist, Souren Roy.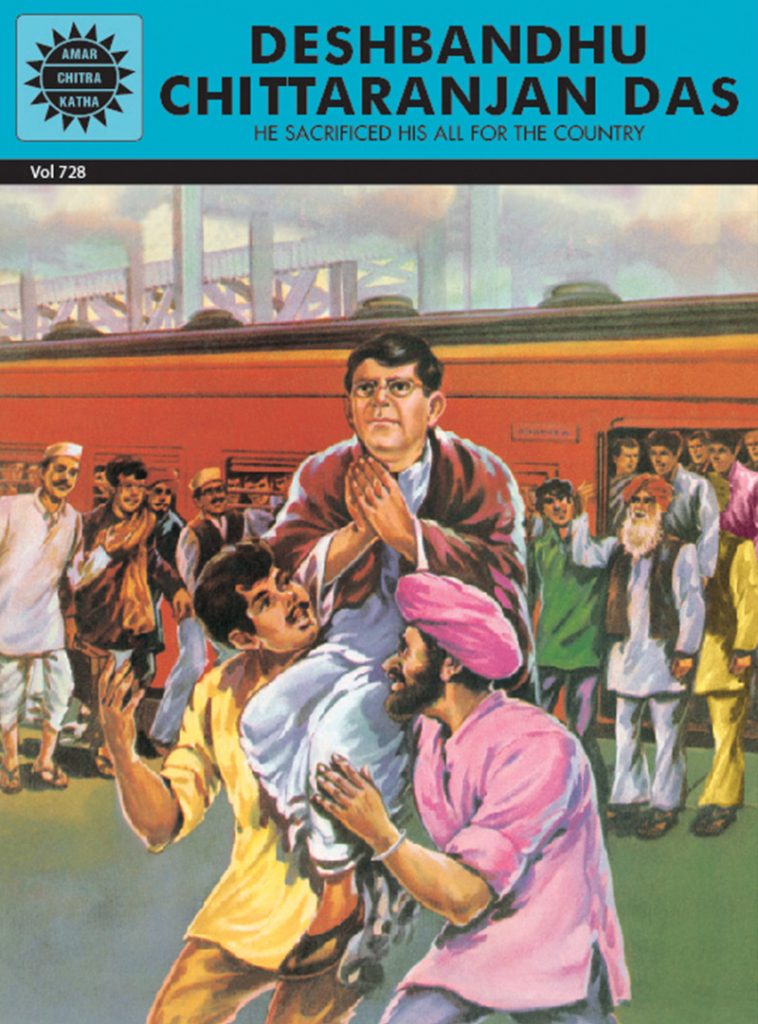 The founder and leader of the Swaraj Party in Bengal, Chittaranjan Das gave up his comfortable life for the dream of a free India. A lawyer, writer, and an activist, Das earned the title of Deshbandhu meaning 'Friend of the Nation' for the tremendous amount of selfless love and sacrifice he showered upon his country people. Giving up his entire life earnings and himself in the service of his nation, Deshbandhu left an indelible mark in the history of India. 
Written by legendary writer H. Atmaram and illustrated by Souren Roy, this Amar Chitra Katha comic offers a concise take on the great man's life.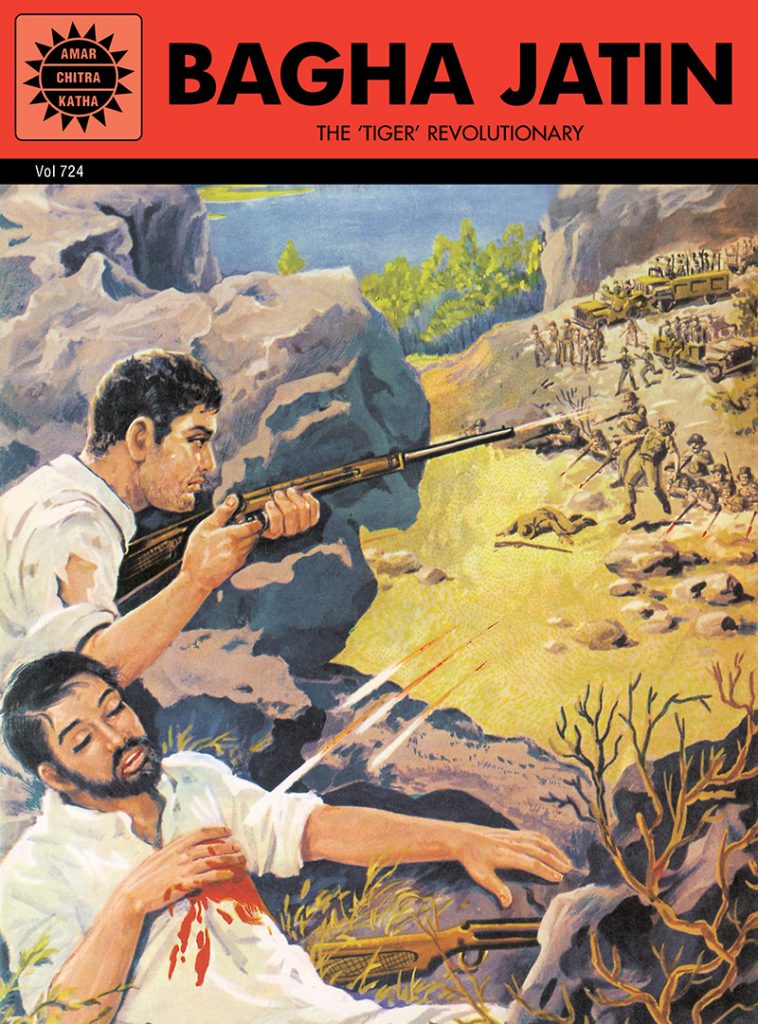 Lost in the pages of history is the story of a man whose courage was applauded by his enemies, the British Raj. Charles Tegart, the former Intelligence Chief and Police Commissioner of Bengal, once said to his colleagues, "If Jatin were an Englishman, then the English people would have built his statue next to Nelson's at Trafalgar Square." Zero tolerance to injustice and a burning desire for a free India, Bagha Jatin's life was full of incidents that echoed his principles. His very motto "We shall die to awaken the nation" echoed in millions of Indian hearts marching for freedom. 
Co-authored by Shanta Patil and Subba Rao and illustrated by Souren Roy, this Amar Chitra Katha will awaken the patriot in even the most cynical of us.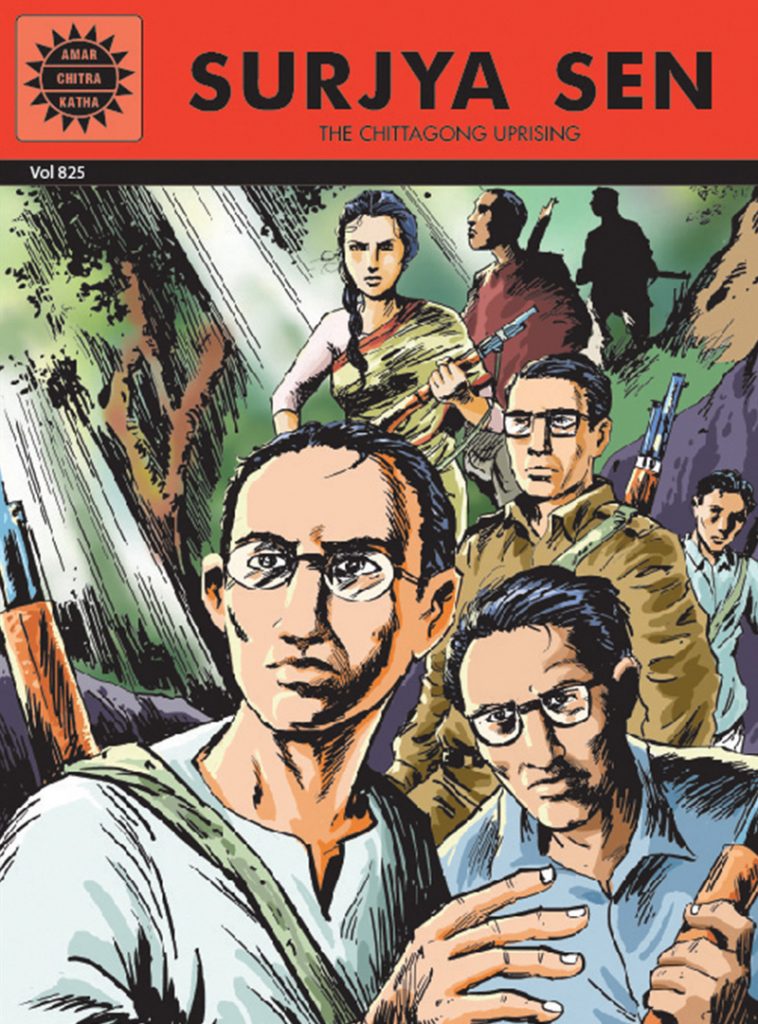 A school teacher by profession, Surya Sen or Surjya Sen was fondly called 'Master Da' by his friends and students. Together, they attacked British armouries in Chittagong and unfurled the national flag here, willing to give up their very lives. This action effectively cut off this area from British-controlled territory. Unfortunately, his team was eventually routed, vastly outnumbered by British forces, but their efforts spread a patriotic wave across the nation, inspiring millions to march for Indian independence. 
The illustrations by Arijit Dutta Choudhury and script by Shalini Srinivasan takes you back in time, giving you a ringside view of the Chittagong uprising as it happened. 
The mighty warrior king of Mysore, Tipu Sultan, received not just the throne but also a wealth of martial knowledge from his father, Hyder Ali. His determination to expel the British from Indian soil was stronger and fiercer than his father's. He had a special admiration for tigers which was visible in his striped, tiger-shaped throne, the badges of his troops, and the name he acquired as the Tiger of Mysore. Dr A.P.J. Abdul Kalam was inspired by Tipu Sultan's war rockets, a rare technology at the time.
This Amar Chitra Katha book will take you through the mighty adventures of this military genius. The vivid illustrations by artist G.R. Naik beautifully complements writer Subba Rao's script.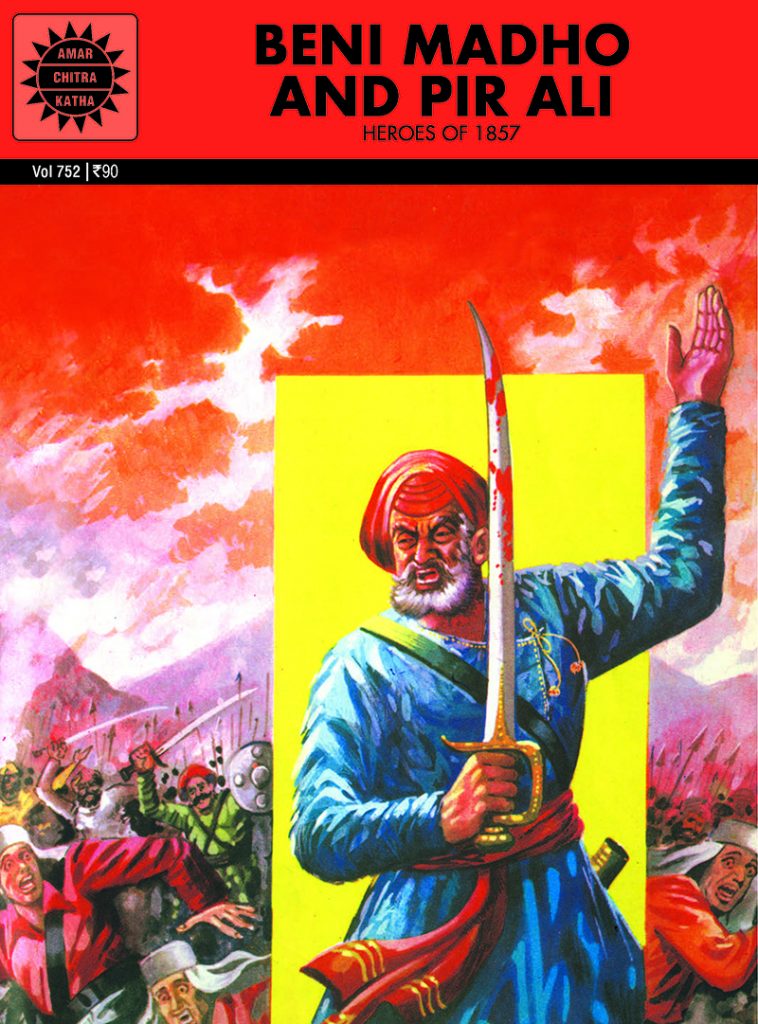 From marching with an army of eighteen thousand men against the British to fooling the enemy by disguising bayonets as stumps, Beni Madho's role in the freedom struggle is filled with inspiring anecdotes. Similarly, another legend to reckon with was the humble bookseller Pir Ali, who sacrificed his freedom while taking on the British. Ali was sentenced to death with the option to go free if he chose to give away crucial information. His befitting reply and his ultimate sacrifice earned him a spot in the golden pages of Indian history.
Co-authored by Rajnikanth Verma and Meera Ugra, and illustrated by legendary artist Ram Waeerkar, this Amar Chitra Katha title perfectly captures the lives of these two unsung heroes of the freedom movement.
How many have you read? Plug the gap by logging on to the ACK Comics app now.
To receive more such stories in your Inbox & WhatsApp, Please share your Email and Mobile number.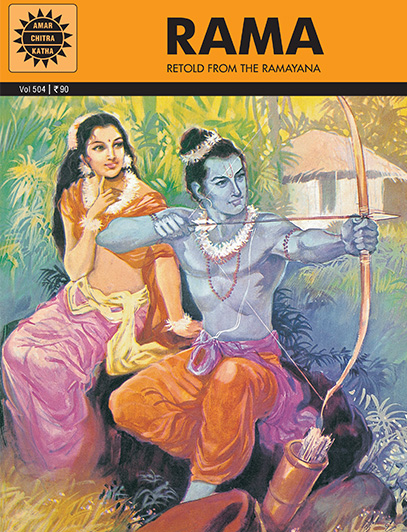 Comic of The Month
Rama
Rama was happy living in the forest with his wife and brother. Palace intrigue may have forced his exile, but the next fourteen years promised to be quite pleasant. Suddenly, this idyllic life was thrown into turmoil. His beloved wife Sita was kidnapped! With unmatched skill as a warrior, Rama destroyed the ten-headed Ravana and along the way, he won a host of very grateful friends.
20 Minute Read