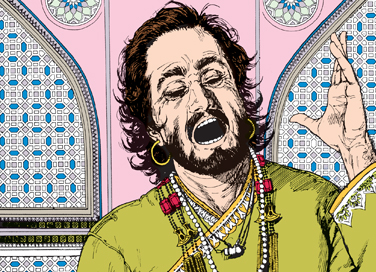 Tansen – The Muscial Gem
- April 14, 2021
---
By Srinidhi Murthy
Tansen is one of the greatest musicians India has produced. Under the patronage of first, Raja Ramchandra Singh of Rewa and later, Akbar, the Mughal emperor, Tansen's contribution to Hindustani classical music remains matchless even to date.
Early life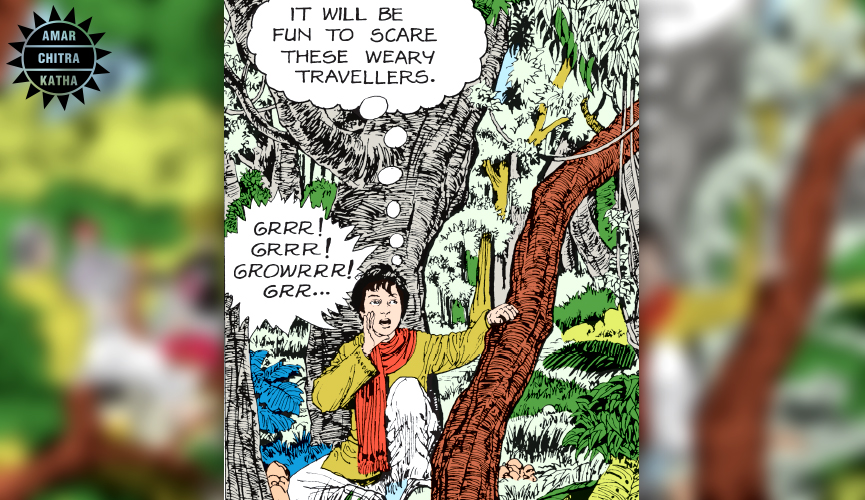 Tansen was born to Mukundram Mishra, also known as Makarand Pandey, a wealthy and popular poet and singer in Gwalior. As a child, Tansen loved going for walks in the forest with the cows. He listened to the animals there and started mimicking their voices. One day, a famous singer, Swami Haridas was passing through the forest with his disciples. Tansen imitated the roar of a  lion to scare them but he was soon caught. Swami Haridas was impressed by the young Tansen's talent. With the permission of Mukundram Mishra, Tansen became Swami's disciple.
Training under Swami Haridas and Mohammad Gaus
Tansen dedicated the next eleven years of his life learning music from Swami Haridas in Vrindavan. Later, at the request of his dying father, he took leave of Swami Haridas and joined Mohammad Gaus, a Sufi saint and continued his musical journey.
The friendship with Rani Mrigananini
Mohammad Gaus introduced Tansen to Rani Mriganaini of Gwalior who was a gifted singer herself. After the death of Mohammad Gaus, his house and money got passed on to Tansen. 
Tansen changed his religion and became Ata Khan. He married Hussaini, the lady in waiting to Rani Mriganaini and went on to become a singer of great repute. His fame spread far and wide. Rajaram, the Maharaja of Rewa invited Tansen to be his court singer.
Patronage of Akbar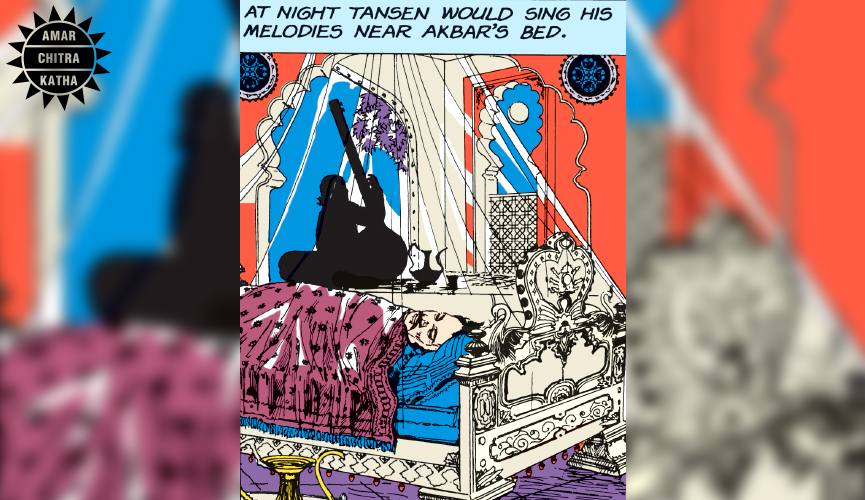 When Akbar visited the court of Rewa, he was impressed with Tansen's talent. He asked the Maharaja of Rewas to send Tansen to his court in Delhi as a token of their friendship. Hence, Tansen arrived in Agra in 1556 and became one of the nine gems of Akbar's court. This was a  rare and coveted honour. Tansen soon became a favourite of the emperor. He would sing melodies at night near Akbar's bed to help him sleep well and also gently awaken him with his soul-stirring music in the morning.
Deepak Raaga, Tansen's Test
Some powerful courtiers were jealous of Tansen's closeness to the emperor and were determined to ruin him. One of them, named Shaukat Mian, questioned Tansen's genius in open court and instigated Emperor Akbar to let Tansen sing the Deepak raga. This raaga, if sung perfectly, would burn the singer. Shaukat Khan knew that Tansen's singing was always flawless.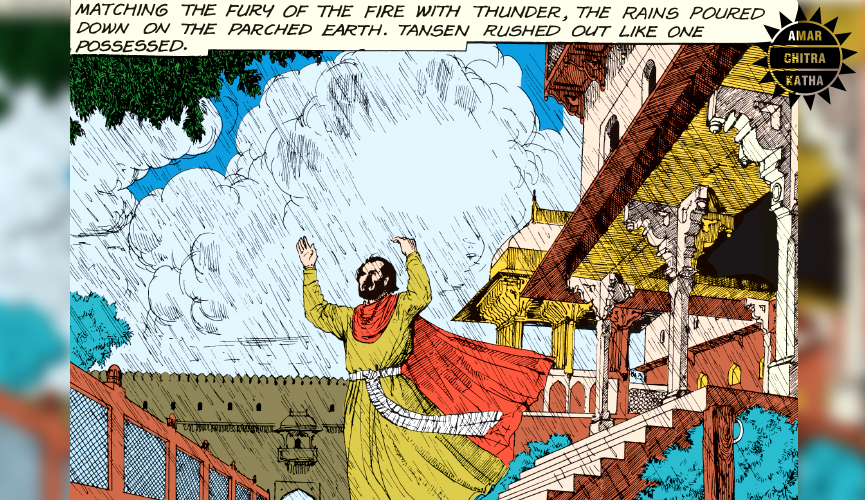 Tansen understood the courtiers evil intent and asked for two weeks to prepare himself before he performed the raaga. He then asked his daughter and Rupavati, a disciple of Swami Haridas to master Megh raaga in these two weeks. Megh raaga has the power to bring rain and cool everything down. 
On the proclaimed day, people gathered around the palace to witness the performance of Tansen. As Tansen sang, the air became warmer and warmer. Gradually the people were bathed in perspiration and they longed for a cool breeze. After a while, the women, as instructed by Tansen began to sing Megh raaga and the rain poured down on the parched earth. The city rejoiced. The emperor realised the intrigues of his court and punished the guilty courtiers.
Read the complete story of Tansen in our title Tansen, now available on the ACK Comics app, Kindle, Flipkart, and other major e-tailers.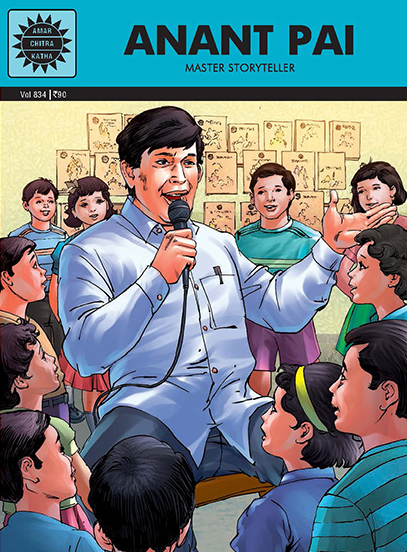 Comic of The Month
Anant Pai
Anant Pai strode the Indian comics industry like a colossus. Using the comics format he told stories from mythology, history and literature to generations of children. Uncle Pai, as he was known, wanted Indian children to be familiar with their heritage. A chemical engineer by profession, Anant Pai gave up his job to follow his dream, a dream that led to the creation of Amar Chitra Katha and Tinkle. Read the story of the man who left behind a legacy of learning and laughter.
20 Minute Read