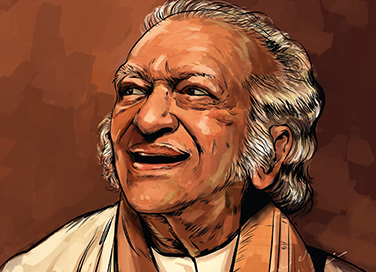 Pandit Ravi Shankar (1920 – 2012)
- April 21, 2021
---
By Srinidhi Murthy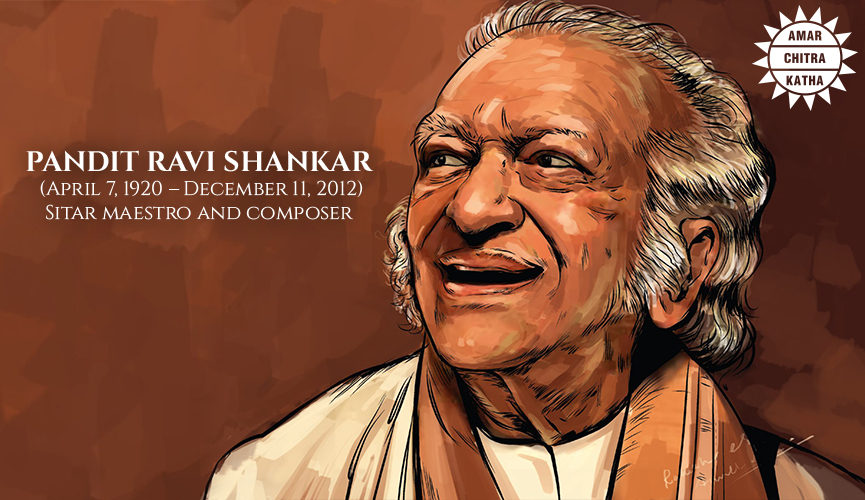 George Harrison, the lead guitarist of The Beatles, described Pandit Ravi Shankar as the godfather of world music. He has influenced many musicians all over the world through his music and was remembered as the popular Sitar virtuoso of the late twentieth century. Here are some of the interesting facts about Pandit Ravi Shankar, who was honoured with the prestigious Bharat Ratna for his extraordinary contribution to music.
His family 
Born as Ravindra Shankar Chowdhury, Ravi Shankar was the seventh son of Shyam Shankar Chowdhury and Hemagini Devi. He was the youngest of seven brothers in the family and spent ten years of his childhood in Banaras. His family fondly referred to him as Ravi.
Ravi Shankar's interest in arts
When he was 10, Ravi Shankar went to Paris with his brother Uday Shankar's dance group. At the age of 13, he joined the group and had the opportunity to travel to various countries on tour. Ravi Shankar learned to dance and speak French during this time but as he grew older, his interest shifted from dance to music due to his exposure to western classical music and customs.
He studied under the tutelage of Allaudin Khan
Ravi Shankar learned about Allaudin Khan, who was then the lead musician at the court of Maihar. He abandoned his dancing career to learn Indian classical music under the tutelage of Allaudin Khan. Ravi Shankar had training on both Sitar and Surbahar, which is basically bass sitar, with Allaudin's children Annapurna and Ali Akbar. Shankar later married Annapurna Devi and had his debut performance along with Ali Akbar Khan.
Ravi recomposed Saare Jahan Se Accha 
After the completion of his training in 1944, Ravi Shankar recomposed the popular song Saare Jahan Se Accha at the age of 25. He also worked as a music director for All India Radio.
His international projects
Ravi Shankar befriended the founder of World Pacific Records, Richard Bock, and recorded his albums in 1950s and 60s. This made him familiar with George Harrison, the lead guitarist of The Beatles. Harrison visited India for six weeks to learn the Sitar under Ravi Shankar. They worked together on the album named Collaborations. Ravi Shankar's association with George Harrison and violinist Yehudi Menuhin increased his popularity internationally.
He composed melodies for movies
Ravi Shankar composed the title track for Satyajit Ray's 'Apur Sansar' and the memorable melody of the song Sanware Sanware for the 1960 movie Anuradha.
Awards and recognition
Ravi Shankar was nominated as a Rajya Sabha member by then Prime Minister Rajiv Gandhi. He won the Grammy award for his album West Meets East, in which he collaborated with Yehudi Menuhin. He also wrote two autobiographies during his lifetime which received a positive response among readers. In 1999, the government of India bestowed upon him the Bharat Ratna, the highest civilian award, for his exceptional contribution.
His last performance was with his daughter
In 2012, Pandit Ravi Shankar gave his last performance with his daughter, Sitar player Anoushka Shankar, at Terrace Theatre in California.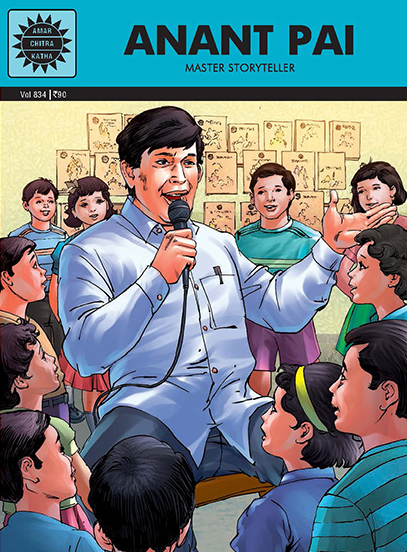 Comic of The Month
Anant Pai
Anant Pai strode the Indian comics industry like a colossus. Using the comics format he told stories from mythology, history and literature to generations of children. Uncle Pai, as he was known, wanted Indian children to be familiar with their heritage. A chemical engineer by profession, Anant Pai gave up his job to follow his dream, a dream that led to the creation of Amar Chitra Katha and Tinkle. Read the story of the man who left behind a legacy of learning and laughter.
20 Minute Read