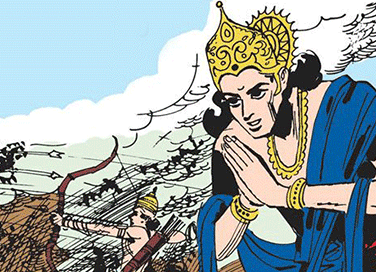 What Is Mahalaya?
- August 7, 2020
---
Mahalaya is the day that marks the end of Pitru Paksha and the beginning of Devi Paksha. It is believed that during Pitru Paksha, our ancestors come from Pitru Loka (a realm between heaven and earth) and stay with us. They are offered food and prayers, and their blessings are invoked by the present generation and their children. There is an interesting story associated with the Mahabharata that looks at the origins of this festival.
After Karna's death in the Mahabharata war, when his soul reached heaven, he was offered gold and jewels as food. Surprised, Karna asked Indra why he was not being given real food to eat. Indra relied that this was because, during his lifetime, although Karna had donated a lot of wealth to other people, he had never offered food and water to his own ancestors. Karna justified his actions, saying that this was because he never knew who his ancestors were. Karna was then allowed to return to earth for a period of 15 days, during which he performed the shraadha of his ancestors and donated food and water in their memory. It is this period which we now know as pitru paksha.

Comic of The Month
Krishna and Narakasura
Indra was at his wit's end – the impertinent demon Narakasura had stolen his mother's earrings! Lord Krishna, always helpful, agreed to confront the enemy. But seated on Garuda, his trusty eagle, and accompanied by the gentle Satyabhama, would Krishna be able to overcome Narakasura's formidable defences? Would his gleaming discus ever find its mark? This is the story of why the first of four days of Diwali - the Festival of Lights is named after Naraka!
20 Minute Read