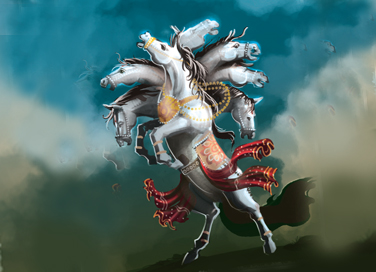 Uchhaisravas
- February 24, 2021
---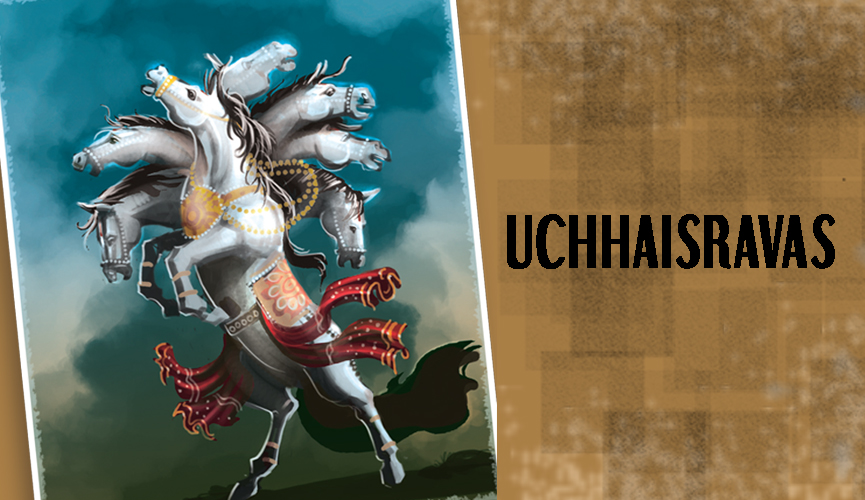 The pure white, seven-headed horse, Uchhaisravas, was among the gifts that emerged when the devas and asuras churned the Ocean of Milk. This beautiful horse was immediately taken by Indra and became one of his vahanas or carriers.
Once King Revanta, Surya's son, wanted to visit Vishnu and Lakshmi. Being a friend of Indra's, he borrowed Uchhaisravas to travel to Vaikuntha. Lakshmi was so excited to see her brother Uchhaisravas (both were born from the Ocean of Milk) that she was distracted and did not hear something Vishnu said. Annoyed, Vishnu cursed Lakshmi to be born as a mare. Lakshmi tearfully apologised and Vishnu softened. He said that she would return to Vaikuntha after giving birth to a son as glorious as Vishnu himself.
As a mare on earth, Lakshmi prayed to Shiva for a thousand years to find out who the father of this glorious son would be. Finally, Shiva and Parvati appeared and assured her that they would find a solution. Shiva then sent Vishnu down to earth as a horse to be with Lakshmi. A baby boy was born after which Lakshmi and Vishnu returned to Vaikuntha. The boy was adopted by King Satajit and named Ekavira. He was also called Hehaya, meaning 'born from a horse', and became one of the founders of the Ilehaya dynasty.
Read more about other celestial beings of mythology in our title 'Divine Beings'. Now available on the ACK Comics app, Kindle, Flipkart, Amazon, and other major e-tailers.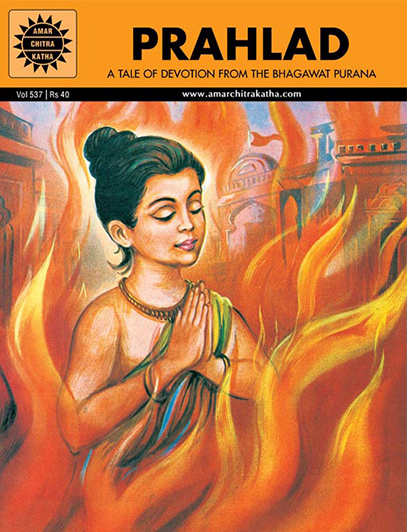 Comic of The Month
Prahlad
Prahlad drove his monstrous father to a murderous rage. He insisted on praising Lord Vishnu who was considered a sworn enemy by his father Hiranyakashipu. When he tried to punish his disobedient son, Hiranyakashipu's potent poisons turned to nectar while his lethal weapons fell harmlessly away. In this tale of bloodthirsty revenge, Prahlad's only defence is his devotion which dramatically puts an end to all evil.
20 Minute Read