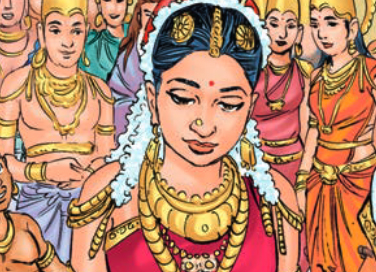 The Story of Meenakshi
- May 6, 2020
---
Premium
Meenakshi was an incarnation of the goddess Parvati, a form she took because of a boon she granted to her devotee, Vidyavati. Pleased with Vidyavati's penance, Parvati agreed to be born as her daughter in Vidyavati's next life.
And thus, Meenakshi came to be the daughter of Madurai's king Malayadhwajan and queen Kanchanamala, who was Vidyavati reborn. The royal couple could not have children for years and finally, as a solution, they performed a special yajna. At the yajna, Meenakshi emerged from the sacred flames as a three year old girl.
Although the king had wanted a son, he accepted Meenakshi without hesitation, after hearing a voice that told him that to bring her up like a prince. She was destined to rule as a Pandian queen and would bring glory to his name.
After Malayadhwajan passed on, Meenakshi was crowned queen and she began to take out military expeditions to expand her father's kingdom. On one such expedition to Mount Kalinga, she came head to head with Shiva himself. It had been prophesied that Meenakshi would instantly be able to recognise her future husband, which is exactly what happened when she laid eyes on Shiva. Within eight days, Shiva came to Madurai as Lord Sundareswar where they were to be united in matrimony.
Read more such exciting stories on the ACK Comics App today :- Click now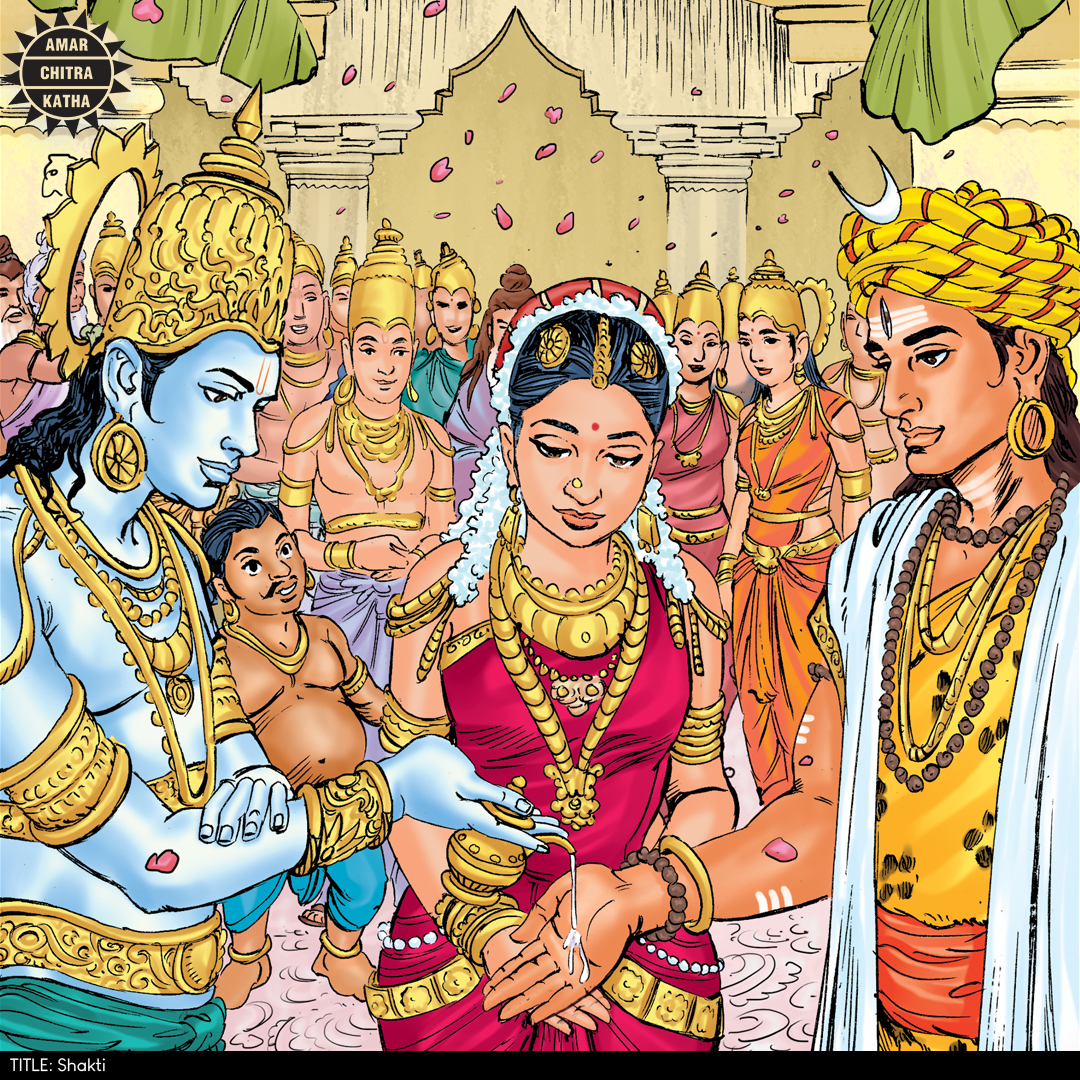 This celestial wedding witnessed a huge gathering of gods and goddesses in attendance, with Lord Vishnu, who was also Meenakshi's brother, conducting the ceremony.
Every year, a grand celebration is held at the Meenakshi Temple in Madurai commemorating the holy union of the goddess Meenakshi Amma and Lord Sundareswarar.
Read more about Meenakshi and other Hindu goddesses in Amar Chitra Katha's 'Shakti', available on the Amar Chitra Katha app, as well as Amazon, Flipkart, and other major e-tailers.
Read more such exciting stories on the ACK Comics App today :- Click now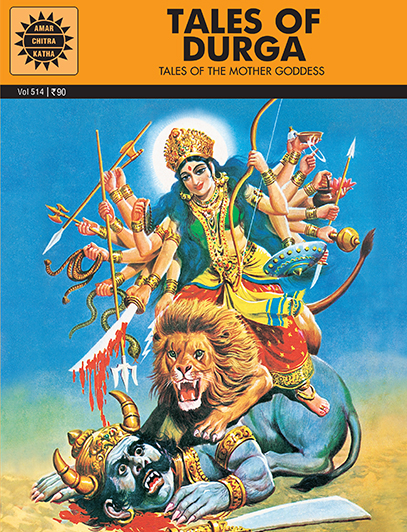 Comic of The Month
Tales of Durga
Goddess Durga is as widely worshipped as Vishnu and Shiva. She is the fierce form of Devi who, as Shakti, is considered the personification of universal energy. According to the Devi Bhagavata the Universe is but Her manifestation - and even Brahma, Vishnu and Shiva worship Her. Durga is worshipped in sixty-four forms as Ambika, Kali, Chamundi, Devi, Uma, etc. The worship of Durga is supposed to be more than 4,000 years old in India. The names of Uma and Parvati occur in the Taittiriya Aranyaka and the Kena Upanishad. Some Indologists are of the opinion that the figure seated on a lion in the coins of Azes I, the Shaka ruler (c. 5 B.C. to A.D. 30), represents Ambika or Durga. Durga is worshipped in one form or another in almost every Indian village. This Amar Chitra Katha is based on the Durga-Saptashati of the Markandeya Purana.
20 Minute Read