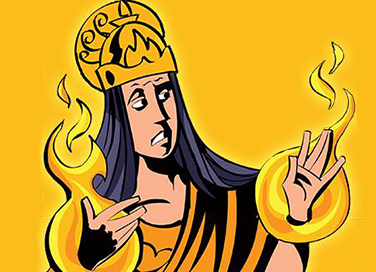 The Many Curses of Agni
- November 23, 2020
---
According to the Anushasana Parva, the fire god Agni was once cursed by Sage Bhrigu to 'swallow everything in his path'. Upset by the curse, he withdrew into himself and hid himself away. This put the other gods in a bind, as there could be no religious activities without Agni. So the other gods began looking for him.
Agni had first hid himself in the ocean. But, because of his fiery being, the ocean got too hot for the creatures in it. The frogs decided to take up the matter with the gods on behalf of their fellow sea creatures, and told the celestial beings where Agni was hiding. Agni was angry and cursed the frogs to lose their sense of taste.
The fire god then hid in a big banyan tree, where a passing elephant spotted him and informed the gods. Furious, Agni cursed the elephant to have a short tongue. He then took refuge in a Shami tree. A bird saw him there and tweeted his hiding place to the gods. Agni cursed the bird to have a tongue that would be curved inside.
Eventually, the gods were able to track down the blazing deity and placate him enough to come back, with Brahma praising him and bestowing him the power to purify whatever went through him. Feeling better, Agni returned to his heavenly duties. But what about all the  creatures Agni had cursed? They were blessed by the gods for helping them; the frogs were given the skill to move comfortably even in darkness, the elephants would never be be hindered by their tongue to eat anything they wanted, and the birds were blessed with the gift of singing!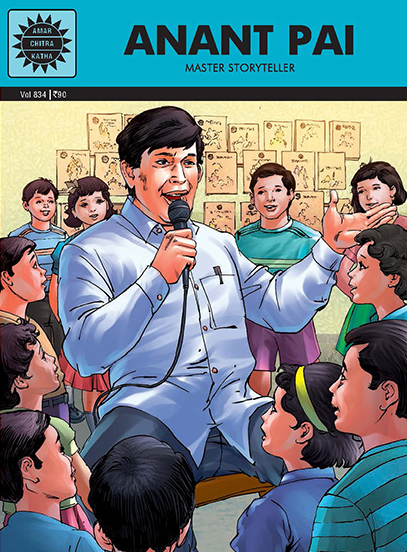 Comic of The Month
Anant Pai
Anant Pai strode the Indian comics industry like a colossus. Using the comics format he told stories from mythology, history and literature to generations of children. Uncle Pai, as he was known, wanted Indian children to be familiar with their heritage. A chemical engineer by profession, Anant Pai gave up his job to follow his dream, a dream that led to the creation of Amar Chitra Katha and Tinkle. Read the story of the man who left behind a legacy of learning and laughter.
20 Minute Read