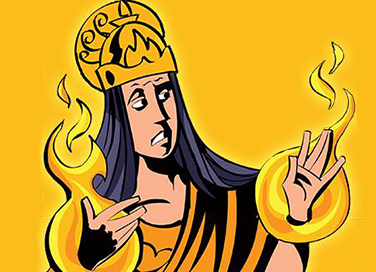 The Many Curses of Agni
- November 23, 2020
---
According to the Anushasana Parva, the fire god Agni was once cursed by Sage Bhrigu to 'swallow everything in his path'. Upset by the curse, he withdrew into himself and hid himself away. This put the other gods in a bind, as there could be no religious activities without Agni. So the other gods began looking for him.
Agni had first hid himself in the ocean. But, because of his fiery being, the ocean got too hot for the creatures in it. The frogs decided to take up the matter with the gods on behalf of their fellow sea creatures, and told the celestial beings where Agni was hiding. Agni was angry and cursed the frogs to lose their sense of taste.
The fire god then hid in a big banyan tree, where a passing elephant spotted him and informed the gods. Furious, Agni cursed the elephant to have a short tongue. He then took refuge in a Shami tree. A bird saw him there and tweeted his hiding place to the gods. Agni cursed the bird to have a tongue that would be curved inside.
Eventually, the gods were able to track down the blazing deity and placate him enough to come back, with Brahma praising him and bestowing him the power to purify whatever went through him. Feeling better, Agni returned to his heavenly duties. But what about all the  creatures Agni had cursed? They were blessed by the gods for helping them; the frogs were given the skill to move comfortably even in darkness, the elephants would never be be hindered by their tongue to eat anything they wanted, and the birds were blessed with the gift of singing!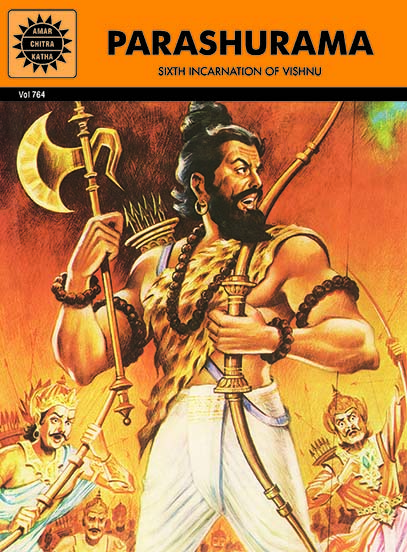 Comic of The Month
Parashurama
It was a time when the earth was ravaged with violence and bloodshed. The Kshatriya kings had forgotten their duty to rule with compassion. Instead, they subdued the people by unleashing a reign of brutal terror. At such a time the sixth incarnation of Vishnu was born. Parashurama, axe-wielding warrior-saint, strode across the age to destroy evil and liberate good.
20 Minute Read