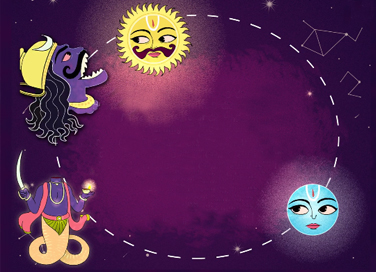 The Legend Behind Eclipses
- September 26, 2020
---
Why do we witness the solar and lunar eclipses?
Here is a story from the Kampa Ramayana and the Bhagavata Ashtama Skandha that explains the reason behind the eclipses.
Illustration and animation: Sanjhiya Mayekar
Comic of The Month
Krishna and Narakasura
Indra was at his wit's end – the impertinent demon Narakasura had stolen his mother's earrings! Lord Krishna, always helpful, agreed to confront the enemy. But seated on Garuda, his trusty eagle, and accompanied by the gentle Satyabhama, would Krishna be able to overcome Narakasura's formidable defences? Would his gleaming discus ever find its mark? This is the story of why the first of four days of Diwali - the Festival of Lights is named after Naraka!
20 Minute Read