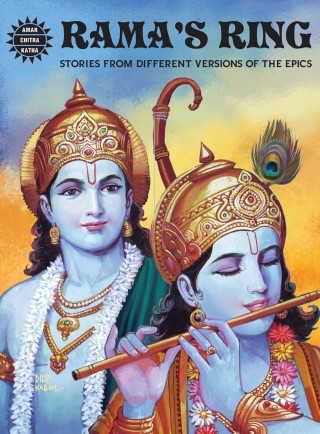 Rama's Ring
- April 1, 2020
---
Over the centuries, the two greatest Indian epics, Ramayana and Mahabharata, have been written in different Indian languages to enable them to reach a wider audience. Poets like Tulsidas, Kamban and Krittibas Ojha have all penned down their own versions of these stories in the common language of their regions. The tribal communities also had their own versions in the form of songs and plays that their people could connect to. These versions of Indian epics are a part of our rich Indian heritage which should to be preserved and promoted.
In this special collection entitled Rama's Ring, Amar Chitra Katha brings together nine lesser-known stories from alternate tellings of the two great Indian epics. This is the first time we bring Ramayana stories and Mahabharata stories together in one book.
While some tellings in this book are poetic masterpieces in their own right, others are simple folk versions passed down from one generation to the next. The iconic illustrations and in-depth research of the credible team of Amar Chitra Katha make this book a must-read for all genders and all age groups.
So what are some of the stories inside?
Read about the time when Rama's ring falls down a crack in the floor, and Hanuman takes a journey to the centre of the earth to retrieve it.
Find out how an alternate telling of the Mahabharata talked about not Krishna but a different set of saviours who came to Draupadi's rescue when she was humiliated by Dushasana in the Kaurava court.
Did you know that Ravana was capable of replacing his physical body with a fiercer, almost demonic form which made him nearly impervious to Rama's attacks?
Check out the special 'crossover' episode when the Pandava prince Bhima comes to Rama's help when Lakshmana is kidnapped by a celestial princess.
Learn why Duryodhana, inspite of receiving five powerful golden arrows guaranteed to kill the Pandavas from Bhishmacharya, still lost the war because of a debt he owed Arjuna.
BUY THE BOOK HERE: https://www.amarchitrakatha.com/product/ramas-ring/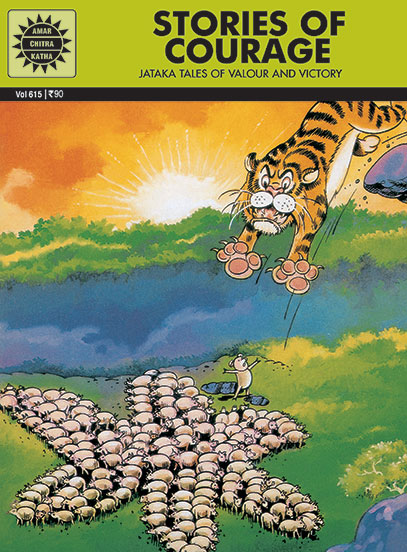 Comic of The Month
Stories Of Courage
There is strength in numbers, says a wise pig. Being honest and selfless can change your destiny, says a young fawn. A friend is your most precious possession, advises a gentle crab, while loyalty is a noble swan's prized virtue. But it is courage that really helps these exceptional creatures gain freedom and respect.
20 Minute Read