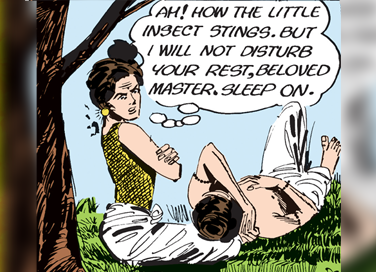 Parashurama's curse on Karna
- June 11, 2021
---
Premium
By Aditya Sen
With misty eyes, Kunti saw her firstborn son float away. She stood there, feet dug into the ground as she watched her child flow away with the mighty Ganga. Meanwhile, a charioteer and carpenter named Adiratha saw a tiny basket being carried by the waves. Curious, he went near the basket and to his shock, found a small child in it. He looked around frantically, hoping to find the child's parents. However, no one came to claim the child. He decided to take the child home. He showed the child to his wife, Radha, who lovingly took the child in her embrace. Once he explained the situation to Radha, they decided to adopt the child. They named the child Karna.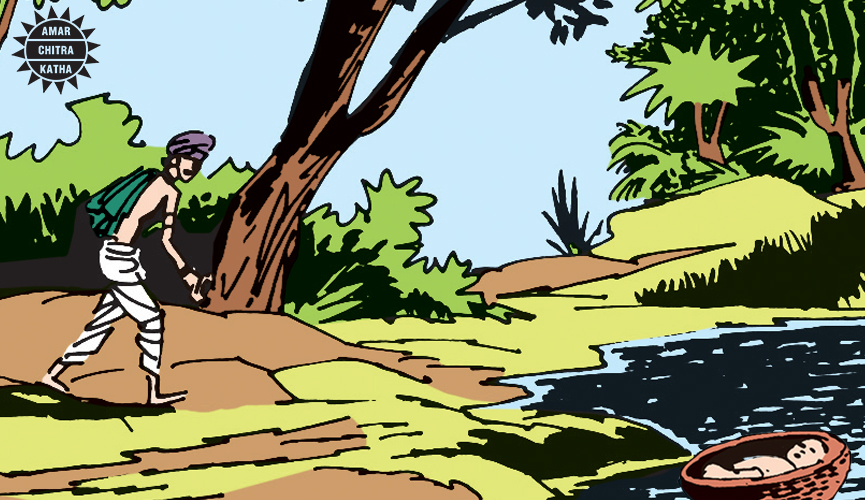 On Karna's sixteenth birthday, Adiratha offered him a new chariot and a horse. Karna saw the chariot and smiled. However, Karna was not very happy. Adhiratha noticed this and asked his son what was bothering him. Karna stared at the ground and said, 
"Father, it feels like I was never meant to be a charioteer. I do not feel any desire to drive a chariot. My only desire in life is to hold a bow and arrow. I cannot think of anything else." 
Karna didn't dare to look at his father, afraid that he had offended him. Suddenly, Karna felt a warm hand fall gently on his shoulder. Karna looked up and was shocked to see his father smiling.
"Karna, your mother and I have something we need to tell you. We knew this day would come, we are prepared."
Adhiratha called out to his wife and told her what had just happened. Together, they explained to Karna about his past and how they had found him. Karna was in disbelief. Things were slowly starting to explain themselves. Karna found a new desire, a desire to find out who he really was.
"Mother, father, I would like to learn archery in the great city of Hastinapura. For this, I request your permission."
His parents agreed and blessed him on his journey. 
Karna's goal was to learn archery and find out his true identity. He approached the famed teacher, Dronacharya. But Dronacharya was reluctant to teach a......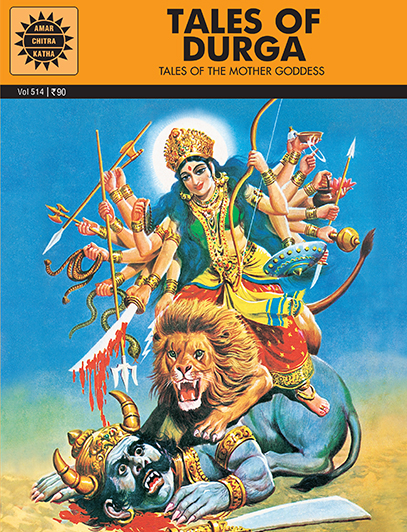 Comic of The Month
Tales of Durga
Goddess Durga is as widely worshipped as Vishnu and Shiva. She is the fierce form of Devi who, as Shakti, is considered the personification of universal energy. According to the Devi Bhagavata the Universe is but Her manifestation - and even Brahma, Vishnu and Shiva worship Her. Durga is worshipped in sixty-four forms as Ambika, Kali, Chamundi, Devi, Uma, etc. The worship of Durga is supposed to be more than 4,000 years old in India. The names of Uma and Parvati occur in the Taittiriya Aranyaka and the Kena Upanishad. Some Indologists are of the opinion that the figure seated on a lion in the coins of Azes I, the Shaka ruler (c. 5 B.C. to A.D. 30), represents Ambika or Durga. Durga is worshipped in one form or another in almost every Indian village. This Amar Chitra Katha is based on the Durga-Saptashati of the Markandeya Purana.
20 Minute Read