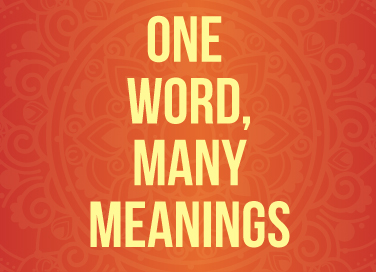 What were the different connotations of the sanskrit word 'Jaya' ?
Jaya and Vijaya are the gate-keepers of the abode of Vishnu. Once, when they didn't let Rishi Sanaka enter, he cursed them, saying they would be born on Earth as asuras. They would only be redeemed when slayed by Vishnu's celestial weapon. Accordingly, the duo was born as Hiranyaksha and Hiranyakashyapu, Ravana and Kumbhakarna, and Shishupala and Dantavakra.

Jaya was the original name of the Mahabharata written by Ved Vyasa. Many scholars opine that Vaisampayana, a disciple of Vyasa, added fifteen thousand two hundred stanzas to the Jaya. After sage Suta recited the book to other hermits at a Vaishnavite temple called Naimisharanaya, it came to be called the Mahabharata.


Jaya is also another name for the sun god, Surya.
Comic of The Month
Krishna and Narakasura
Indra was at his wit's end – the impertinent demon Narakasura had stolen his mother's earrings! Lord Krishna, always helpful, agreed to confront the enemy. But seated on Garuda, his trusty eagle, and accompanied by the gentle Satyabhama, would Krishna be able to overcome Narakasura's formidable defences? Would his gleaming discus ever find its mark? This is the story of why the first of four days of Diwali - the Festival of Lights is named after Naraka!
20 Minute Read