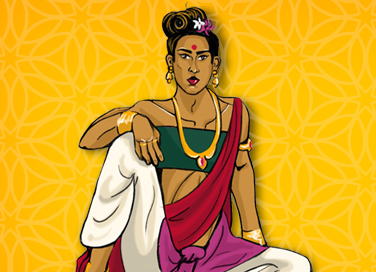 The Genderfluid Deity
- November 3, 2020
---
According to the Shrimad Bhagavata Purana, Ila, the goddess of speech, is the mother and the father of the Chandravanshis or the Lunar Dynasty, one of the principal houses of the Kshatriya caste. So how does one be mother AND father? This was because Ila was able to transition between genders, a trait that she was bestowed with because of her father's desire for a son.
The sun god Surya was married to Sanjana, with whom he had a son called Vaivasvata Manu, the progenitor of all mankind. However, it wasn't an easy road for Vaivasvata, who was also known as Satyavrata. He was married to Shraddha, and for years, they remained childless. In a bid to make sure his lineage continued, he prayed to the twin Gods Mitra and Varuna, performing a yajna for a child with the help of the sage Vashishtha. Pleased by his devotion, the gods blessed him with a baby girl named Ila. However, Vaivasvata wanted a son who could be his successor. He bowed to his guru Vashishtha and requested him to change his daughter's gender. Vashishtha obliged, using his divine powers to alter the girl, Ila, into the boy, Sudyumna.
Sudyumna grew up to be a just and righteous king. One day while hunting, Sudyumna followed a deer, accidentally entering the Sukumara forest, the sacred grove of Shiva and Parvati.  As per the Linga Purana, it also called the Sharavana forest or the forest of reeds. In order to maintain their privacy, Shiva had enchanted the grove, transforming any man trespassing into a woman. Thus, Sudyumna, his men and his horses were all transformed. Now a woman, Sudyumna took up his birth name, Ila. She sought out her father's guru, sage Vashishtha, to reverse the transformation, who, in turn, approached Shiva himself. While the lord of Kailasha couldn't reverse the effect, he did alter it. 
"Ila shall be able to alter her gender every month. Her memories from life as one gender shall be erased when she switches to live as the opposite gender."
In her search for sage Vashisththa, Ila had been roaming from one forest to another, when she met Budha, the son of the moon god Chandra. The two fell in love and got married. However, because of Shiva's conditions, Ila completely forgot this identity and her marriage when she reverted to being Sudyumna. But, because of his celestial origins, Budha was able to divine Ila's fate. Budha accepted Ila as his wife and Sudyumna as his disciple. Budha and Ila were blessed with a son, Pururava.   
Later, Sudyumna returned to his kingdom with Pururava. He remarried and was blessed with three more sons, Utkal, Gaya and Vimal. Every alternate month, he retreated to his private quarters, where he lived his secret life as Ila. Over time, however, his absence started interfering with his duties, and he eventually proclaimed Pururava as the rightful heir and retired to the woods. 
While the legend narrates the existence of different genders in one physical body at different times, many trace this as one of the early mentions of androgyny in Indian literature. Some versions of the text also state that Budha had turned all of Ila's attendants into kimpurushas or hermaphrodites, reaffirming the fact. Ila had nine other siblings including Ikshvaku who later came to be the founding father of the Suryavanshis or the Solar Dynasty. However, the descendants of Pururava, who was also the grandson of the moon, came to be called Chandravanshis. It is thus that Ila came to be the father and mother of the Chandravanshis.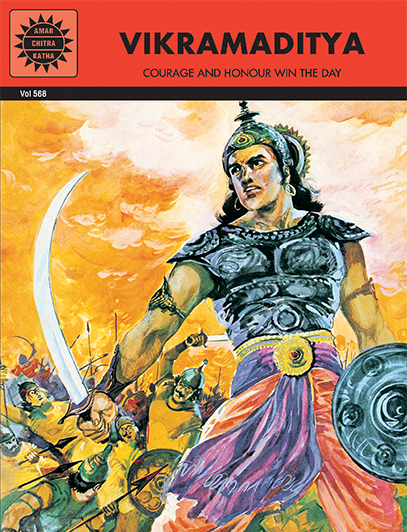 Comic of The Month
Vikramaditya
A jealous brother robbed him of his kingdom, his own courage won it back. Chandragupta Vikramaditya has a special place in history because he proved that the love of power is not all that is needed to create an empire. Also required is the love of a wise woman and good, old-fashioned honor.
20 Minute Read