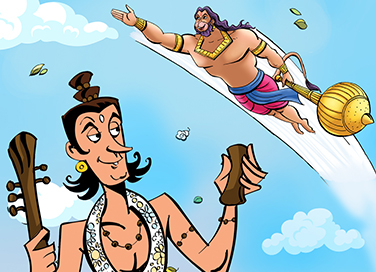 Hanuman Humbles Narada
- August 6, 2021
---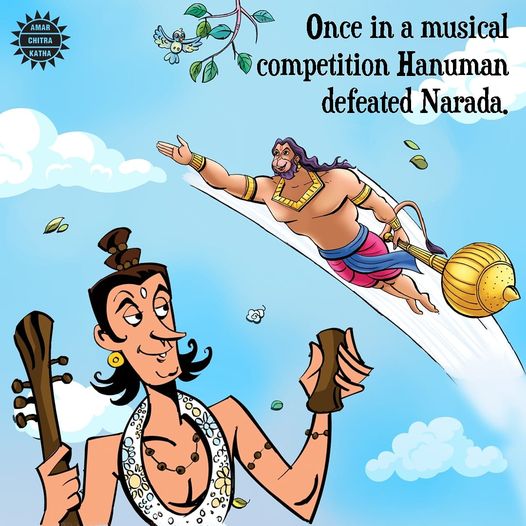 Narada was very proud of his devotion to Vishnu. Once, during a music recital in Vaikuntha, Narada presented one of his most impressive songs in praise of Vishnu. He was sure that Vishnu would declare him the best. To his surprise, Vishnu beckoned to Hanuman who was sitting at the back and asked him to sing. Narada was appalled. Vishnu was asking a monkey to sing! To top it, he even asked Narada to lend Hanuman his veena. Hanuman sang of Rama and as he sang he was lost in his love for him. When the song was over, Narada angrily went to retrieve his veena but to his surprise, it was stuck to the floor. He pulled and pulled but to no avail. Vishnu smiled and asked Hanuman to sing again. Hanuman did and Narada could lift up his veena. The floor itself had melted on hearing Hanuman's devotion and the veena had got embedded in it. When Hanuman sang again, the floor melted once more and Narada could pick up his veena.
Ashamed of his arrogance, Narada asked Hanuman to forgive him which the large-hearted vanara did willingly.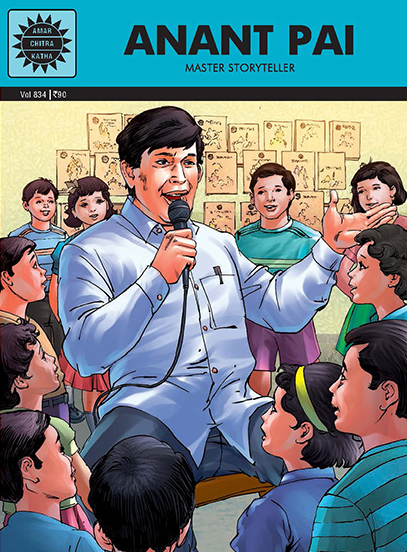 Comic of The Month
Anant Pai
Anant Pai strode the Indian comics industry like a colossus. Using the comics format he told stories from mythology, history and literature to generations of children. Uncle Pai, as he was known, wanted Indian children to be familiar with their heritage. A chemical engineer by profession, Anant Pai gave up his job to follow his dream, a dream that led to the creation of Amar Chitra Katha and Tinkle. Read the story of the man who left behind a legacy of learning and laughter.
20 Minute Read