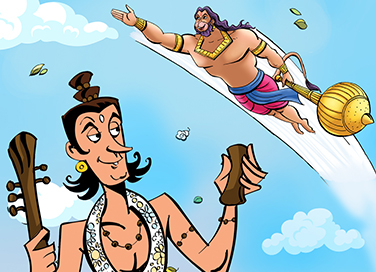 Hanuman Humbles Narada
- August 6, 2021
---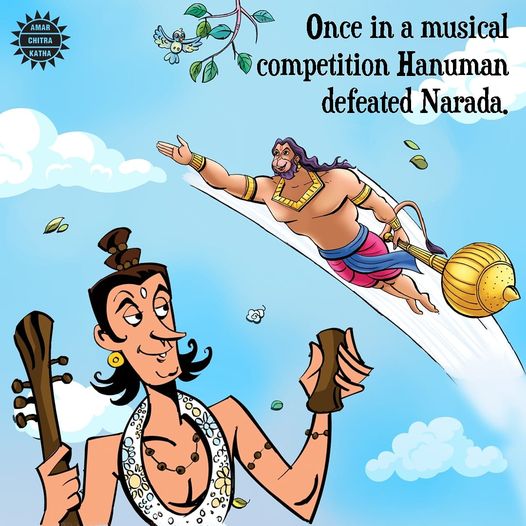 Narada was very proud of his devotion to Vishnu. Once, during a music recital in Vaikuntha, Narada presented one of his most impressive songs in praise of Vishnu. He was sure that Vishnu would declare him the best. To his surprise, Vishnu beckoned to Hanuman who was sitting at the back and asked him to sing. Narada was appalled. Vishnu was asking a monkey to sing! To top it, he even asked Narada to lend Hanuman his veena. Hanuman sang of Rama and as he sang he was lost in his love for him. When the song was over, Narada angrily went to retrieve his veena but to his surprise, it was stuck to the floor. He pulled and pulled but to no avail. Vishnu smiled and asked Hanuman to sing again. Hanuman did and Narada could lift up his veena. The floor itself had melted on hearing Hanuman's devotion and the veena had got embedded in it. When Hanuman sang again, the floor melted once more and Narada could pick up his veena.
Ashamed of his arrogance, Narada asked Hanuman to forgive him which the large-hearted vanara did willingly.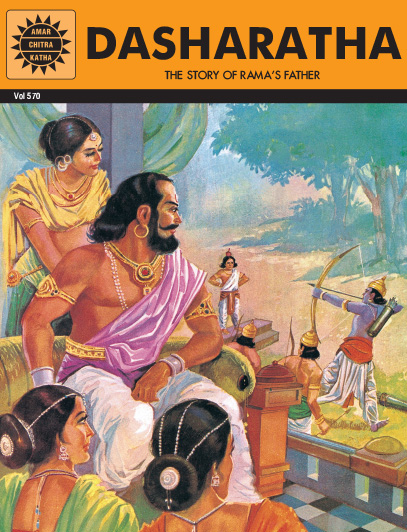 Comic of The Month
Dasharatha
Dasharatha, the prince of Ayodhya, was out hunting when he heard the sound of an elephant drinking water. Aiming his bow, the prince shot in the direction of the sound. Tragically, the arrow killed a youth who was filling water in a pitcher for his old and blind parents. The anguished father cursed Dasharatha that one day he would die grieving for his son. Dasharatha's son was the valiant and unparalleled, Rama.
20 Minute Read