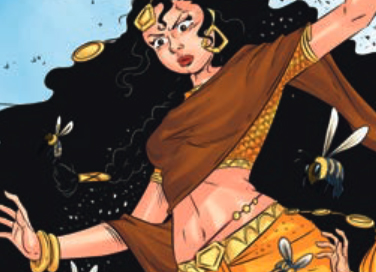 Arunasura and Brahmari
- June 5, 2020
---
Premium
Do you know the story of the near-immortal demon, Arunasura, and his conflict with the Goddess Brahmari? Even though he became more powerful than most gods and goddesses, Brahmari was able to vanquish him in moments, that too without any celestial weapons or magical mantras. Read on to find out how.
Brahma grants a boon
The demon Aruna meditated for hundreds of years. His penance was so severe that he only lived on a few drops of water every day. Lord Brahma feared that if he didn't pay head to Aruna's penance, Aruna's power might destroy the universe. Ultimately, he gave in and granted Arunasura a boon. Aruna wished that he could be immortal.
Lord Brahma said that nobody can be immortal, and hence he cannot grant him this wish. Aruna thought to just tweak the boon a little to tease Brahma. He said, "Grant that I cannot be killed by any god, demon, animal, man or woman. May no four-legged or two-legged creature be a match for me. May no weapon be able to harm me." Brahma smiled to himself, knowing that Aruna was unaware that this boon did mean he was mortal. He granted Aruna his wish and disappeared.
Extremely proud of having his wish granted, Aruna became fearless and consumed with pride. He considered himself to be invincible. He wreaked havoc in the three worlds. He didn't even leave the devas alone, harassing gods and goddesses who then sought refuge under Lord Brahma. When Indra questioned Brahma about granting the boon, Brahma replied that all that is born must die. He consoled Indra that Aruna shall be destroyed soon. Indra wasn't satisified.......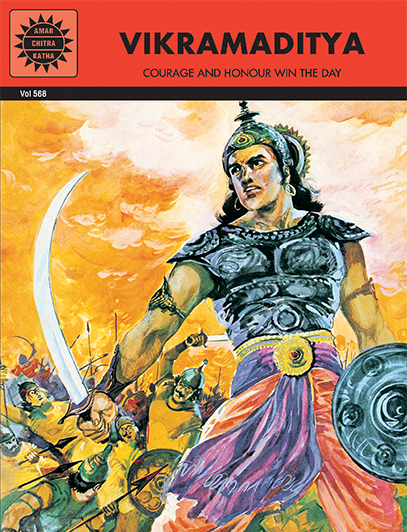 Comic of The Month
Vikramaditya
A jealous brother robbed him of his kingdom, his own courage won it back. Chandragupta Vikramaditya has a special place in history because he proved that the love of power is not all that is needed to create an empire. Also required is the love of a wise woman and good, old-fashioned honor.
20 Minute Read