Writer Write-Up: Olivier Sanjay Lafont
- December 22, 2020
---
Olivier Sanjay Lafont is an acclaimed author, screenplay writer and actor, with a very impressive body of work that appeals to all ages. You might also remember him from his big-screen outings in movies like 3 Idiots and Guzaarish. Originally from France, Olivier grew up in India and loves the country, something that shines through his work. His latest work is a fantastical piece of fiction for kids called 'Oop & Lila: Lost in the Scarabean Sea'.
Talking about the idea for his stories, Olivier said,
To receive more such stories in your Inbox & WhatsApp, Please share your Email and Mobile number.
"All stories are, in my mind, a seamless connection between fiction for kids and adults. Everything comes naturally. When I write, I am also enacting the story in my mind. 'Oop and Lila' has been written very cinematically."
Having written fiction majorly, the author feels that fantasy is very important as it integrates adventure, fun and discovery. It aids in expanding imagination.
"It gave a whole new internal dimension to my life as a kid," Olivier added.
He also believes that the quest is an essential part of fantasy writing as it helps to mirror every reader's day-to-day life from a brand new angle. It shows how every reader views a particular situation or thing differently. 
Olivier has a long-standing bond with Amar Chitra Katha books.
"When I was seven years old, my family moved from France to Delhi and I didn't speak English or Hindi. I was put into an English medium school. The culture in Delhi was so different than that in France and I also had to overcome the language barrier. We were living in the French embassy. Among the few books in the guest house, there were a couple of Amar Chitra Katha comics. In France, there is a huge comic subculture that we call bandes dessineés. Amar Chitra Katha Comics made me feel like this is something I know and I can access. The comics gave me an introduction to the people here, their lives, and their culture. That was how I connected with Indian culture." 
Listen to hear more from Olivier and hear him read an excerpt from his book 'Oop & Lila: Lost in the Scarabean Sea' in the video above.
#ACKandFriends is an online talk show by our Amar Chitra Katha editorial team, where we connect with India's top children's authors and give audiences a sneak peek into the creative process behind writing books for kids. Watch Season 1: Click here
Stay tuned for Season 2 coming soon.
To receive more such stories in your Inbox & WhatsApp, Please share your Email and Mobile number.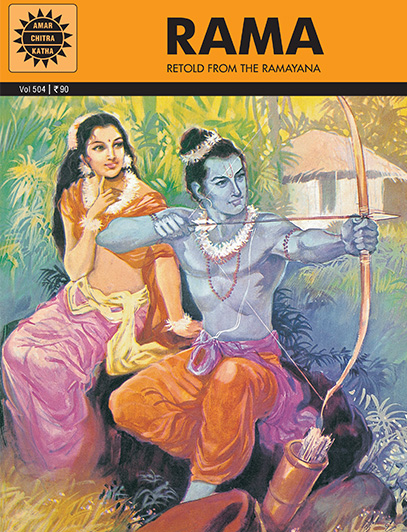 Comic of The Month
Rama
Rama was happy living in the forest with his wife and brother. Palace intrigue may have forced his exile, but the next fourteen years promised to be quite pleasant. Suddenly, this idyllic life was thrown into turmoil. His beloved wife Sita was kidnapped! With unmatched skill as a warrior, Rama destroyed the ten-headed Ravana and along the way, he won a host of very grateful friends.
20 Minute Read