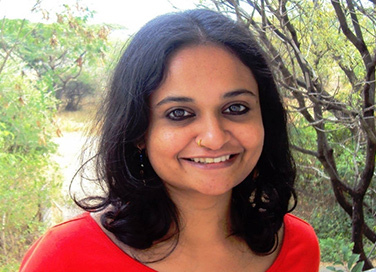 Writer Write-Up: Sowmya Rajendran
- June 19, 2020
---
Sowmya Rajendran loves writing for children of all ages, from tiny tots to young adults. She beautifully weaves stories around topics that a lot of people might consider too adult for kids, but are very crucial for kids to learn about to help them develop into healthy, well-rounded individuals. Her writing style is laced with humour and thought-provoking, compelling readers to ponder about what they read for days.
Her first picture book was Aana and Chena, and since then, there has been no turning back. Her readers have showered love and appreciation on her body of work, such as Power Cut!, Nirmala and Normala, The Lesson, School is Cool, Wings to Fly, and the Mayil series, among others. Sowmya received the Sahitya Akademi's Bal Sahitya Puraskar for Mayil Will Not Be Quiet. As per Sowmya, she has always loved playing with words and weaving stories, ever since school days; she feels she was destined to be a writer.
Her Mayil series is told as the diary of an Indian girl, and touches upon various sensitive topics such as gender discrimination, stereotypes, adolescence, and more. So how did the Mayil series come to be? Sowmya and her dear friend Niveditha Subramaniam, who is also the co-author of the Mayil series, used to have various conversations about gender issues. Various contemporary issues were not talked about at home nor taught to them in school. With a desire to create a resource book on gender for school kids, the two women set out to draft their manuscript, a much more serious take on the subjects they wanted to discuss. Unfortunately, this was shot down by almost every publishing house they approached, till finally, Radhika Menon, founder and editor of Tulika Books, suggested that they rework the manuscript into something more light-hearted and kid-friendly. The rest is history.
Talking about the Mayil series, Sowmya said that Mayil started as a character but later turned into a voice. Now, there are times when the authors disagree with Mayil but let her have her opinions. The diary form of writing also gave them the freedom to talk about a range of topics, including politics. The character is very much biographical in nature, with the authors deliberately letting Mayil make mistakes, judge people, be confused, and think through things at her own pace. The character has evolved and grown through the series, just like any child would. Watch the video to learn more about Sowmya and her journey, and hear a small excerpt from the book!
#ACKandFriends is a weekly live show by our Amar Chitra Katha editorial team, where we connect with India's top children's authors and give audiences a sneak peek into the creative process behind writing books for kids. The show airs every Friday at 5:00 pm on our Facebook and Youtube channels.
Comic of The Month
Krishna and Narakasura
Indra was at his wit's end – the impertinent demon Narakasura had stolen his mother's earrings! Lord Krishna, always helpful, agreed to confront the enemy. But seated on Garuda, his trusty eagle, and accompanied by the gentle Satyabhama, would Krishna be able to overcome Narakasura's formidable defences? Would his gleaming discus ever find its mark? This is the story of why the first of four days of Diwali - the Festival of Lights is named after Naraka!
20 Minute Read