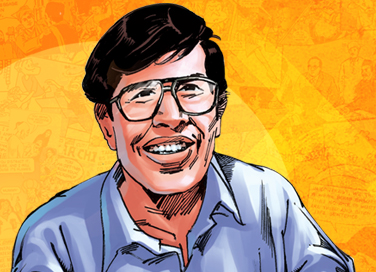 Memories of Uncle Pai 
- September 15, 2020
---
On September 17, 2020, we will be celebrating our founder Anant Pai's 91st birth anniversary. To mark the special day, we asked three stalwarts from the Amar Chitra Katha team some of their fondest memories of the legend himself. 

"It was 1994 and our office had been destroyed in a massive fire. We had lost everything we had – our library of 3000 reference books, all our copies of Tinkle and Amar Chitra Katha, three huge files of ready and approved scripts and three huge files of artworks ready to be scheduled for Tinkle. It was a devastating loss and we were a little paralysed. The Mirchandanis, who owned IBH and us, stepped in and immediately gave us space in their Mahalakshmi office. Mr Pai saw to it that all of us were settled in and as comfortable as possible. I was 35 years old at that time and the assistant editor of Tinkle.
The following day Mr Pai called me into his office and said, "The next issue of Tinkle has to go to print in 20 days. What are we going to do about it?" I looked at him and remembered what he had told me when he was relating the story of how Amar Chitra Katha had become such a big success. He had said, "If I had listened to all the criticism and discouragement I would have failed. You have to believe in yourself and what you have to do." Without thinking I said, "Don't worry, Mr Pai. We will send the next issue of Tinkle to the press in time. The children will not miss an issue."
To receive more such stories in your Inbox & WhatsApp, Please share your Email and Mobile number.
Brave words but how was I going to do it. I have learned that when you have your back to the wall that's when the best ideas come. I got the team to sit down and write fresh content for all the special pages like Tinkle Tells you Why and Super Quiz. We quickly scripted single page Suppandi stories and sent them to Mr Ram Waeerkar who drew them in record speed. I wrote to all the artists to complete and send any assignment they had been given along with the scripts (no we did not have computers or backups). Once that happened the team worked at top speed to colour, letter, proof and edit the pages. In 19 days we had all 32 pages and the cover of Tinkle ready for print. Mr Pai was the happiest man that day. He congratulated the team. Besides, he said something that I hold dear to my heart even now. "If Reena says she will do it, I know she will do it." Appreciative words, encouraging words. More importantly, words that increased my self-esteem ten-fold.
Mr Pai knew how to make one realize one's own potential and work towards it. That was what was special about him. He was a real guru and the perfect mentor."

"Uncle Pai for me has always been this larger-than-life Santa Claus like figure. He brought to me and thousands of other kids the gift of stories and comics that filled the pages of Tinkle and Amar Chitra Katha. So when I decided I wanted to make my career writing stories I went hunting for one of those who had sparked my imagination. However, I couldn't meet him. But a couple of years later I got my opportunity when I applied for a writer's position in answer to an ad for a researcher at Amar Chitra Katha. Yeah, wonky, but it got me my break six months later when a vacancy in Tinkle opened up! Plus! I finally got to meet one of my idols. Yes, Uncle Pai! It so happened that the editor of Tinkle who was to take my interview was not in yet and while I waited I got to meet Mr Pai. He was as gentle and kind as I imagined him to be. But… he wanted me to join ACK as a researcher whereas my heart was set on becoming a writer for Tinkle. It was a hard choice… it was Uncle Pai asking! Thankfully the editor of Tinkle came to fetch me for my interview and I ended up getting my dream job. 
Do you know what was the icing on the cake? The day I joined happened to be Mr Pai's birthday! And I began the day and my journey with Tinkle with sweets made by Mrs Pai whose birthday it also was and a shloka recited by Mr Pai in his inimitable style."

"When he asked me, "What is it that you love to do best? Is it copywriting or drawing?" This question hit me like a thunderbolt because I had never thought of it earlier. And with a bit of hesitation, I said that I liked to draw. And then he said, "Join us as a staff artist in the TINKLE team". Mr Pai had the ability to spot talents and nurture them with a lot of patience. With me having no qualifications or formal training in art he put that complete belief and faith in me through those formative years in Tinkle. And the day when he called me to his cabin to tell me that I will have to take up illustrating Shikari Shambu as Mr Halbe was to retire. This was a huge responsibility and I was petrified but he was sure. "Oh don't worry," he said with a wave of his hand. "You will be able to do it!"
That was Uncle Pai who believed and never gave up!"
To receive more such stories in your Inbox & WhatsApp, Please share your Email and Mobile number.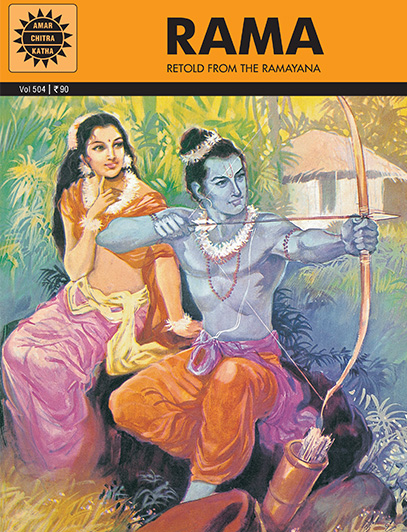 Comic of The Month
Rama
Rama was happy living in the forest with his wife and brother. Palace intrigue may have forced his exile, but the next fourteen years promised to be quite pleasant. Suddenly, this idyllic life was thrown into turmoil. His beloved wife Sita was kidnapped! With unmatched skill as a warrior, Rama destroyed the ten-headed Ravana and along the way, he won a host of very grateful friends.
20 Minute Read