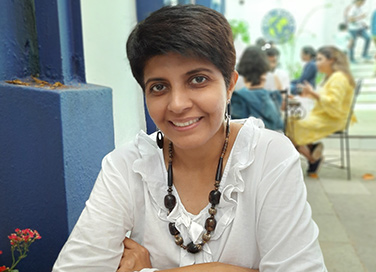 Writer Write-Up: Harshikaa Udasi
- August 2, 2020
---
Harshikaa Udasi completed her masters in Economics before turning to journalism. After spending nearly two decades reporting the news, she followed her passion for writing stories. 
She traces her love for writing stories to when she was 15 years old. That's when she first attempted to write her first novel. Unfortunately, she stopped writing after the first two pages,  but the thought of having an unfinished book made her come back to it 25 years later. When Duckbill Books announced the Children First writing contest, she finally penned down her first book and submitted it, winning first prize! Kittu's Very Mad Day was born, and since then, there has been no turning back. The book was very well received by the audience, going on to win the 2018 FICCI Publishing Award for Best English Children's Book.
When we asked her about the inspiration behind the differently-abled Kittu who is the protagonist of the book, she had a lovely story to share. 
"My friend had been blessed with a baby girl who did not have the gift of sight. I was deeply saddened and couldn't help but sympathize with her. 'Why does God have to be so unfair?' I thought. I avoided meeting her, wondering what I would talk to her about. Years later, when I met the child, I found her to be one of the most cheerful and lively kids I had ever come across. That made me realize that one need not pity the differently-abled." 
Harshikaa also runs the Book Trotters Club, a unique book club for kids with the aim of building the habit of reading. The club hosts various events for kids such as read-alongs, speech and drama programmes, creative writing and film appreciation, and much more. Additionally, she also leads a reading programme in Akshara High School, Mumbai. She loves spending time with kids and narrating stories to them. It was only after becoming a mother that she realized how differently parents and children see the world around them, something she has touched upon in her recent release, Friends Behind Walls. 
The book is set against the beautiful backdrop of quaint Deolali in Nashik. The plot and the characters are all inspired by real-life incidents, with an extra dash of humour and imagination. Watch the video to learn more about it, and hear Harshikaa read out a little bit too! 
#ACKandFriends is a weekly live show by our Amar Chitra Katha editorial team, where we connect with India's top children's authors and give audiences a sneak peek into the creative process behind writing books for kids. The show airs every Friday at 5:00 pm on our Facebook and Youtube channels.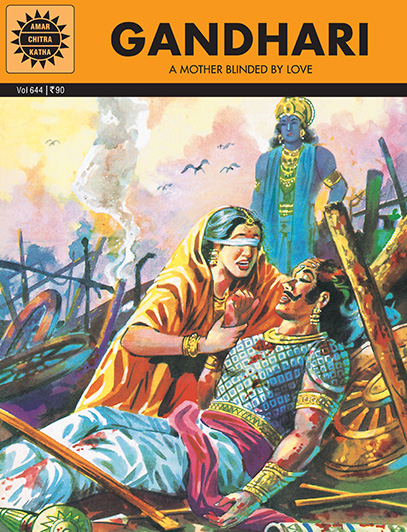 Comic of The Month
Gandhari
A hundred sons, the sages say, are a hundred blessings. Gandhari's hundred Kaurava sons, however, were more of a curse. Did they become evil by some divine plan or was it because she was proudly blind to their faults? Helpless as they heaped dishonour on the family, she was furious with Lord Krishna for abetting in her son's eventual slaughter. Unfortunately, her grief was overpowering, and threatened to wreak further havoc.
20 Minute Read