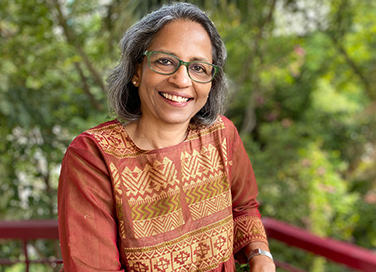 Writer Write-Up: Asha Nehemiah
- June 13, 2020
---
Asha Nehemiah is a renowned children's author who has written several picture and chapter books, in a literary career spanning 20 years. She began her professional life as a copywriter in an advertising agency, but, luckily for her, a series of fortunate events took her from her copywriting job to a stint as a sub-editor for an academic publisher, to eventually writing her own books.
Her best-selling titles include Behind the Lie, Trouble with Magic, Granny's Sari, The Village with a Long Name, and The Adventures of Mooli series. Funny characters, even funnier names and outlandish escapades are unique traits of her books. Interestingly, her love for food and cooking also seep into her writing; her books are peppered (pun intended) with references to local culinary delights, leaving you drooling at the mouth. When asked if this was intentional, Asha replied in the affirmative, saying she considers food to be a creative aspect of life, one that should be introduced to kids as soon as possible.
In her book Behind the Lie, Asha touches on the sensitive topic of domestic violence. We were curious as to what made her take up such a serious topic for her especially young audience. This was her reply.
"Books are a natural way to introduce kids to both the beautiful and ugly sides of life. Parents should not shy away from talking about these things with their kids, and setting the right context becomes very important."
So what inspired The Village with a Long Name? The idea came to her from her real-life experiences living in Tamil Nadu, where villages really do have extremely long names. She wanted to introduce this part of India to kids and thought a picture book with a sprinkle of humour and a dash of craziness would do the magic. She was absolutely correct! A short storytelling session by the author was ample proof of this. Watch the video to learn more about Asha and her journey!
#ACKandFriends is an weekly live show by our Amar Chitra Katha editorial team, where we connect with India's top children's authors, and give audiences a sneak peek into the creative process behind writing books for kids. The show airs every Friday at 5:00 pm on our Facebook and Youtube channels.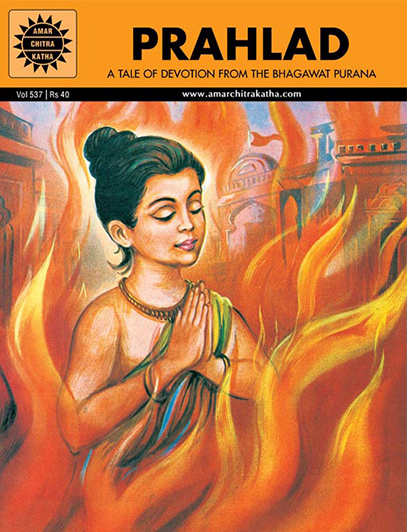 Comic of The Month
Prahlad
Prahlad drove his monstrous father to a murderous rage. He insisted on praising Lord Vishnu who was considered a sworn enemy by his father Hiranyakashipu. When he tried to punish his disobedient son, Hiranyakashipu's potent poisons turned to nectar while his lethal weapons fell harmlessly away. In this tale of bloodthirsty revenge, Prahlad's only defence is his devotion which dramatically puts an end to all evil.
20 Minute Read