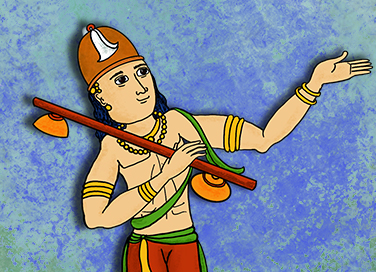 The Life and Legacy of Annamacharya
- September 15, 2022
---
By Srinidhi Murthy
Tallapaka Annamacharya was a 15th century Telugu composer and poet. Due to his contribution to Telugu literature, he is regarded as Andhra Pada Kavita Pitamaha (Grandfather of Telugu song-writing). Here are some interesting facts about the life and legacy of this legendary poet, whose songs are still popular among Carnatic music artists.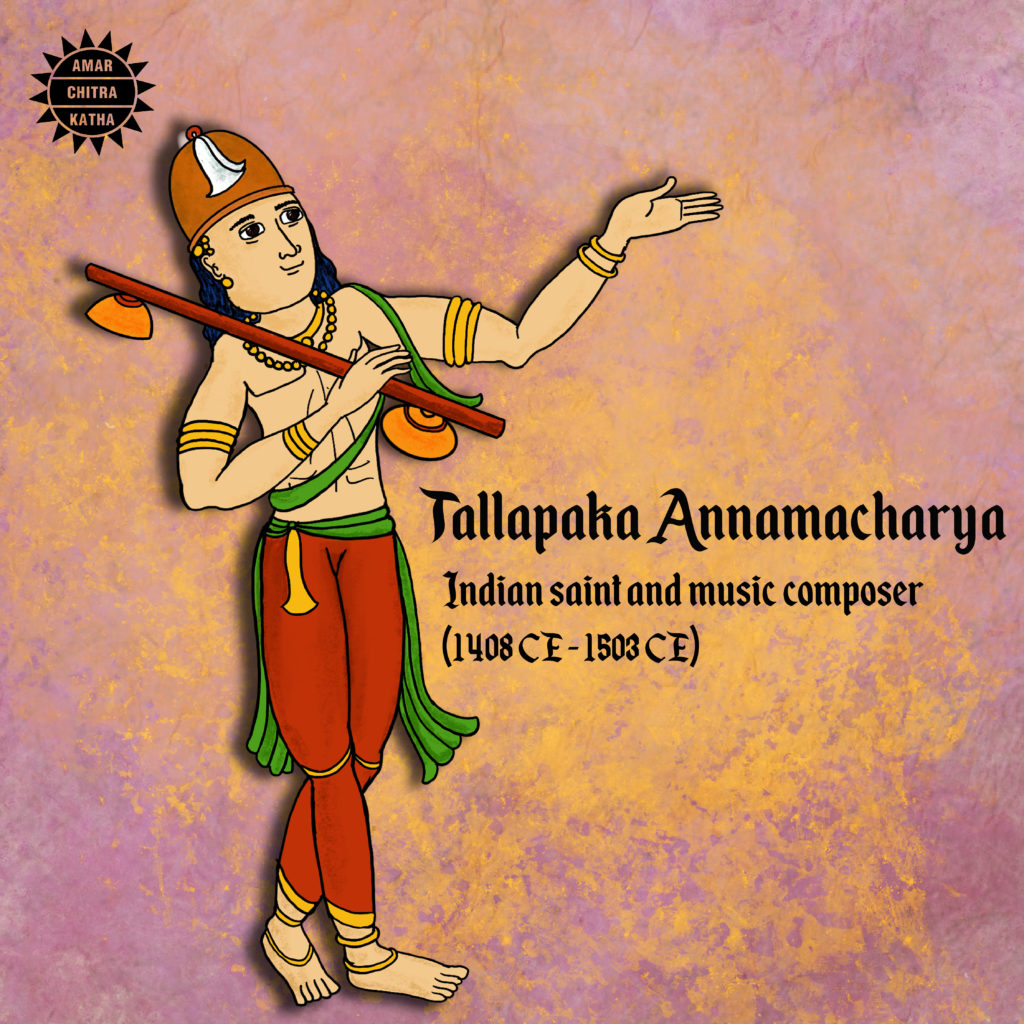 Place of Birth
Annamacharya was born in Vaishakha Shuddha Pournami in the year Sarwadhari i.e. 22 May, 1408, in a village named Tallapaka, in the present-day Kadapa district of Andhra Pradesh. Annamacharya lived for 95 years, devoting his life to the praise of Lord Venkateshwara, and breathed his last in 1503. Insights on his life and works were found in a rhyming couplet of poems named Dwipada, written by his grandson Tallapaka Chinnayya.
To receive more such stories in your Inbox & WhatsApp, Please share your Email and Mobile number.
Devotion to Lord Venkateshwara
Annamacharya was a devotee of Lord Venkateshwara and composed many songs in his praise, during his lifetime. The composer considered his songs as floral offerings for the Lord and surrendered himself in devotion to Venkateshwara. His devotion to the lord can be known through his song 'Dachuko nee Padalaku thaga ne chesina', meaning 'O Lord! Safeguard them, for these are the result of the worship.'
Annamacharya's wife
Tallapaka Tirumalamma, the wife of Annamacharya, was also a famed poet. She is regarded as the first woman poet in Telugu literature. Her work named Subhadra Kalyanam (The Marriage of Subhadra) consists of 1170 poems in Telugu, about the marriage of Subhadra and Arjuna. She presented Telugu culture and nativity through the poems, which were taken from the Sanskrit epic Mahabharata.
Engraved songs
Annamacharya wrote his sankeertanas (songs) on palm leaves. Later, his son Pedda Tirumalacharya engraved the works of his father on copper plates. Pedda Tirumalacharya and his son Tallapaka Chinnayya were also skilled poets and composers.
Famous compositions
During his literary career, 32,000 keertanas (songs) were said to have been composed by Annamacharya. But only 12,000 of those keertanas are available today. Some of his famous Telugu compositions are Adivo Alladivo Srihari Vasamu (That is the place where Hari resides), Kondalalo Nelakonna (Situated in the hills), and Brahma Kadigina Padamu (The feet that were washed by Brahma).
Social issues in his songs
Annamacharya was one of the first poets in Telugu literature who opposed social stigma toward the untouchable castes through his compositions. These sentiments were echoed in his well-known song Brahmaṃ Okkate (The divine and absolute power is one). He argued that the relationship between the god and human is the same irrespective of their financial status, caste, and colour.
Rediscovery of compositions
The compositions of Annamacharya were lost and forgotten for over three centuries. Centuries after his lifetime, twenty-five hundred copper plates containing his songs were found in 1922. They were found inside the Sri Venkateswara temple at Tirumala, just opposite the 'hundi' (cash collection box), concealed in a small room. In 1949, Tirumala Tirupati Devasthanams (TTD) finally took possession of all the available copper plates. In 2005, an English translation of 150 of these verses was published.
Legacy
Since the discovery of Annamacharya's compositions, Tirumala Tirupati Devasthanams has been making every effort to promote and preserve the works of this legendary composer. In 1950, the Government of Andhra Pradesh created a committee and appointed the late musician Dr M. Balamuralikrishna as its head. In 1979, an album named Balaji Pancharatnamala was sung by singer M. S. Subbulakshmi. The album contained the compositions of Annamacharya like Vande Vasudevam, Bhavamulona, Sriman Narayana and many more. A statue of Annamacharya is situated at the Sarada River Park in Anakapalle, Andhra Pradesh. Another 10-story tall statue is located at the entrance of Tallapaka.
In popular culture
In 1997, a Telugu film named Annamayya was released, based on the life of Annamacharya, directed by K. Raghavendra Rao. In 2017, Brahmam Okate, one of Annamacharya's compositions, sung by child singers Sooryagayathri and Rahul Vellal, became a huge hit. The YouTube video of the song garnered over 11 million views two years later, in 2019.
To receive more such stories in your Inbox & WhatsApp, Please share your Email and Mobile number.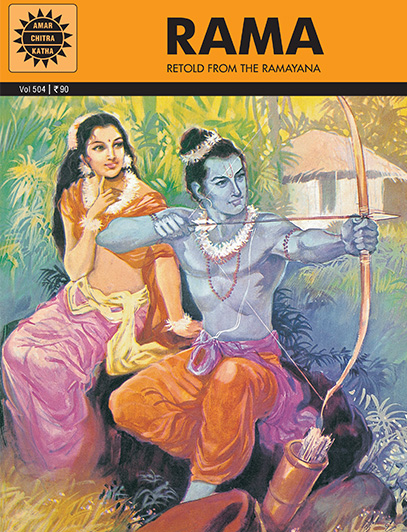 Comic of The Month
Rama
Rama was happy living in the forest with his wife and brother. Palace intrigue may have forced his exile, but the next fourteen years promised to be quite pleasant. Suddenly, this idyllic life was thrown into turmoil. His beloved wife Sita was kidnapped! With unmatched skill as a warrior, Rama destroyed the ten-headed Ravana and along the way, he won a host of very grateful friends.
20 Minute Read