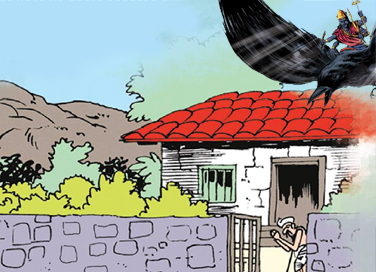 The Village Without Doors 
- September 26, 2020
---
Ever imagined living in a house with no doors whatsoever? Well, the entire village of Shani Shinagpur village in Maharashtra lives exactly like that. 
35 kilometres from the Maharashtrian city of Ahmednagar lies a village called Shani Shingnapur. The village houses a temple of Lord Shani, the god that rules the planet Saturn. The temple has no idol but instead a five and a half feet high black rock called Swayambhu, which means self-evolved deity. There is an interesting legend associated with it. 
When one of the shepherds of the then local hamlet touched this stone with a pointed stick, it started to 'bleed'. The news spread like wildfire and the entire village community gathered to witness the miracle. On the very same night, in the dream of the most devoted and pious of the shepherds appeared Lord Shaneeshwara. He said, "This black stone is my form. Pray to it daily and perform 'Tailabhishekam' (a ritual where devotees pour oil on the idol) every Saturday." The shepherd asked if he should build a temple around the stone. To this, Shani replied, "The open sky is the roof and I prefer it that way. There is no need for any other shelter or protection as I will be around to shield you all. I promise there will be no theft or dacoity in this hamlet for as long as I am here." 
The legend has been passed on for generations through word of mouth. It is because of this conviction of the villagers that the houses, shops, temples, and post offices do not have a single door or a door frame even today. On his part, the god of Saturn was holding up his promise till very recently; the village has not registered a crime till 2010!  Impressed by the near-zero crime rate, the United Commercial (UCO) Bank has opened India's first 'lock-less' branch here! Today, Shani Shingnapur has been dubbed 'The Village without Doors' among tourists, with a lot of devotees visiting to worship Lord Shani in this chosen sanctuary.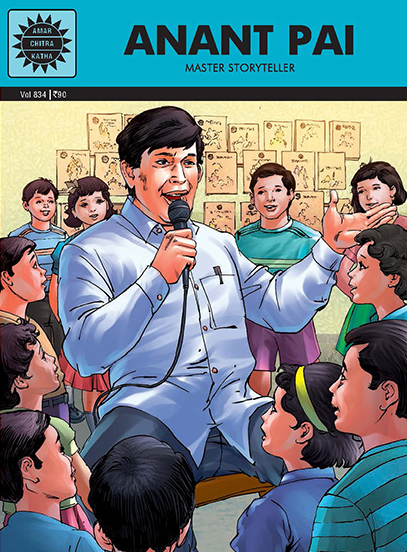 Comic of The Month
Anant Pai
Anant Pai strode the Indian comics industry like a colossus. Using the comics format he told stories from mythology, history and literature to generations of children. Uncle Pai, as he was known, wanted Indian children to be familiar with their heritage. A chemical engineer by profession, Anant Pai gave up his job to follow his dream, a dream that led to the creation of Amar Chitra Katha and Tinkle. Read the story of the man who left behind a legacy of learning and laughter.
20 Minute Read