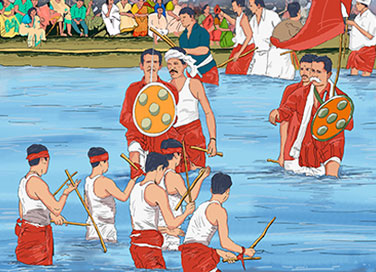 Ochira Kalli
- July 30, 2021
---
Named after the town it takes place in, Ochira Kalli is a local festival celebrated at the Ochira Parabrahma Temple in Kerala in the month of June. It commemorates the battle of Kayamkulam, which was fought on the fields around the temple. The festival is celebrated through a ritualistic mock battle between two groups in the waterlogged paddy field near the temple. The bulls hold a special place here. Edduppu kaala, huge bull idols, made of hay and cloth are carried from their site of creation to the Ochira temple as a part of the celebration.
Comic of The Month
Krishna and Narakasura
Indra was at his wit's end – the impertinent demon Narakasura had stolen his mother's earrings! Lord Krishna, always helpful, agreed to confront the enemy. But seated on Garuda, his trusty eagle, and accompanied by the gentle Satyabhama, would Krishna be able to overcome Narakasura's formidable defences? Would his gleaming discus ever find its mark? This is the story of why the first of four days of Diwali - the Festival of Lights is named after Naraka!
20 Minute Read