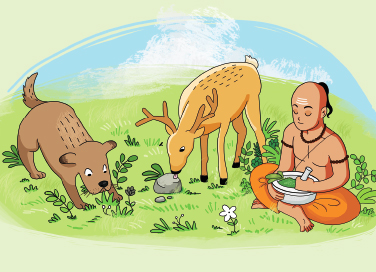 Medicine In Ancient India and Ayurveda
- May 14, 2021
---
By Harini Gopalswami Srinivasan
From prehistoric times, human beings have treated their diseases with natural herbs and minerals, in much the same way that a dog will nibble grass to cure an upset stomach, or a deer will lick salt to keep all its organs in working order.
The first documented knowledge about medicines in India is found in the Rig Veda (Oshadhi Sooktam) and the Atharva Veda, which are believed to be more than 5000 years old. In addition to providing mantras against diseases and information about useful plants and herbs, the Atharva Veda says that diseases are caused by organisms called yatudhana, kimidin, krimi, etc.
Over the following centuries, the study of medicine grew more systematic, and became known as Ayur Veda (Life Science). Three important foundation texts of Ayurveda were compiled in the first millennium BCE: Atreya Samhita, Susruta Samhita, and Charaka Samhita. These texts cover all the branches of modern medicine, and describe over 600 drugs of animal, plant and mineral origin.
According to Ayurveda, an individual can enjoy good health only if the body, mind and soul are all properly nurtured. The human body, like the entire universe, is composed of five elements: Prithvi (earth), Apas (water), Tejas (energy/ fire), Vayu (air), and Akasa (empty space). When these are properly balanced, the body is said to be healthy. People are classified into three doshas or types — Vata, Pitta and Kapha. Vata has the qualities of air and space, and regulates all the movements of the body. Pitta has the qualities of fire and water, provides energy to the body and regulates our digestion, metabolism, temperature, sense organs and understanding. Kapha is composed of earth and water, and gives stability and structure to the skeleton and all the organs of the body. Depending on which of these elements are predominant in a person, cures are suggested.
Comic of The Month
Krishna and Narakasura
Indra was at his wit's end – the impertinent demon Narakasura had stolen his mother's earrings! Lord Krishna, always helpful, agreed to confront the enemy. But seated on Garuda, his trusty eagle, and accompanied by the gentle Satyabhama, would Krishna be able to overcome Narakasura's formidable defences? Would his gleaming discus ever find its mark? This is the story of why the first of four days of Diwali - the Festival of Lights is named after Naraka!
20 Minute Read