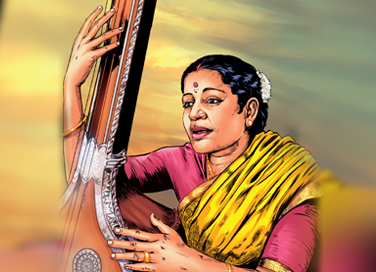 M.S. Subbulakshmi (1916-2004)
- October 28, 2020
---
By Samyukhtha Sunil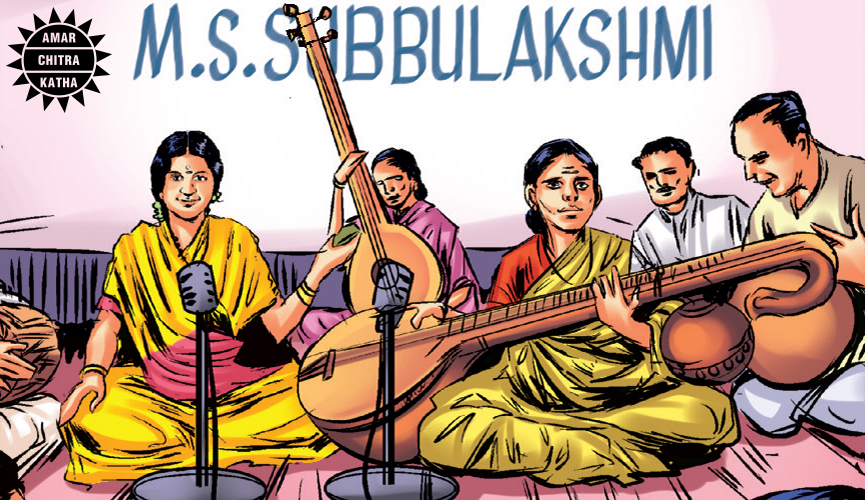 Imagine a voice so divine that it captures the heart of the Mahatma himself. Madurai Shanmukhavadivu Subbulakshmi, fondly known as MS, was a talent whose compositions could make every Indian swoon with devotion. In the 88 years that she lived, MS Subbulakshmi proved time and again that she was not just a melodious voice, but also a pioneer and pathbreaker for women everywhere, breaking down countless barriers of a patriarchal society and paving the way for India to evolve from its orthodox ways of thinking. 
BORN INTO A PERFORMER FAMILY
Born in Madurai on September 16th, 1916, and known as Kunjamma to her family, MS was born into a family belonging to the 'Devadasi' community. The Devadasis came from a lineage of performers who were highly skilled in music, dance and theatre. With her grandmother being a renowned violinist and her mother being an impeccable vocalist in her own right, it was only natural that this musical gene was passed on to MS right when she was born. 
CONQUERED THE STAGE YOUNG
Growing up in an environment where the stage became your second home, MS naturally took the spotlight and never failed to charm her audience. Having trained under Carnatic legend, Semmangudi Srinivasa Iyer, she gave her very first public performance when she was just eleven years old at the Rockfort Temple in Trichy. Her major break in the performance industry happened in 1965, when she was invited to perform at the prestigious Madras Music Academy. That was just the start of her climb on the ladder of success! By the time she was 17, she had already notched up several stellar performances across the state and many more at the music academy. 
CARVING OUT A CAREER FROM SCRATCH
Watching her young daughter become the talk of the town, MS Subbulakshmi's mother was under pressure to get her married. However, the Devadasi community faced a lot of persecution from society at large, making an alliance difficult. In any case, while her mother was busy plotting ways to get her daughter married off, MS had other, brighter plans for her future. After having tasted success with her maiden performances, she only wanted to go further and further on this musical journey. She wanted to create a career in a field that not many women had ventured too deep into. So she took a leap of faith and did the unthinkable, setting out in the dead of the night and hopping onto a train to Madras. This one action of hers set in motion a whole new chapter that changed her life and ours forever! 
WELCOME TO THE MOVIES!
After arriving in Madras, MS found a mentor in K. Sadasivan. Just like everyone else, he too had a strong admiration for MS's voice and impeccable talent. Putting his strong connections to use, K. Sadasivan helped MS find her feet in the Indian film industry. MS then went on to act in numerous films in Tamil, Telugu and even Hindi! Her debut film, 'Sevasadanam' proved to be a turning point in Tamil film history. Her most popular role was, however, that of Mirabai in the Hindi film, 'Meera', which also featured a devotional song sung in her own voice and catapulted her onto the national stage.
A LIFETIME OF RECOGNITION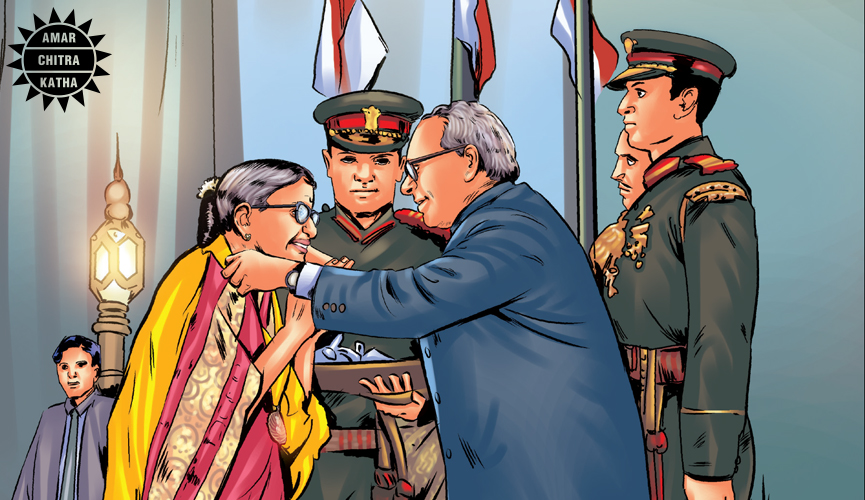 By now, MS had become a household name across the country. While the entire nation remained in awe of her voice, MS had become a wife and a mother of two girls. Along the way, she became an unofficial cultural ambassador for India, travelling the world spreading joy through her melodies. She was the first Indian singer to perform at the United Nations Assembly in 1966. Her best-known renditions are Suprabhatam (Morning Melodies), Bhaja Govindam (Paeans to Lord Krishna) and her recitation of the Hanuman Chalisa, all evergreen classics played by millions even today! It was at this juncture that the awards and appreciations started pouring in. She won the Padma Vibhushan in 1975 and the prestigious Bharat Ratna in 1988, the only female Carnatic singer to win this honour. She is also the only Indian Carnatic singer to have also won the Ramon Magsaysay award, which is the Asian equivalent of a Nobel Prize! 
The musical legend was laid to rest on December 11th, 2004, at the age of 88, leaving behind a legacy of immense power, talent and strength for Indian women everywhere. She broke innumerable barriers and obstacles set by society for women and set the stage for countless women performers to take their spot in the limelight and shine. For this and for much, much more, we bow down to her. 
Amar Chitra Katha's retelling of M.S. Subbulakshmi's life story is now available on the ACK Comics app, Kindle and other major platforms.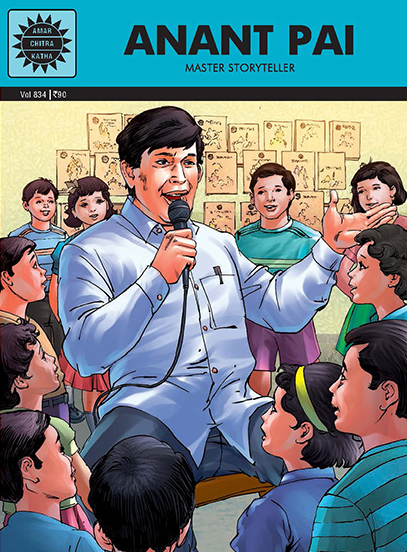 Comic of The Month
Anant Pai
Anant Pai strode the Indian comics industry like a colossus. Using the comics format he told stories from mythology, history and literature to generations of children. Uncle Pai, as he was known, wanted Indian children to be familiar with their heritage. A chemical engineer by profession, Anant Pai gave up his job to follow his dream, a dream that led to the creation of Amar Chitra Katha and Tinkle. Read the story of the man who left behind a legacy of learning and laughter.
20 Minute Read