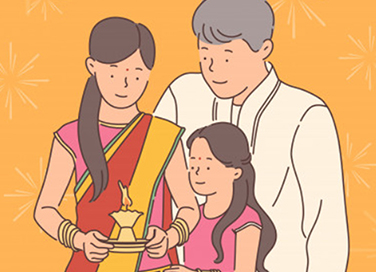 Celebrating Diwali
- November 13, 2020
---
The festival of lights brings in joy and happiness. Different states celebrate the festival in different styles. Here is a glimpse of how the main day of Diwali celebrations unfolds across the country.
In The Morning
Many parts of South India celebrate Diwali by starting the day with a scented oil bath. The oil bath is said to cleanse the body and rejuvenate the senses.
Diwali is said to bring newness and joy. Many people celebrate by wearing new clothes after their morning rituals.
Many people begin their day by preparing their homes for the new year as well. They clean their houses and decorate the area with rangoli and kolam designs.
Early evening
Kheel (puffed rice) and batasha (sugar candy) are offered to the goddess Lakshmi during Diwali. In some parts of North India, the batasha is also fashioned to resemble different animals. Called khilone, these are popular even today. In olden times, rice would be ready for harvest in time for Diwali and kheel would be the first thing offered to the goddess. Another belief is that Lakshmi likes these food items because they are white.
Diwali is a perfect opportunity to express our love and gratitude for those around us. This is most often done by exchanging lots of sweets with family, friends and neighbours.
Various parts of the country also worship Goddess Lakshmi, Lord Ganesha and Goddess Kali during the festival of Diwali.
At Night
It's believed that lighting up homes with diyas and keeping the doors and windows open on Diwali night beckons to Goddess Lakshmi to enter and bestow her blessings on the household.
For the people of West Bengal, Diwali is synonymous with Kali Puja. Pandals are erected all over the state and Goddess Kali is worshipped, often late into the night.
On Diwali day, some people also listen to Harikatha, an art form that weaves storytelling, poetry, music, dance, drama and philosophy into its fold. The storyteller, called a Haridasa, narrates the life story of saints and gods from Indian epics. It originated in Andhra Pradesh in the 19th century and is performed even today. Did you know that the first Harikatha singer was Narada who sang for Vishnu?
Read more about the various stories and activities that are associated with the festival of lights here.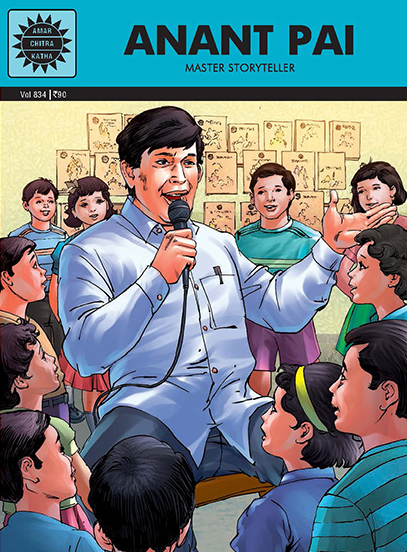 Comic of The Month
Anant Pai
Anant Pai strode the Indian comics industry like a colossus. Using the comics format he told stories from mythology, history and literature to generations of children. Uncle Pai, as he was known, wanted Indian children to be familiar with their heritage. A chemical engineer by profession, Anant Pai gave up his job to follow his dream, a dream that led to the creation of Amar Chitra Katha and Tinkle. Read the story of the man who left behind a legacy of learning and laughter.
20 Minute Read