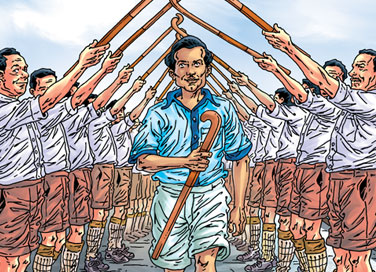 Dhyan Chand (1905-1979)
- August 24, 2020
---
Dhyan Singh was born on August 29th, 1905 in Allahabad (present-day Prayagraj). His father, Sameshwar Singh, was in the army, and he had two brothers – Mool Singh and Roop Singh. On his 17th birthday, Dhyan Singh followed in his father's footsteps and got enlisted in the British Indian Army. 
When Dhyan Singh first joined the military, he didn't know anything about hockey. In fact, the closest he had ever come to hockey was hitting balls along the streets of Jhansi. However, Dhyan had a natural flair for the game. 
Dhyan Singh's superior, Subedar-Major Bale Tiwari, saw potential in him that no one else did. He took it upon himself to train Dhyan, and, in no time, his efforts paid off. Dhyan Singh was indomitable. At the end of each day, the sepoys would be dead tired, but one man would still stand strong, playing hockey into the wee hours of the morning. It was this night-time habit of his, practising hockey under the moonlight that earned him the name Dhyan Chand!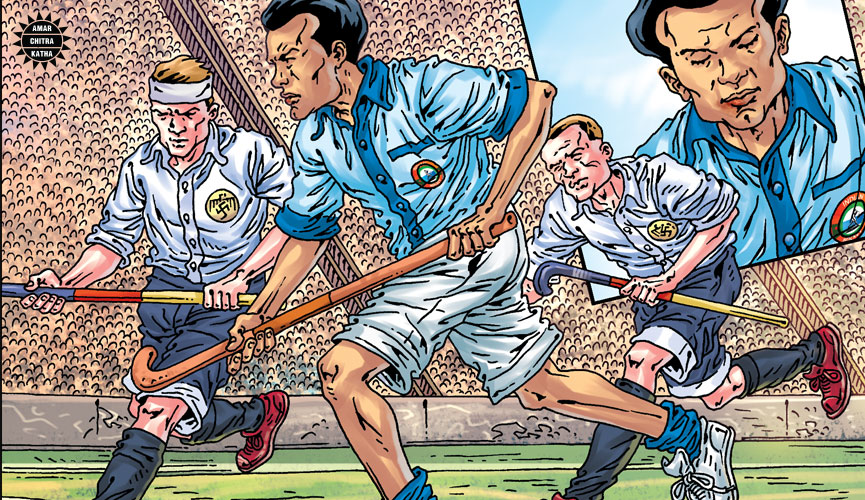 Dhyan Chand was a dedicated player, and soon, his skills caught the eyes of the British. He got the chance to visit New Zealand to play hockey against the locals there. By the time he and his team were back, he was already a star! Word of his marvellous exploits on the hockey field had spread like wildfire. 
Things were looking up for the hockey wizard. Soon, the International Olympic Association decided to include hockey as one of its sports. There were trials held in the nation to form the best team. Dhyan Chand swooped through the qualifiers without breaking a sweat. In no time, he was selected to represent India in the Olympics. When the team was ready to leave, there were only three people who had come to see them off. The players, while disappointed, didn't lose hope and knew that they had to give their best.
At the Olympics, Dhyan Chand showed his exceptional skill in the sport and beat teams left and right. India first got into a fierce battle with the Austrians where they managed to beat them effortlessly. Then, they played against Belgium and won nine to nothing, bringing them up against Denmark. In each of the games, Dhyan Chand would swiftly break through the opponent's defences and score goals. It was almost as if the game seemed incomplete without Dhyan Chand's goal. India slowly progressed through the rounds, and started garnering a lot of attention and appreciation from foreigners, something that their own fellow countrymen failed to give them.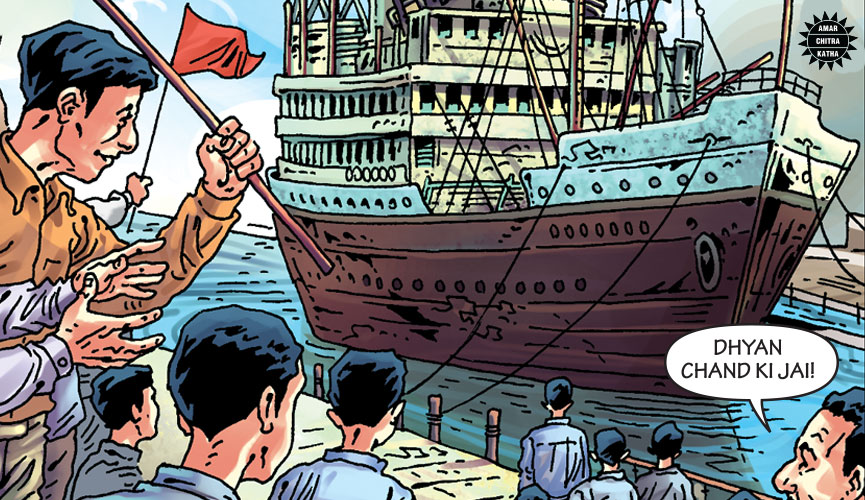 Despite being a little under the weather, Dhyan Chand managed to play the finals against the Netherlands and emerged victorious! While the press and public in Britain paid no heed to India's victory, things were different this time around back in India. Dhyan Chand and his team were welcomed by a large crowd at the harbour. On arrival, he was greeted by the Mayor of Bombay and several parties were thrown in the team's honour. 
From there onwards, Dhyan Chand went on to become the captain of the Indian Hockey team and got a chance to represent India once more in the 1936 Berlin Summer Olympics, striking gold yet again, this time against Germany. In a career that spanned 22 years, from 1926 to 1948, he scored over 400 goals! Dhyan Chand breathed his last breath on December 3rd, 1979.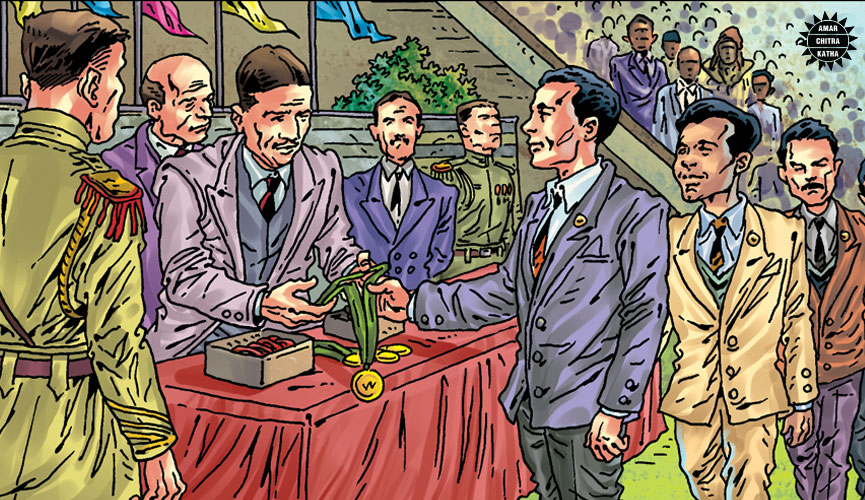 Even today, Dhyan Chand is known as a legendary figure in the world of Indian sports. The 20th National Award 2012, the Gem of India was awarded posthumously to Dhyan Chand, received on his behalf by his son, Ashok Dhyan Chand. He has also been honoured with a Padma Bhushan, which is the third-highest civilian honour in the country. Dhyan Chand is also the only hockey player to have a stamp in his honour. He truly was one of a kind.

Read a detailed account of the hockey legend's life story in Amar Chitra Katha's Dhyan Chand, now available on the ACK Comics app, as well as major e-tailers.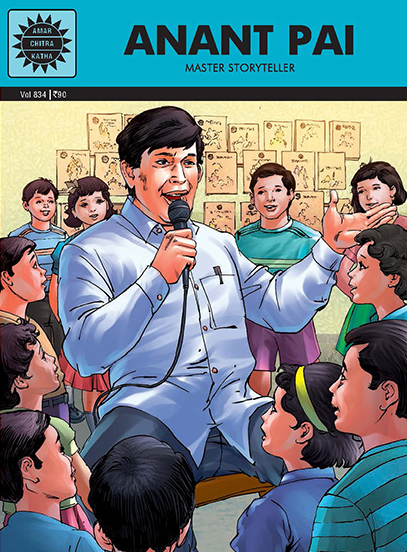 Comic of The Month
Anant Pai
Anant Pai strode the Indian comics industry like a colossus. Using the comics format he told stories from mythology, history and literature to generations of children. Uncle Pai, as he was known, wanted Indian children to be familiar with their heritage. A chemical engineer by profession, Anant Pai gave up his job to follow his dream, a dream that led to the creation of Amar Chitra Katha and Tinkle. Read the story of the man who left behind a legacy of learning and laughter.
20 Minute Read