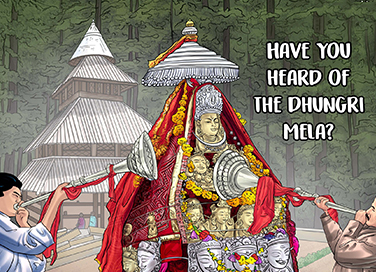 Dhungri Mela
- October 14, 2021
---

The Dhungri Mela festival in Manali is held in honour of Hidimba, Bhima's wife. The festival is named after the Dhungri forests where she is believed to have lived. The celebrations are held in the Hidimba Temple in Manali, where she is worshipped as a goddess. This temple was built in 1538 by Maharaja Bahadur of Rajasthan.
On the day of the festival, a huge carnival with a variety of food and amusement rides is organized. People from nearby villages bring their own idols of the goddess adorned in shimmering silks and silver face masks to parade around the temple.
The highlight of the Dhungri Mela festival is the folk dance of Kullu Natti. The dancers, dressed in the traditional attire of the region, link their arms and sway to the beats of a band while waving colourful handkerchiefs. All of this revelry is accompanied by the playing of large brass trumpets known as karnals.
The people invoke Goddess Hidimba's blessings on them and also pray for the safety of the travellers who pass through the Dhungri forests.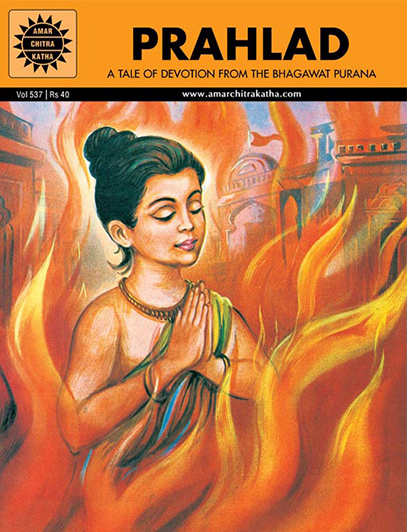 Comic of The Month
Prahlad
Prahlad drove his monstrous father to a murderous rage. He insisted on praising Lord Vishnu who was considered a sworn enemy by his father Hiranyakashipu. When he tried to punish his disobedient son, Hiranyakashipu's potent poisons turned to nectar while his lethal weapons fell harmlessly away. In this tale of bloodthirsty revenge, Prahlad's only defence is his devotion which dramatically puts an end to all evil.
20 Minute Read