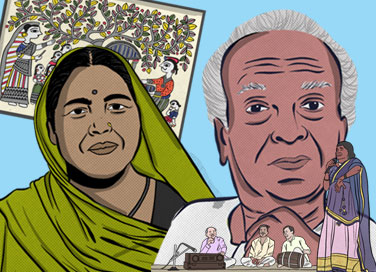 Artists of Change – Dulari Devi and Ramchandra Manjhi
- February 24, 2021
---
Dulari Devi and Ramchandra Manjhi, two folk artists from the state of Bihar, have battled all odds to pursue their passion. Their stories show us that anything can be achieved with hard work and perseverance. 
Dulari Devi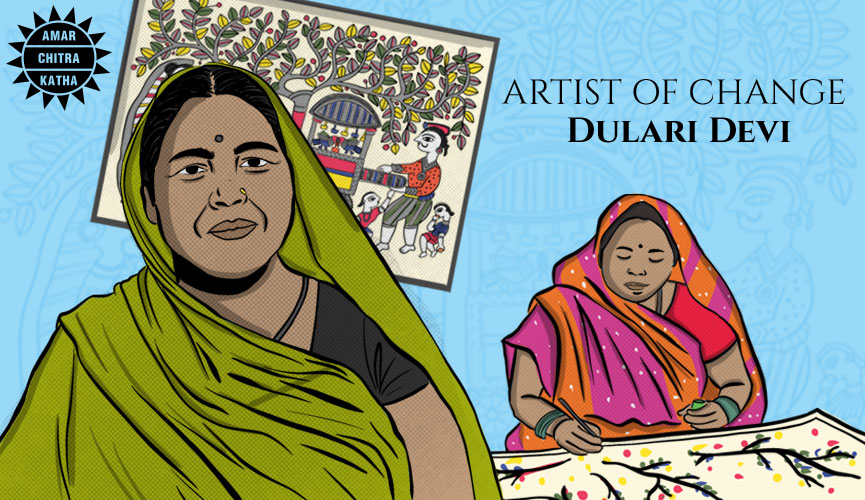 For Dulari Devi, an eminent Madhubani painter, life has not always been colourful. Madhubani painting is an art style from the Mithila region of Bihar, hence, it is also called Mithila painting. Her parents were not economically sound and her childhood was tough. After getting married, she again went through a lot of hardships. From losing her new-born to getting abandoned by her husband, she faced many misfortunes. She was sent back to her paternal house and had to take up odd jobs to make a living. 
Things took a turn when Dulari started working as a maid at the house of a well-known Madhubani artist, Mahasundari Devi. She got interested in Madhubani paintings. Mahasundari noticed this and helped her pursue a government-offered Mithila painting course. At her employer's place, she met another popular Madhubani artist, Karpuri Devi who, fortunately for her, became her mentor and a motherly-figure. 
Little did Dulari know, this skill would prove to be a boon for her and the art form itself. Her brush proved to be her voice. With every stroke, she brought to life various scenes from everyday life. As her passion for painting grew, she expanded her subjects and started painting mythological figures too. To date, she has created over seven thousand paintings and has taught numerous children across the country through government programmes. For her dedication towards her work and for conserving this indigenous art, she will be receiving the prestigious Padma Shri award this year. 
Ramchandra Manjhi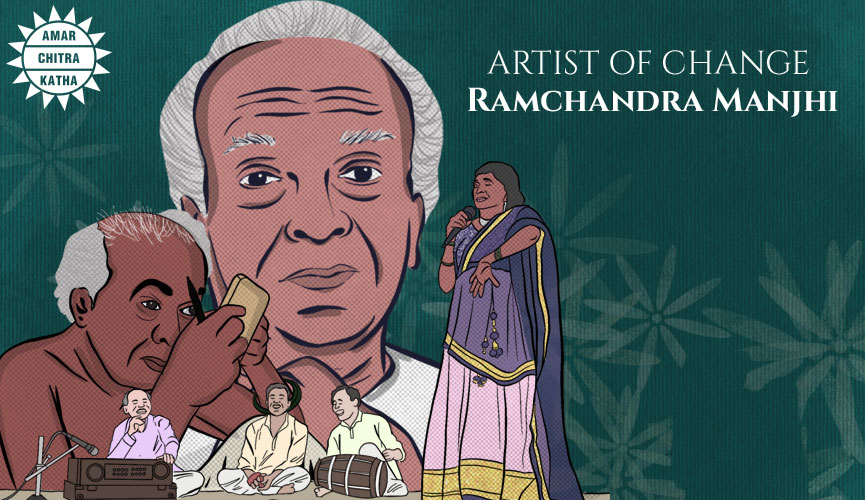 The great exponent of the forgotten dance form 'Launda Naach', Ramchandra Manjhi is another artist of change. Launda means a boy and Naach means dance, the name literally describes the folk art, where boys or men dress as women and entertain through music, dance, and theatre. The origin of this folk dance can be traced back to the 11th century when women were not allowed in public places. 
Bhikari Thakur is believed to have popularised the traditional folk dance in the 19th century. Years later, he also started narrating several struggles of downtrodden communities through his performances. Ramchandra belonged to a family, which was then considered low in an unfair societal hierarchy. At the tender age of 10, he joined Bhikari's team and continued to work with him until his teacher's last breath. He inherited a great legacy and a vast repertoire from his teacher. For him, his work is a labour of love. He does his own makeup and takes pride in impersonating women with perfection on stage. 
Over the centuries, with no proper recognition and protection, Launda Naach has lost its value. Many have ridiculed the art form and also objectified the artists. Thanks to theatre wizards like Ramchandra, who even at the ripe age of 96, continue to preserve the dignity of Launda Naach. The government recognizes and appreciates his efforts and will be honouring him with the title of Padma Shri this year.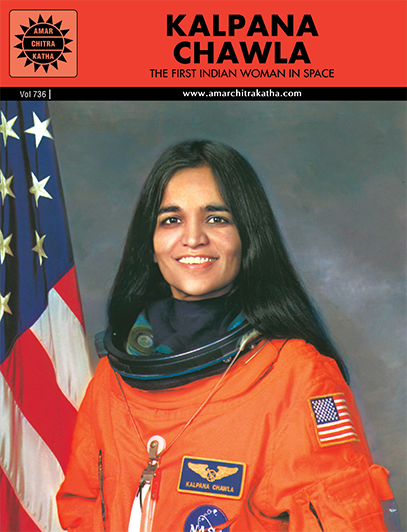 Comic of The Month
Kalpana Chawla
Unconventional clothes and bobbed hair were not the only indications of Kalpana's zest for life - this spirited young girl from Karnal wanted to fly! Her intelligence was multi-faceted, her talents varied and her interests inspiring. The path she charted from her traditional home in Haryana to NASA's elite band of astronauts is the stuff of legends.
20 Minute Read