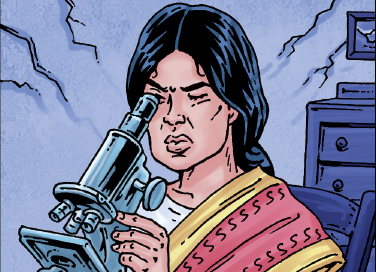 4 Legendary Indian Women In Science
- February 15, 2021
---
Although technology has evolved and advanced to a great extent, we often forget to give credit to the minds that contributed to it behind the scenes. Here are four such Indian women who have made notable contributions in various fields of science, but remain largely unknown to the world.
Janaki Ammal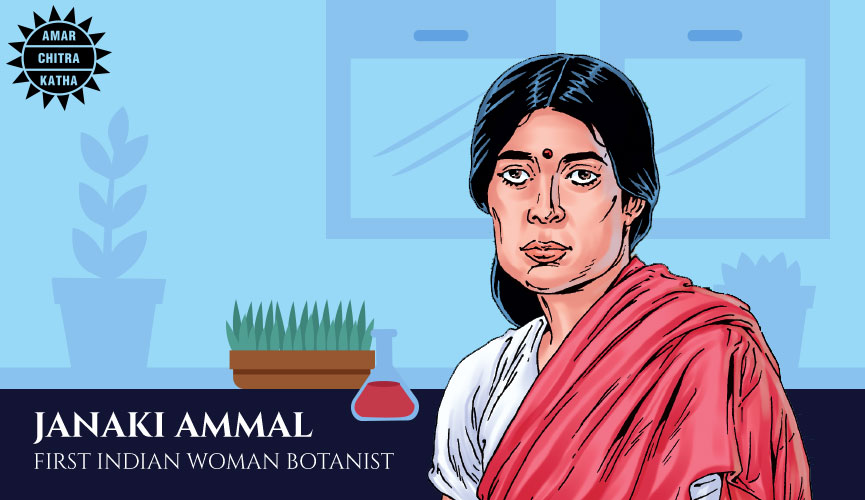 Janaki Ammal was a well-known botanist and plant cytologist who came from a middle-class family in Tellichery, Kerala. She received her honours degree in Botany from Presidency College in 1921 and further studied at the University of Michigan in the USA for her master's degree in 1925. After returning with a master's degree, she continued to teach at the Women's Christian College. However, she soon returned to Michigan for her doctorate and came back to India in 1931.
She then worked at the Sugarcane Breeding Institute in Coimbatore, as a geneticist. From 1940-1951 she was in London working as a cytologist at the John Innes Horticultural Institution and then at the Royal Horticultural Society at Wisely. On returning to India in 1951, she reorganized the Botanical Survey of India, then went on to head the 'Central Botanical Laboratory at Allahabad' and was a special officer on duty in Jammu. Later, she worked in the Centre's Field Laboratory at Maduravoyal until her demise. She made numerous contributions in the field of genetics, evolution, phytogeography, and ethnobotany.
In 1935 and 1957, Janaki Ammal was elected as Fellow of the Indian Academy of Sciences and of the India National Science Academy respectively. She was also conferred an honorary LL.D in her name in 1956. In 1957, she received the Padma Shri, and the Ministry of Environment and Forestry of India established the National Award of Taxonomy in her name.
Janaki Ammal's passion for botany was ignited by living in the greenery in Kerala. She lived a simple unmarried life and completely dedicated herself to botany.
Anna Mani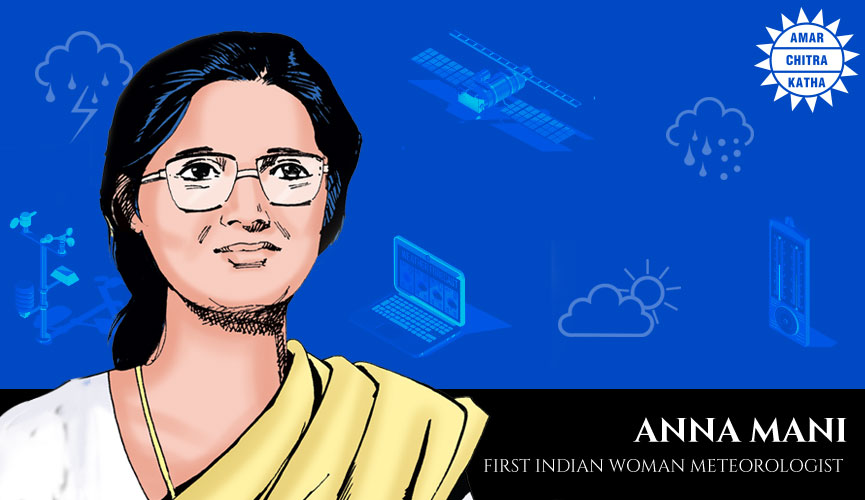 Anna Mani was born into an upper-middle-class family in Travancore, where the men were groomed for high-level careers whereas the women were groomed for marriage. However, Anna Mani refused to settle for that fate and enrolled for an honours program in physics at the Presidency College in Chennai. A year after finishing college, in 1940, she got accepted into C.V. Raman's laboratory and received a scholarship to do research in physics at the Indian Institute Of Science. At Raman's laboratory, she worked on analyzing the fluorescence, absorption, temperature dependence, and polarization effects of over thirty different diamonds. She single-handedly wrote over five papers on diamonds in the span of three years.
However, Anna Mani never got a PhD degree, for the Madras University that granted her scholarship for research at the Indian Institute of Science claimed that she did not have an M.Sc. degree; therefore, she couldn't get a PhD. Nevertheless, this didn't stop her. Soon after finishing her research in India, she left for England where she specialized in meteorological instrumentation. In 1948, she returned to India and joined the Indian Meteorological Department in Pune. She was in charge of the construction of radiation instrumentation and she published several papers on topics ranging from atmospheric ozone to national standardization of meteorological instrumentation. Finally, she retired as the Deputy Director-General of the Indian Meteorological Department.
She believed that the development of wind and solar energy was quite essential for the nation's development, and so she worked on several projects for harnessing wind energy in India. Later, she set up her own company that manufactured instruments for measuring wind and solar energy. Anna Mani never let the discrimination she faced as a woman scientist affects her work and created not only a laboratory but a factory of her own.
A. Lalitha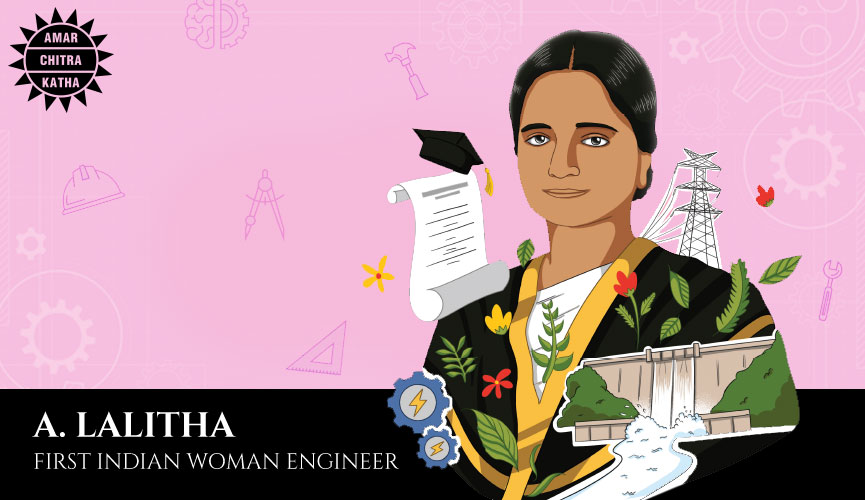 Lalitha was the first woman engineer of India. In 1937, her husband died, leaving her behind as an eighteen-year-old widow with a four-month-old daughter. According to the norms of the time, this should have been the last we ever heard of them. But A. Lalitha was stronger than her circumstances.
A child bride at 15, a single mother and widow at 18, she promised herself that her daughter would never feel the lack of a father. Picking up the broken pieces of her life, she realised that the first thing she needed was to be self-sufficient. Her father was a professor at the College of Engineering, Guindy. With his help, she managed to get admission there. Many eyebrows were raised, and her father was forced to get approval from the British government.
But life as the sole woman in a completely male-dominated campus was lonely and challenging. So her father went one step further; he advertised in 'The Hindu' inviting other women to join the college! In 1943, Lalitha made history as the first-ever woman engineer in the country. but this was only the start of her journey.
Lalitha first joined the Central Standards Organisation of India in Shimla where one of her brothers lived. In 1948, she went to Calcutta and joined the Associate Electrical Industries.
It was in Calcutta that Lalitha got a chance to design transmission lines and work on the Bhakra Nangal Dam. In 1964, she was invited to the First International Conference of Women Engineers and Scientists (ICWES) in New York. She was the only Indian at this conference. she took it upon herself to actively encourage other Indian women engineers. When the Second International Conference was held in 1967, she managed to send five of them!
Lalitha passed away when she was just 60 years old. She inspired Indian women to study further, to carve out careers in STEM (Science, Technology, Engineering and Mathematics) and make themselves self-sufficient.
Kamala Sohonie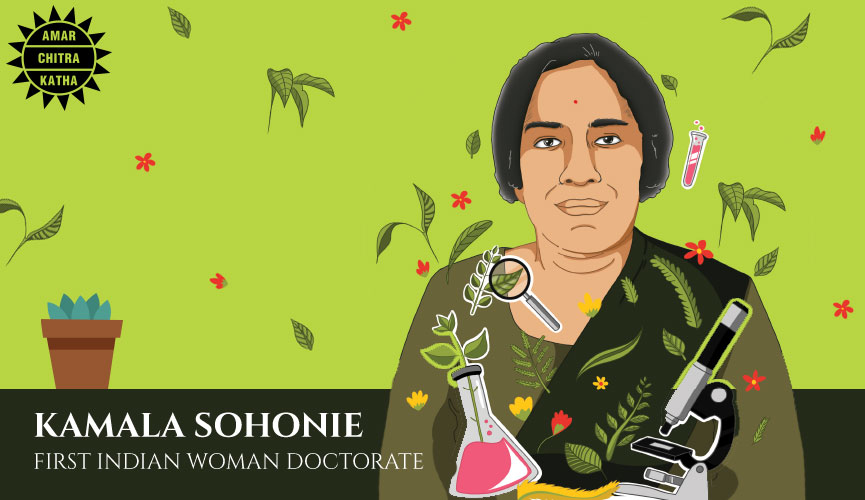 Kamala Sohonie grew up unlike other girls of her time. She was born into a family of distinguished scientists and was encouraged to study. In 1933, she topped Bombay University when she completed her B.Sc in chemistry and physics, after which she applied to the Indian Institute of Science (IISc) for a research fellowship. That was where the harsh reality of gender came like a slap in the face. Nobel Laureate Prof. C. V. Raman, the Director of IISc, refused her application simply because she was a woman!
But if Prof. Raman was firm about not giving her admission, Kamala was equally firm about getting it. For days, she sat outside his office until he agreed to admit her. But he had conditions. "You will be on probation for one year, you will work only at night so as to not disrupt the atmosphere of the campus, and finally, you must conduct yourself 'honourably'", he said. Humiliated but with no choice, Kamala had to agree. She passed her M.Sc with distinction. Very soon, the gates of IISc and other science institutes were opened to women. A quiet revolution had taken place.
Kamala went on to study at Cambridge University where her discovery of cytochrome C, which helps plants in respiration, helped her get a doctorate. She was the first Indian woman to be awarded a PhD.
Kamala then came back to take part in the Indian freedom struggle. After she got married in 1947, she joined the Royal Institute of Science in Bombay. All along, she had been working on finding a way to improve the diet of the poor. On a request from the then President of India, Dr Rajendra Prasad, she started studying the nutritional benefits of 'neera' (sap from the palm tree) and discovered that it had significant amounts of iron and vitamins A and C. She found a way to include this in the diet of malnourished people. For this discovery, Kamala won the President's Award.
She made history when she became the Director of the Institute of Science in Bombay – the first lady to head such a premier scientific institution.
In 1998, at a ceremony organised to felicitate her, Kamala collapsed. She passed away a few days later. Thus came to an end a life that quietly challenged society's norms and steadily worked to enrich the life of India's masses.
Read more about these and other revolutionary Indian women in our title 'Women Path-breakers'. Now available on the ACK Comics app, Kindle, Flipkart, Amazon, and other major e-tailers.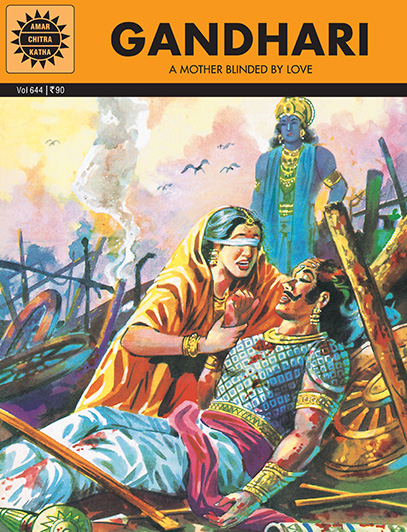 Comic of The Month
Gandhari
A hundred sons, the sages say, are a hundred blessings. Gandhari's hundred Kaurava sons, however, were more of a curse. Did they become evil by some divine plan or was it because she was proudly blind to their faults? Helpless as they heaped dishonour on the family, she was furious with Lord Krishna for abetting in her son's eventual slaughter. Unfortunately, her grief was overpowering, and threatened to wreak further havoc.
20 Minute Read