Here's your chance to get a special 5% discount on your next purchase!
How? Just follow these simple steps.
Shoot a video (minimum 30 seconds, maximum 2 mins) of you or your kids unboxing the product or giving a product review.
Mail it to ecom@ack-media.com along with your order id.
Upon verification, we will provide you with a special 5% discount coupon code that you can redeem on your next order.
Click here https://www.amarchitrakatha.com/shop and start shopping now!
N.B.: By sharing the video with us you agree to provide the video rights to Amar Chitra Katha Pvt Ltd and provide your consent to use the video for advertising and marketing purposes.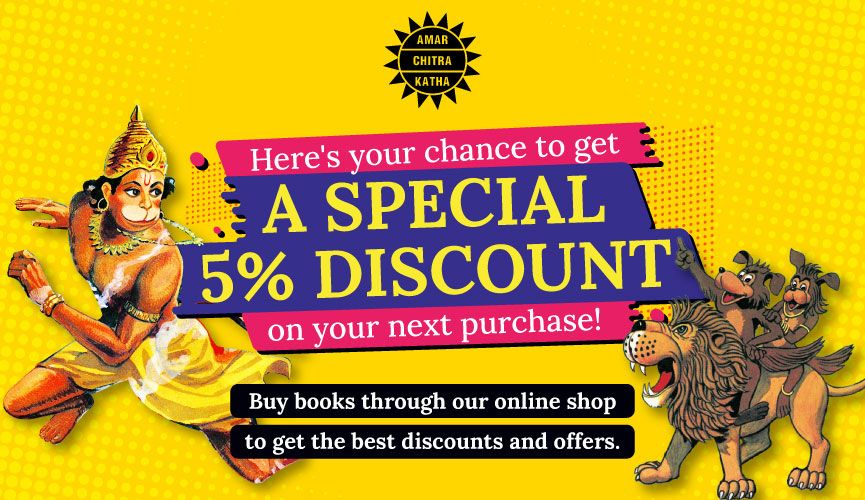 Video guidelines:
All videos between 30 seconds and 1 minute should be shot in portrait mode
All videos between 1 minute and 2 minutes should be recorded in landscape mode
Make sure the audio is clear in case of a review video
Kindly shoot the video in a well-lit room. Blurry and dark video shots will not be considered
Important – All videos must feature an Amar Chitra Katha product. Videos without actual footage of the product will not be considered
About Amar Chitra Katha: Ask thousands of Indians how they were first introduced to the world of Indian mythology and history, and the answer will almost always be Amar Chitra Katha. Amar Chitra Katha's online store provides you with comic books across genres including mythology, biographies, literature, fables, folktales and more. We have been retelling India's favourite stories for more than half a century, narrating the most complex stories in a simple conversational style that can be easily understood by kids. The vivid illustrations bring the stories to life, making children genuinely interested in reading. Our artwork is so iconic that people can recognise a classic Amar Chitra Katha illustration just as easily as they recognise the Mona Lisa. So if you want your kids to learn more about their heritage, look no further. Order a set of Amar Chitra Kathas today!
Buy books through our online shop to get the best discounts and offers.
Don't forget to check out our social handles!
Follow us and stay updated on the latest happenings at Amar Chitra Katha!